Formlabs Partners With Medit: Accessible Dental Workflows From 3D Scanning to 3D Printing
The Formlabs Dental team recently announced a new partnership with Medit, a global provider of dental 3D scanners. Our goal with this partnership is clear: to make chairside 3D printing accessible and approachable to all dental practices.
Medit Link users can now download Formlabs' PreForm app, a software integration that helps to prepare dental CAD designs for quick and convenient printing on Formlabs printers, directly from Medit Link. 
Delivering a fully digital dental experience means integrating software, hardware, and materials to create a seamless end-to-end experience for dental practitioners. In combining their powerful and intuitive technology, Formlabs Dental and Medit will enable clinicians to easily 3D print dental components with greater speed and efficiency through a simplified in-office workflow. Together, our vision is to deliver accessible and affordable digital solutions for dental care providers and their patients. 
Simplified 3D Scanning, CAD, and 3D Printing Are Changing Dental Workflows
While the future of dentistry and orthodontics is inevitably digital, Formlabs and Medit share a mission of increasing access to digital dentistry tools to make that future a reality. With this latest round of integration, the scan-to-print workflow has never been more accessible. In just five simple steps, dental professionals can mass produce custom made dental models. Those steps are:
The dental professional completes a scan of the patient's teeth with Medit's industry-leading i500 and i700 intraoral scanners.
Deploying the respective Medit App, the dental practice then designs a case of temporary crowns, eggshells, or models.
Medit users click on the new PreForm icon on the top right part of the screen.
After selecting the appropriate design files, users click "Send to PreForm". The file is then automatically converted to an STL file and sent to PreForm, directly from the Medit App.
Users finalize their dental print and send it to the Form 3B+ for printing.
Dr. Christopher Baer, DMD at Baer Dental, and Medit and Formlabs user, put it succinctly: "To truly optimize a digital dental practice all of the technology components need to work synergistically to streamline scanning, designing, and 3D printing dental restorations. The Medit-Formlabs workflow has dramatically simplified the process to get from intraoral scanning to a final 3D printed restoration with a few simple clicks. We no longer need to spend time moving files from one program to the next—the software does the work for us."
Formlabs Dental: Redefining the Dental Industry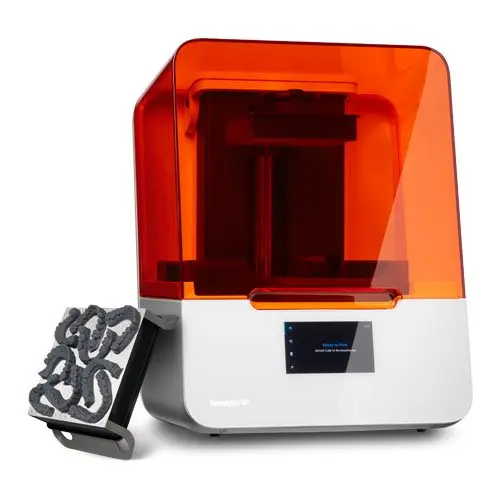 Webinar
Product Demo: Form 3B+ Dental 3D Printer
Watch our product demo for a walkthrough of our new LFS dental 3D printer from a Formlabs expert.
Watch Now
Since launching the Form 2, 3D printing adoption within the dental industry has increased significantly. Recently, Formlabs launched the next generation of dental printers: the Form 3B+ and Build Platform 2, enabling the rapid fabrication of accurate, high-quality dental models, appliances, and prosthetics.
This new hardware joins our growing line of Dental Resins, which empower dental labs and practices to rapidly manufacture biocompatible surgical guides, splints, fixed patterns and models, clear aligner models, and full dentures.
Formlabs Chief Product Officer Dávid Lakatos said: "Formlabs Dental is expanding access to 3D printing, and doing so requires partnering with industry leaders like Medit to address barriers to adoption in the dental industry. Together, we've created a complete chairside workflow that addresses these barriers to make the technology more accessible, with the ultimate goal of unlocking the benefits of dental 3D printing for both providers and patients."
Learn More: Webinar with Dr. Christopher Baer
At Formlabs Dental, we are committed to providing more than just a 3D printing ecosystem. Dental professionals require a seamless and hassle free end-to-end workflow so they can focus on the essential - providing premium care to their patients. To achieve that goal Formlabs will continue to partner with digital dentistry leaders such as Medit to offer the easiest and most accessible dental workflow for dental practitioners and labs of all sizes. 
Want to learn more about how the Formlabs-Medit integration can benefit your practice? Sign up for our free webinar on March 22nd with Dr. Christopher Baer to discover how the seamless integration between your intraoral scanner and 3D printer can help you gain chairside efficiency. There will also be time to answer any questions you may have.