Form 3B+ vs. Form 2: Comparing Formlabs Dental Desktop 3D Printers
With the release of the latest Formlabs 3D printers—the Form 3+ and Form 3B+—you may be wondering how our re-engineered Low Force Stereolithography (LFS)™ print engine differs from desktop stereolithography (SLA) printers like the Form 2, which not only introduced dental labs and clinics to the benefits of 3D printing in the first place, but has become a staple in the workflows of tens of thousands of dental practices and labs.
In this post, we'll spell out the main improvements we've made in the SLA printing process over the years, starting with the launch of LFS™ in 2019, and then our latest refinements packaged with the Form 3B+. You will learn why we re-engineered the stereolithography print process and optics engine, and what has changed to make the latest printers the most intuitive, reliable Formlabs printers for dental professionals yet. We'll focus on the differences between our desktop 3D printers, the Form 3B+ and the Form 2.
Before we start, some notes:
Low Force Stereolithography (Form 3B+) vs. Stereolithography (Form 2)
In 2011, Formlabs was the first to bring high-resolution stereolithography 3D printing to the desktop with the Form 1, in a much smaller and more affordable setup than existing industrial SLA machines. Its successor, the Form 2 quickly became the industry-leading desktop 3D printer, with millions of dental models, aligners, cutting guides, and more printed by dentists and dental labs. Given the popularity of the Form 2 in the dental market, Formlabs launched a dental-only business unit to serve the needs of our dental lab and practice customers with printer solutions, including the first dedicated dental printer, the Form 3B.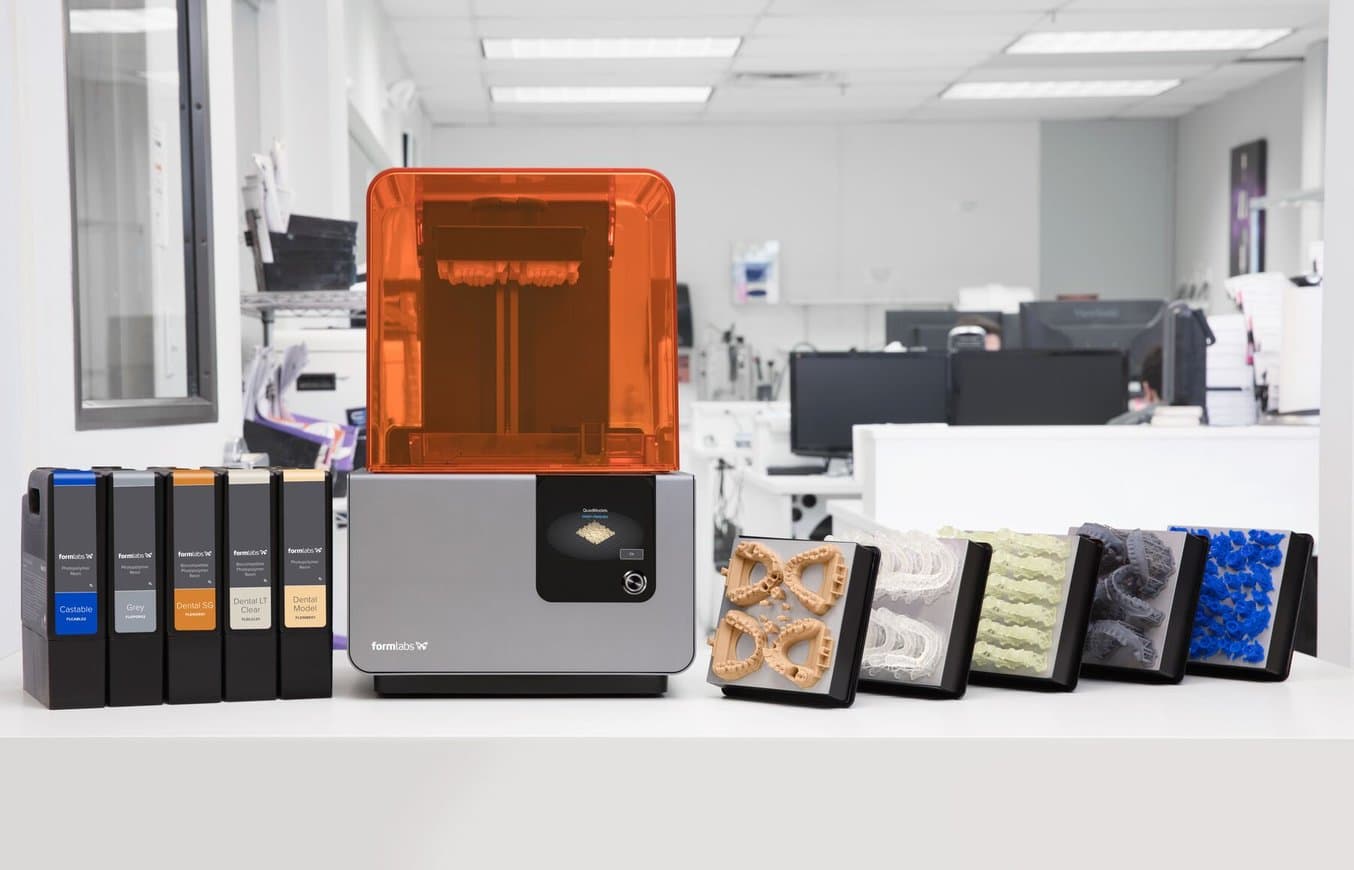 In 2019 we re-built SLA printing from the ground up, launching Low Force Stereolithography (LFS) with the Form 3B. LFS is an advanced form of stereolithography that leverages a flexible tank and linear illumination to offer a huge leap forward in print quality and printer reliability. LFS resulted in better print quality and smoother surface finish, enabled light-touch supports, and more.
For dental professionals, reliability is an absolute necessity when investing and scaling a fleet of 3D printers. Dental professionals, specifically dental labs, often run their machines 24/7, and have the highest output of any Formlabs users. That's why our engineering teams focus on reliability when designing LFS for the dental market, as professionals can not afford print failures that result in slower delivery times to clients and patients.  
In 2022, with the launch of the Form 3B+, we've made substantial refinements to LFS, further boosting print quality, reliability, and print speed.
"We run prints overnight, and the last thing you want is to come in and see the print failed overnight. We have not had an overnight print failure with the Form 3B yet. Having confidence in your producers, your materials, your models, it gives you the foundation you need to grow."

Iverson Dental Lab
A Lower Force Print Process
The Form 2 achieved a substantially smaller footprint than industrial stereolithography printers by inverting the print process—a transition you can delve deeper into in our Ultimate Guide to Stereolithography. This is critical for dental professionals that are operating on tight real estate, often needing to stack 3D printers on top of each other to maximize the space.
At the time, the Form 2 was heavily calibrated to account for the forces of the peel process and produce high quality dental parts, putting industrial quality in the hands of more businesses thanks to its  affordable price point. The LFS technology that powers the Form 3B+ was developed specifically to drastically reduce peel forces for significant increases in print quality and printer reliability. One key improvement is the flexible film at the base of the tank, which allows for a softer peel between layers during printing.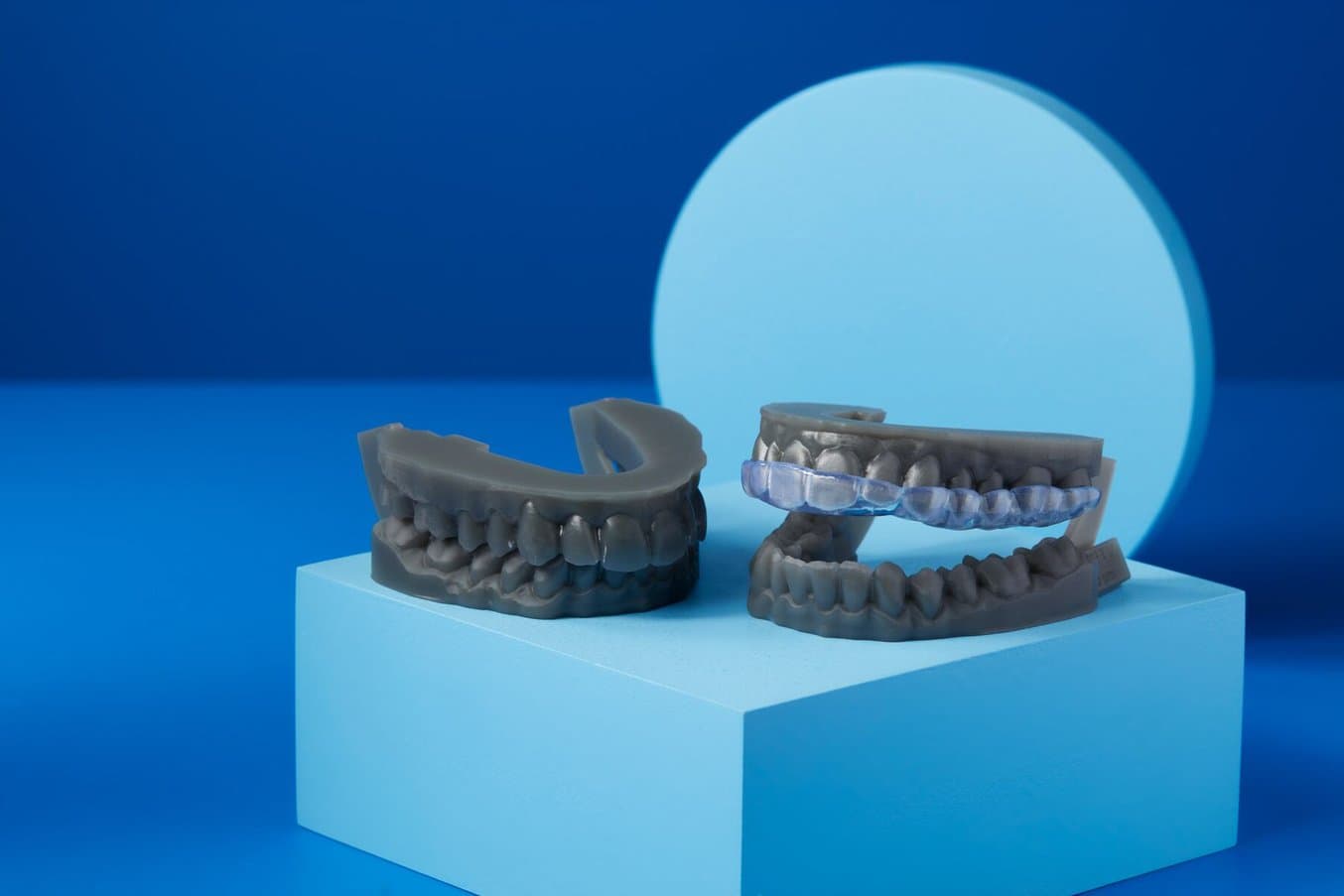 Draft Resin is a grey-colored model material that prints at top speeds. It's capable of printing one orthodontic model arch in as little as 20 minutes.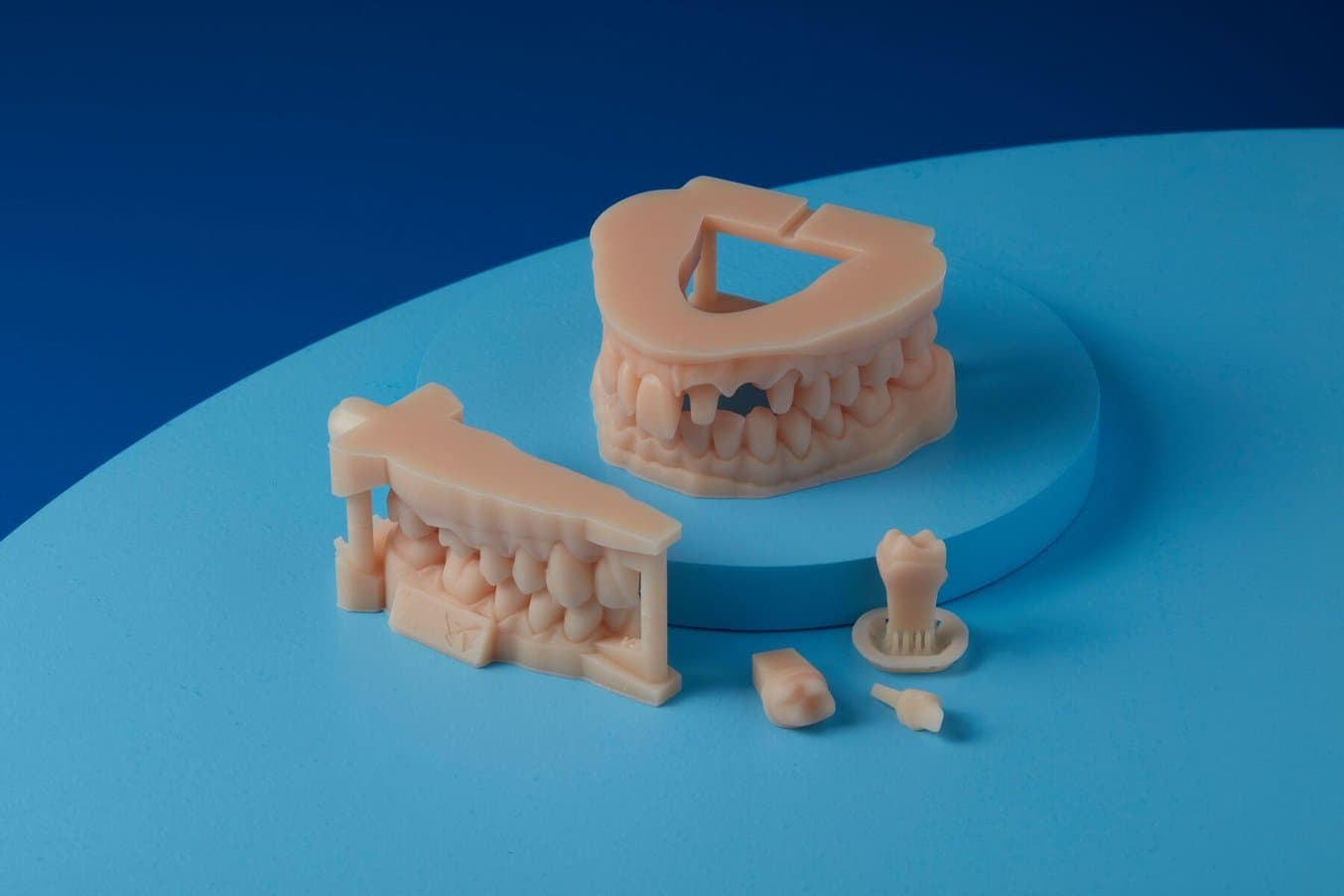 Model Resin is a stone-colored model material that prints quickly without sacrificing surface finish. It's capable of printing a high-accuracy restorative model kit in under an hour.
The reduced peel forces delivered by LFS 3D printing result in several key benefits for the dental market:
Improved surface quality, with fewer visible layer lines and decreased surface roughness for incredibly smooth surface finish and clarity even at 100 microns.
Light-touch support structures with smaller touchpoints that easily tear away from the part for faster cleanup and finishing.
Better print success across all materials, most noticeably for materials with high viscosity and low final tensile strength.
"Due to the LFS technology, the support structures are easier to remove and you need fewer [supports] than before. Splints and surgical guides have superior translucency and surface finish."

Stephan Kreimer, MDT, Kreimer Dentallabor
Enhanced Light Touch Supports
Decreased peel forces lead to incredible surface quality, easier support removal, and cutting-edge material possibilities. Choose the Form 3B+ for the best surface finish and the easiest post-processing. While many dental models are printed directly on the build platform, some prints, such as cutting guides, greatly benefit from easier support removal.
"The improvements to the light-touch supports that break away are game-changing. There is no way to describe the first time you take a part and pull at it and it just seamlessly pops completely free. It takes the stress out of building and cleaning parts and lets us keep our focus on design and creation."

Justen England, Managing Director, Delve
Optics
The precision optics engine within the Form 2 has proven over time to meet the accuracy requirements of the most demanding applications. This includes users in dental labs, who need to produce many highly accurate parts on a repeated basis.
The Form 2 uses two galvanometers for X and Y positioning, directing laser light from the back of the printer to a large stationary mirror that delivers the beam to the print plane.
For the Form 3B+, we focused on further refining accuracy and consistency, and making the system scalable. LFS 3D printing houses the optics inside a Light Processing Unit (LPU) that moves in the X direction. One galvanometer positions the laser beam in the Y direction, then directs it along across a fold mirror and parabolic mirror to deliver a beam that is always perpendicular to the build plane.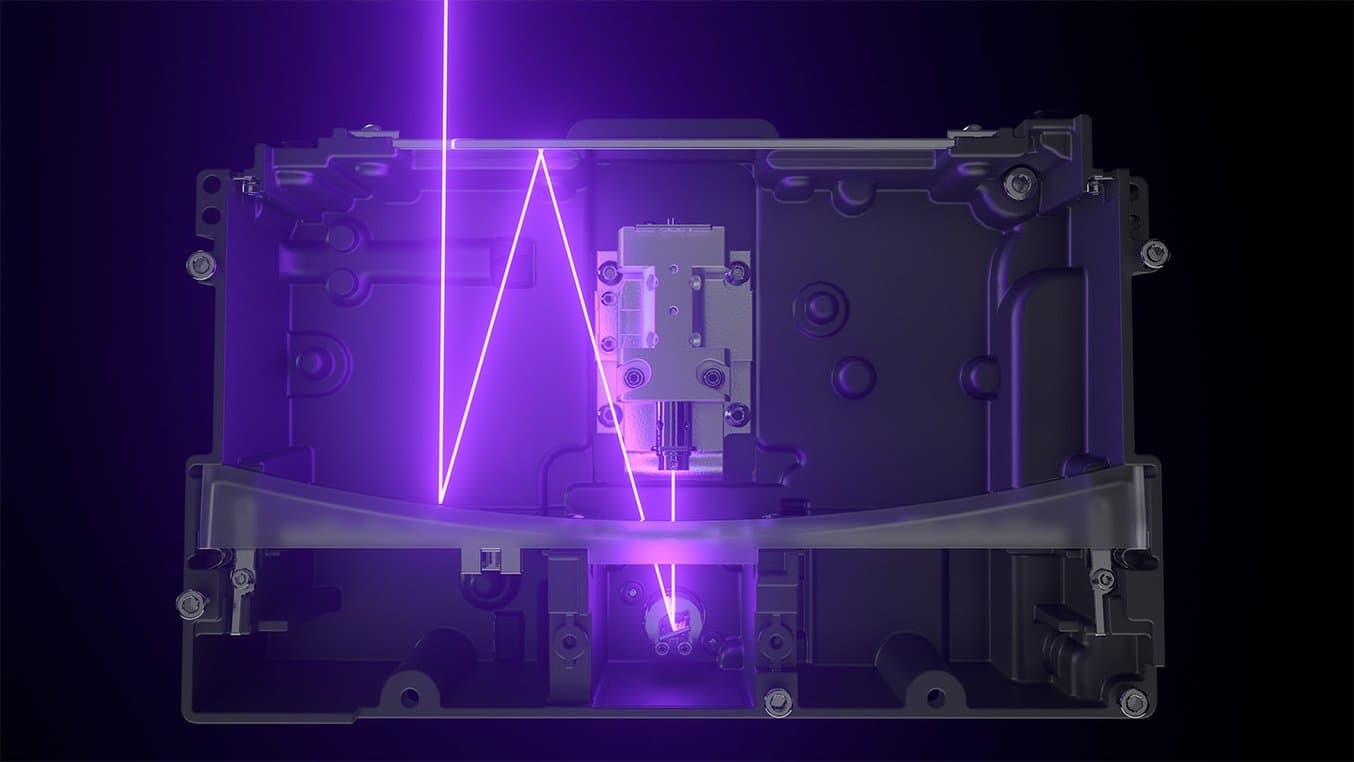 While beam deviation at the print plane is small on a printer the size of Form 2 and Form 3B+, a perpendicular beam allows for uniformity as hardware scales up, which is why it was possible to develop the large format Form 3BL.
The Light Processing Unit uses a spatial filter to create a crisp, clean laser spot for greater precision, and a higher-frequency galvanometer, which leads to some gains in print speed over the Form 2.
| | Form 3B+ | Form 2 | | |
| --- | --- | --- | --- | --- |
| XY Resolution | 25 microns (0.001 in) | n/a | | |
| Laser Spot Size | 85 microns (0.0033 in) | 140 microns (0.0055 in) | | |
| Laser Wavelength | 405 nm wavelength | 405 nm wavelength | | |
| Laser Specifications | EN 60825-1:2007 certified Class 1 Laser Product | | | |
Note: The Form 3B+ uses 180mW maximum laser power at the print plane. This power is not maxed out all the time and depends heavily on the geometry of the part and the stage of the print. The Form 2 maxes out at 96 mW at the print plane.
The LPU delivers more uniform, precise optics to the Form 3B+ and Form 3BL than the optics system on the Form 2, and is easier to replace in the rare case that optical issues arise. Further improvements to LPU stabilization were delivered on the Form 3B+ beyond what was capable on the Form 3, further resulting in tighter alignment between layers, and ultimately better surface finish.
Choose Form 3B+ and Form 3BL for the highest optical precision, part accuracy, and consistent printing over time.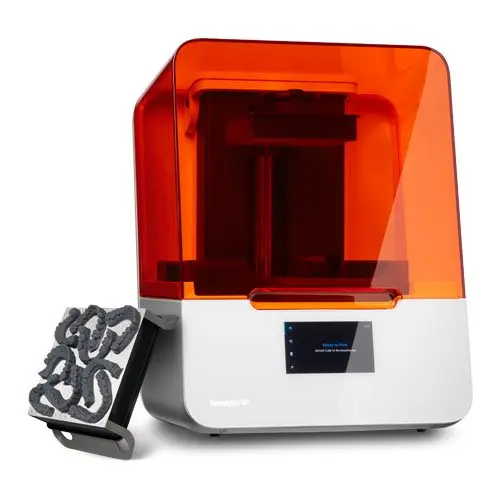 Webinar
Product Demo: Form 3B+ Dental 3D Printer
Watch our product demo for a walkthrough of our new LFS dental 3D printer from a Formlabs expert.
Watch Now
Truly Nonstop, Printing
With the Form 3B+, we set out to create the most reliable 3D printer on the market. It's been incredible seeing dental labs and practitioners using multiple resins on a single printer to improve patient outcomes, and to grow their business. From Roe Dental Lab pivoting their printing operations during the COVID-19 pandemic, to how Dr. Burton saved time with in-house aligners, and more.
In the dental space, Perfect Finish Ortho Lab is using an in-house fleet of Formlabs printers to create over 700 appliances per week. After buying their first Form 2 in 2016, the lab has scaled with Formlabs and now deploys a Form 3, Form 3B, and Form 3BL. Now, their fleet runs all day and night, with lab President Phil Pelligra saying, "we don't have time for reprints of models, they need to be accurate all the time, and that is why we are Formlabs customers."
Formlabs machines are designed to free up time so you can focus more on designing and creating and less on checking and maintaining your printer.
The Form 3B+ has introduced several new features to push toward maximum uptime beyond what is capable on the Form 2:
Even more integrated sensors across the printer detect and maintain ideal print conditions and alert you when the printer needs your attention. The optical sensor can even detect dust!
Field replaceable components. The Light Processing Unit, optics window, and other components can be replaced in-house to ensure 24/7 uptime. Some Form 2 components are user-replaceable, and we've learned from working with users how to make these replacements even more intuitive.
Improved failure detection and handling means you can experiment with challenging geometries with ease. If a print fails, the Form 3B+ can print a cleaning mesh for easy removal.
Easier print cleanup. In the rare case a print fails, simply run a cleaning mesh print directly from the printer touch screen to capture and remove any solid resin remaining in the resin tank. Post-processing SLA parts has never been easier than on the Form 3B+.
Adaptive Layer Thickness is an advanced print mode available for all materials. The feature analyzes parts imported into PreForm and assigns layer heights throughout the sliced model based on the geometry of the part, maximizing speed and preserving fine details.
World class support. Because we know every business use case is unique, get helpful, human support when you need it from a Formlabs expert that understands your business. The Formlabs Dental Service Plan was created specifically for dental professionals investing in the Form 3B+.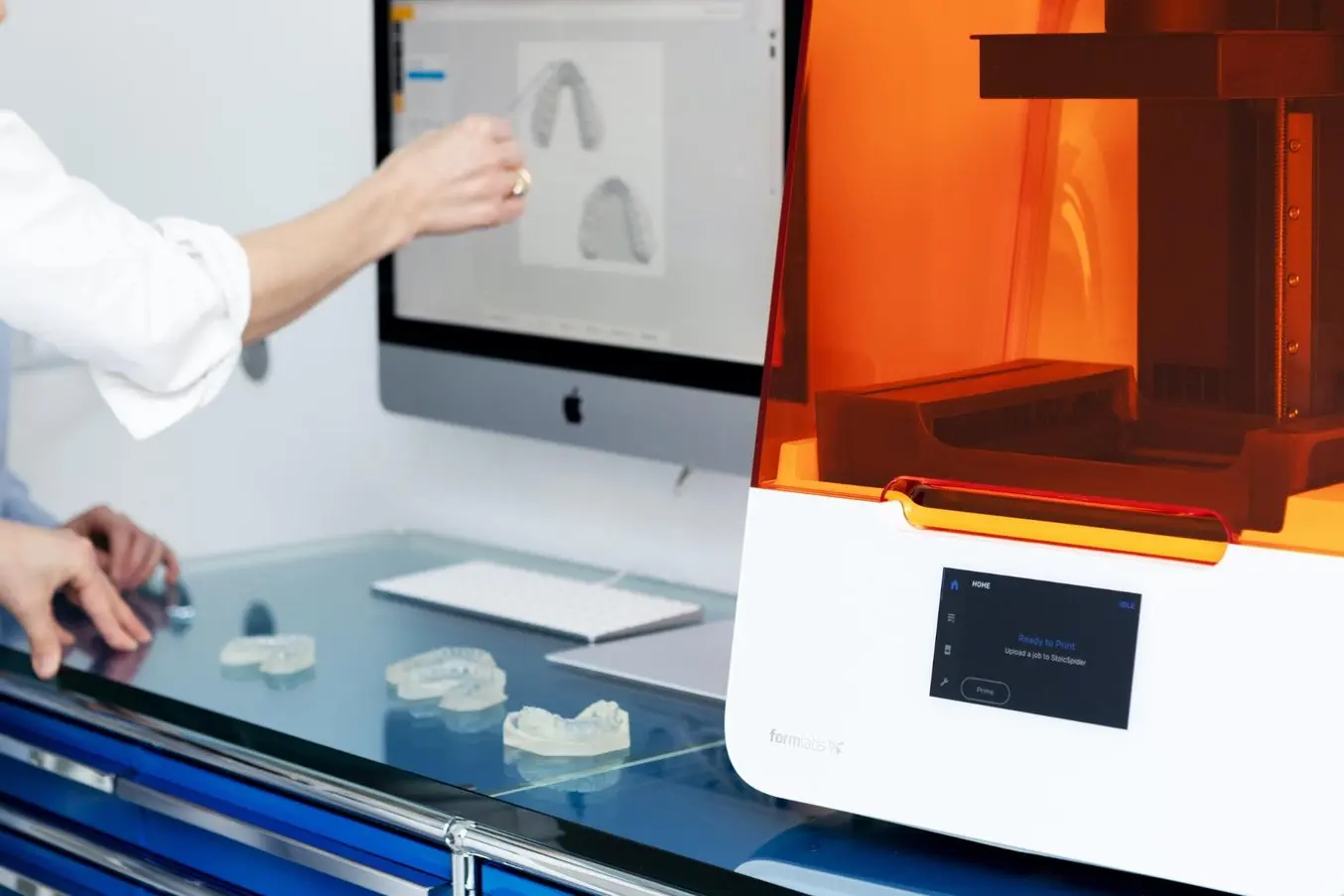 With the launch of the Form 3B+, Formlabs engineers also took extra time to improve the temperature controls up and beyond those in the Form 2 and Form 3. Resin temperature is very important to control, as the curing process and viscosity of resins can be highly dependent on this being correct. Form 3B+ measured air temperature as air was leaving the printer, meaning its temperature readings were easily impacted by ambient temperature around the printer.
Form 3B+ features a redesigned heating system that reads temperature closer to the resin itself, allowing prints to start faster and more consistently across a broader range of ambient conditions due to more accurate temperature detection.
The Form 3B+ takes printer reliability to the next level with more features to help you spend less time checking on your printer so you can focus on designing and creating.
"I just wanted high-quality. With the Form 3B especially, I was getting very high-quality prints on it, so I was very happy with it. The fact Formlabs is not being complacent is important. That's why I stuck with Formlabs Dental."

Dr. Rooney of Rooney Orthodontics
Print From Anywhere With Remote Print
For those who receive urgent or last minute print requests, such as an urgent need for a replacement retainer, the Form 3B+ introduces the ability to start prints from anywhere. Prime the printer before you leave, then start the next print job from anywhere in the world (not just the local network).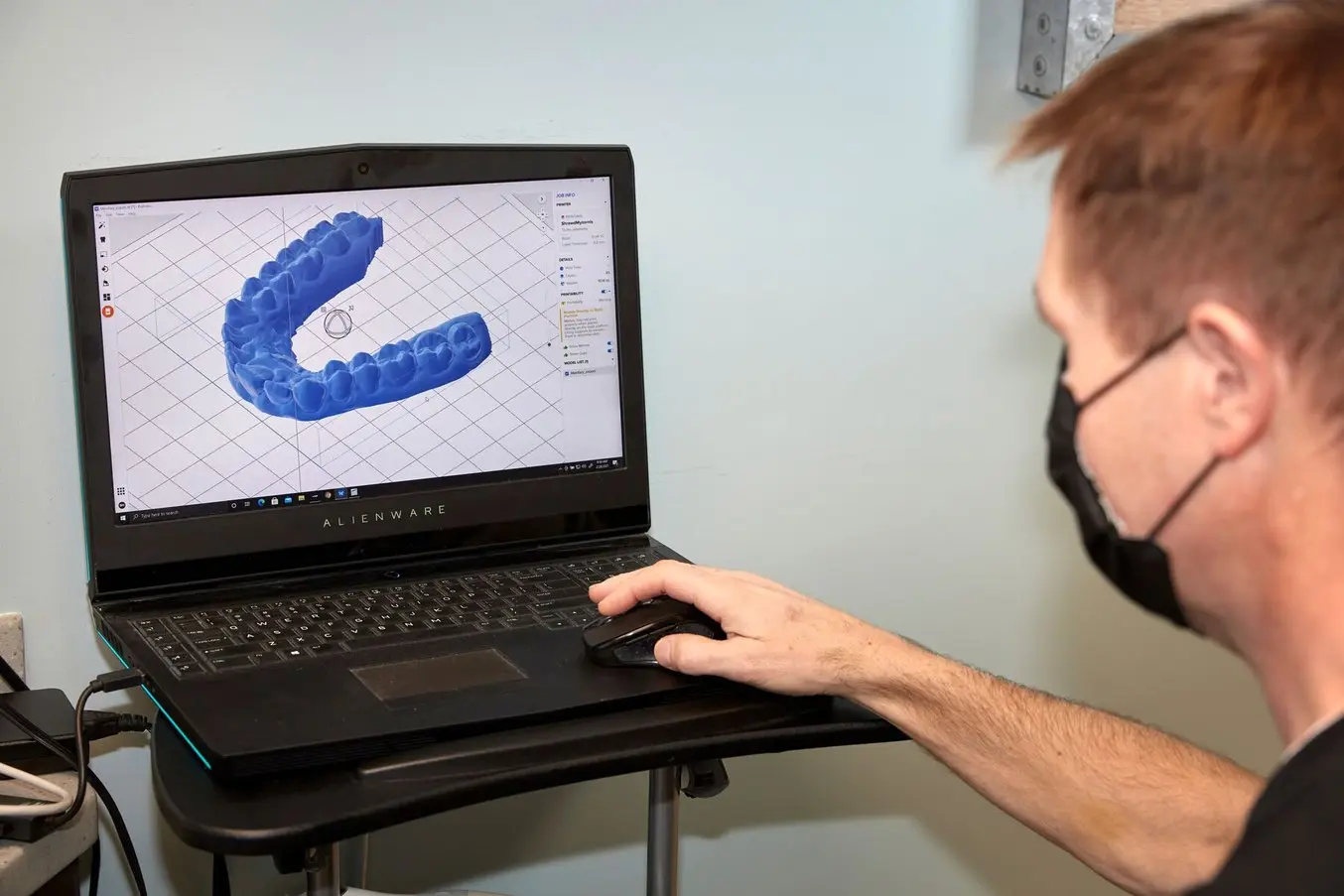 [Remote Print] is useful since I work from home a lot and can start a print and know it will be done in the morning when I get to the office.

Rick Ferguson DMD, DABOI/ID, DICOI, Implant Educators
Familiar Workflows, New Ways to Interact
If you've used a Form 2 before, the overall workflow for the Form 3B+ should feel quite familiar. Even if you have never used a Formlabs printer, it's easy to get started with either machine. To further empower beginners and accelerate the workflows of advanced users, Formlabs offers similar service and training options for each machine. The Formlabs Dental Service Plan includes:
Phone support
Priority email support
Proactive check-ins
Customized onboarding training
The basic printing process looks like this: Import your design into PreForm, choose a material from our extensive materials library and insert the cross-compatible cartridge, and click print. Our automated post-processing machines, Form Wash and Form Cure, are compatible with both Form 2 and Form 3B+, which use the same size build platform. 
Similarly, the new Build Platform 2 which launched alongside the Form 3B+ is compatible with the Form 2, Form 3, and Form 3B+. The Build Platform 2 has patented Quick Release Technology that fundamentally changes the SLA workflow, making it significantly easier to remove parts from a build platform and reducing post processing time. 
 
"It doesn't make sense to use Build Platform 1 if you have Build Platform 2."

Iverson Dental Lab
Build Platform 2 represents the continued investment in our Formlabs Dental unit, taking feedback from dental professionals to ease the entire printing process, from setup in PreFrom to part removal. 
Some good news for Form 2 users: we've continued to issue software updates for PreForm, meaning that users across the Formlabs printer product line are all on the same software. This means one familiar set of software tools no matter your printer setup, allowing for different printers to easily operate side by side. 
The Form 3B+ has introduced a few new features to make interacting with the printer even easier:
A larger, higher resolution touchscreen. The Form 3B+ can be controlled completely digitally from the screen, while the Form 2 includes an additional button. A larger screen also enables future translations of the interface into new languages.
Two LED status indicators and a speaker for ambient visual and audio alerts ideal for drawing the attention of anyone passing by.
Sleek, redesigned hardware with a printer cover that opens up flat against the wall, optics protected from resin exposure, and components that are easily replaced by the user.
| | Form 3B+ | Form 2 | | |
| --- | --- | --- | --- | --- |
| Printer Control | 5.5" interactive touchscreen 1280 x 720 resolution | 4.3" interactive touchscreen 480 x 272 resolution Push-button | | |
| Alerts | Touchscreen alerts SMS/email via Dashboard Two LED status indicators Speaker for audio alerts | Touchscreen alerts SMS/email via Dashboard | | |
With cross-compatible materials and accessories and the same intuitive software, it's just as easy to manage several Form 2 and Form 3+ printers side by side as it is to manage a uniform fleet.
Familiar Material Library, New Ways to Print
Formlabs continues to support the Form 2, and new materials continue to ship with support for it. However, it is not a guarantee that future materials will be compatible with the Form 2, as advanced workflows may require LFS. For non-dental materials, this includes the 2022 launch of ESD Resin.
Recently, Formlabs partnered with BEGO, a leading specialist in the field of prosthodontics and implant dentistry to launch Permanent Crown Resin. BEGO has more than 20 years of experience in developing 3D printing materials for dental applications and is regarded as a specialist in all dental fabrication techniques.
Permanent Crown Resin is a tooth-colored, ceramic-filled resin, indicated for the direct printing of permanent single crowns, inlays, onlays, and veneers. This cutting-edge resin produces high strength, long term restorations with an accurate and precise fit. Low water absorption and a smooth finish ensure restorations made from Permanent Crown Resin have a low tendency to age, discolor, or accumulate plaque.
This highly advanced material only works on the Form 3B and Form 3B+. 
Formlabs Dental remains committed to significant investments in future dental materials. Recently we released a new formulation of Model Resin, developed to meet the precision, reliability, and throughput requirements of restorative dentistry. The new formulation enables dental professionals to print models with improved accuracy while cutting work time by more than half. Coupled with Build Platform 2 and LFS on the Form 3B+, it has never been easier or quicker to produce high-quality dental models in-house at an affordable price. 
The Form 3B+: The Next Generation of Desktop Dental 3D Printing
Today, Formlabs users are leading the way in scaling 3D printing operations, from using printers as prototyping tools to indispensable drivers of business. The Form 2, the 3D printer that changed the standard, is now available at an even more affordable price point to bring industrial-quality 3D printing in-house.
With the Low Force Stereolithography (LFS) print process behind the Form 3B+ (and its large format counterpart, the Form 3BL), Formlabs has re-engineered the print process to create an in-house fabrication platform that's more reliable and versatile than ever.