Introducing The Future of Automation in Digital Dentistry
Formlabs Dental is excited to introduce the future of automation in digital dentistry: the Formlabs Automation Ecosystem. Comprising three new products - Form Auto, Fleet Control, and High Volume Resin System - Formlabs Automation Ecosystem delivers high-productivity 3D printing at scale for dental labs. These new products will deliver higher efficiency by allowing labs to establish a fully automated printer fleet:
Form Auto is a hardware extension for the Form 3B and Form 3B+ printers that automatically removes finished parts from Build Platform 2 and starts the next print without the need for operator interaction. It can be purchased separately, or as part of a new printer package for current and new customers. 

Fleet Control is a suite of newly available, advanced features in PreForm and Dashboard that facilitate easier management of multiple 3D printers with centralized queue management and automation printer assignment.

High Volume Resin System is a 5L Resin Bag and Resin Pump that expands the standard capacity of a Formlabs SLA printer, reduces packaging waste and minimizes cartridge handling tasks.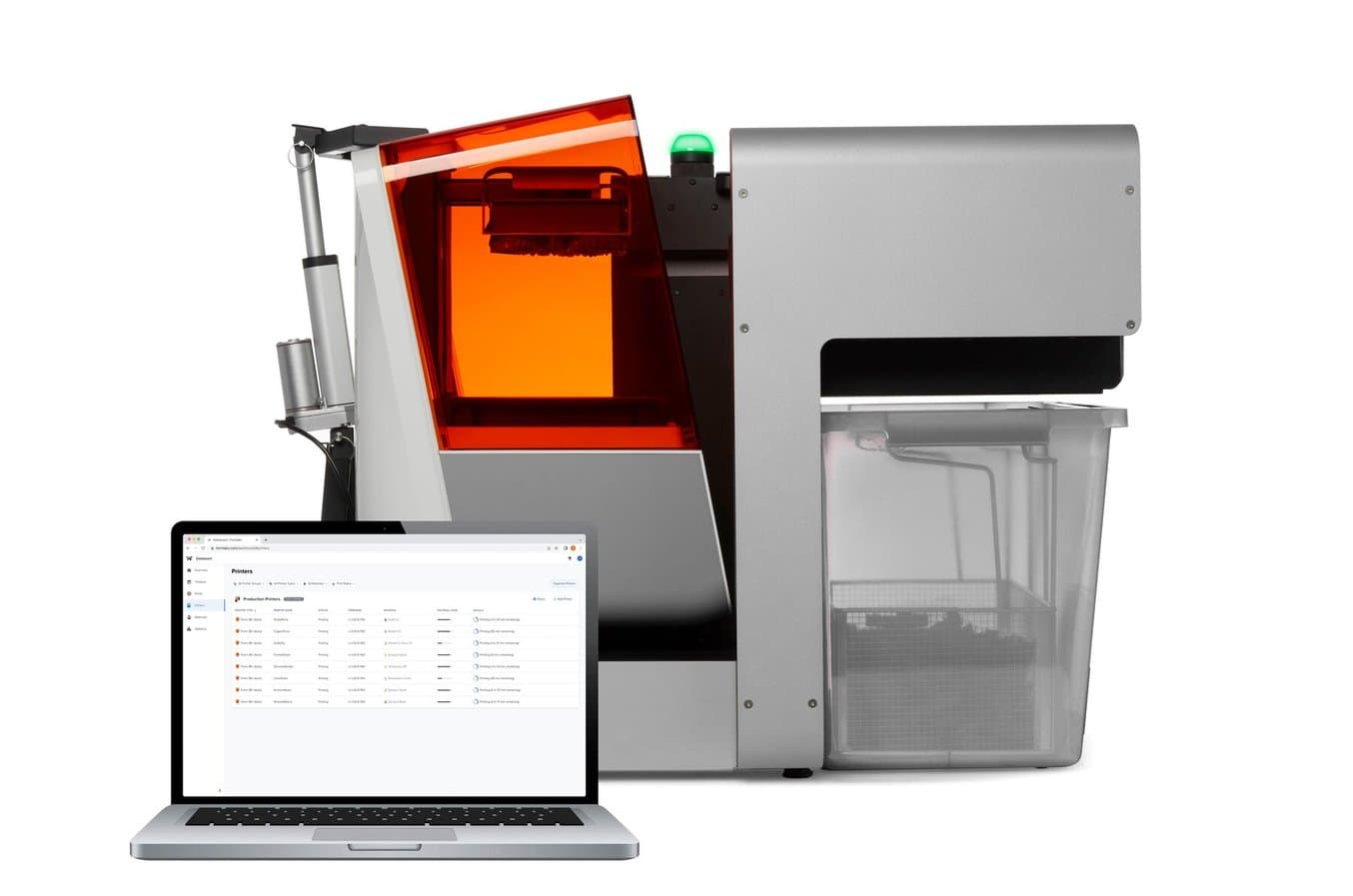 With Formlabs' Automation Ecosystem, a single printer can produce up to 177 models per day (*) while minimizing staff interactions and costs. Form Auto, Fleet Control, and High Volume Resin System allow dental labs to supercharge their productivity, reduce cost per part, deal with labor shortages, and minimize the headaches that come with higher throughput through a series of features meant to make users' lives easier and products even better.
 *Tests run using Draft Resin to make Orthodontic Models on a Form 3B+ at 200 microns.
Automation in Action: Perfect Finish Ortho Lab
Perfect Finish Ortho Lab is a full-service orthodontic laboratory that specializes in hawley retainers, fixed & removable appliances, clear aligners, and more. For years, the company has been on the cutting edge of investments in digital workflows, building a large fleet of 3D printing to accommodate growing demand. With strong growth goals planned for 2023 and beyond, Perfect Finish is looking to automate as much of their digital dental workflow as possible. They were one of the first dental labs to use beta versions of Form Auto and Fleet Control.
Company President Phil Pelligra told us that, "if you're not investing in it [automation] now, you're going to be left behind. We're seeing automation in every aspect of our laboratory, not just dental models, we're looking to automate trimming of clear aligners and clear retainers, automation for wire bending, and more. It's here, and this is going to become a standard in the next few years."
One of the larger benefits of bringing automation to dental labs is addressing current and future labor shortages. Pelligra told us that, "the industry is having a hard time finding good people that want to work as lab technicians. It's the labor shortage more than the labor costs. If we can automate and keep the current staff that we have, that is the ultimate goal. At our current locations, we can currently accommodate twice our current production. My goal is to double production by adding only three to four more people due to automation across our dental workflow."
The team was able to successfully deploy the Form Auto and achieve weekend printing without in-person oversight from staff. Digital Lab Manager Van Williamson told us that, "before, we would queue the printers up, and our tech would come in on Saturday, clear the printers, and start the next job. Now, with Form Auto, you load the printers up, and the models are all done on Monday. We have weekends when the staff doesn't have to come in, and the models were ready on Monday morning. Because of Form Auto, we were able to print more, especially on the weekend, without having to rely on our other printers."
Of course, prints on Form Auto can be monitored at all times. With regard to Fleet Control, Williamson told us that, "once we got it configured, it was very streamlined. I was able to track from home if there was a failure. I was able to monitor issues, print history, and things like that."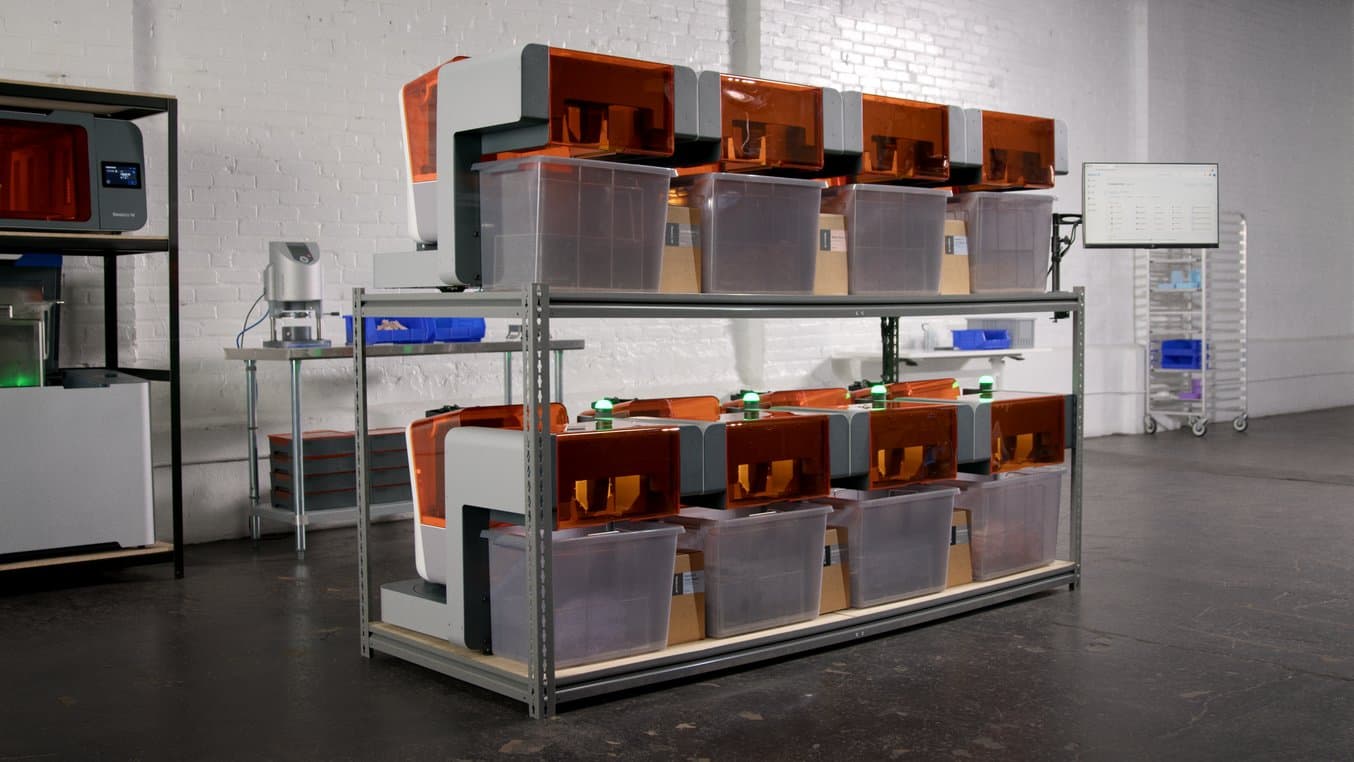 White Paper
Calculating ROI for the Formlabs Automation Ecosystem
In this whitepaper, we'll walk through three manufacturing scenarios to explain cost per part and return on investment (ROI) calculations.
Download the White Paper
Formlabs Dental Automation Ecosystem Deep Dive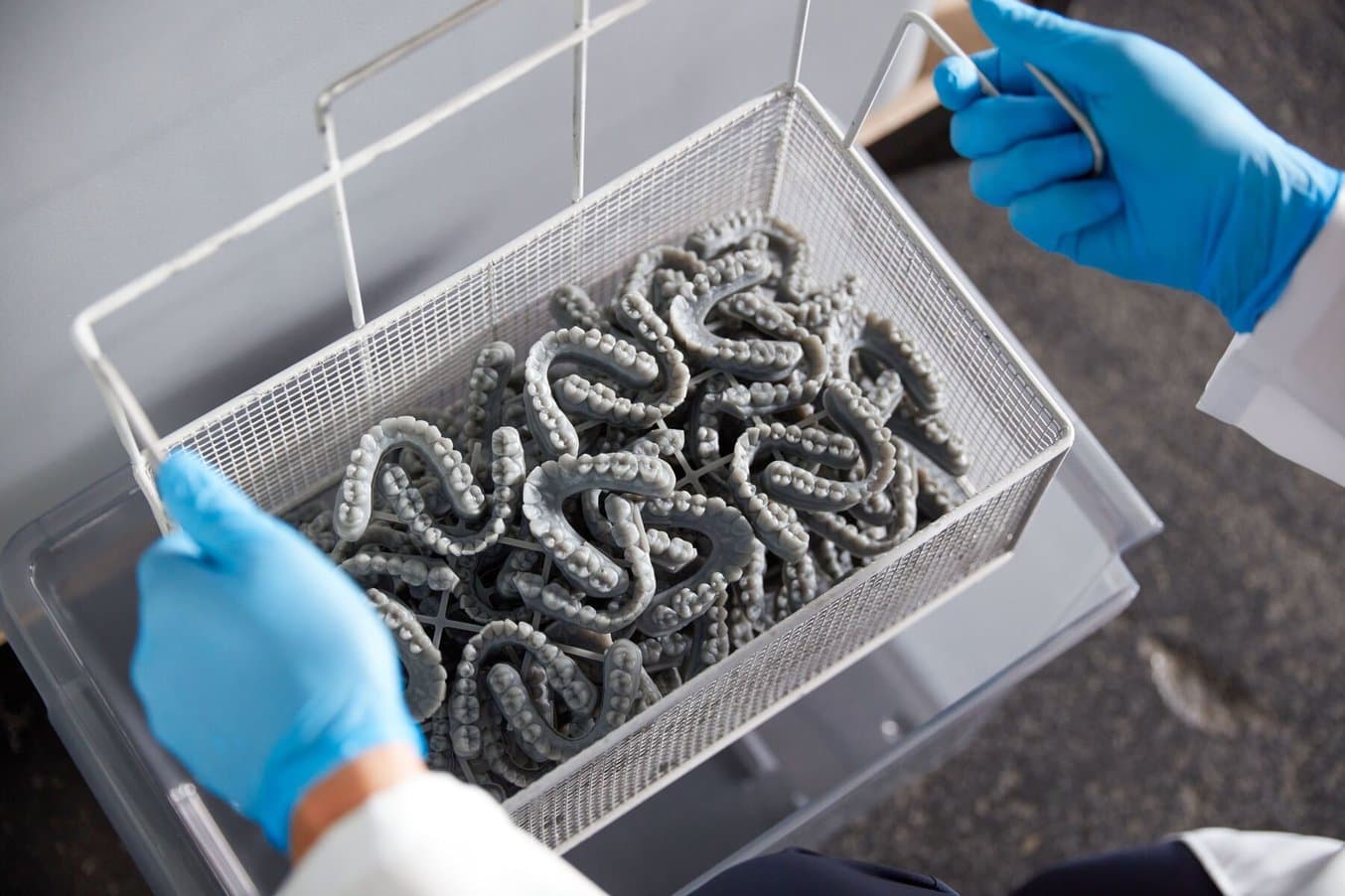 Form Auto
Form Auto is an extension to any Form 3/B/+ printer, and by using the patented Quick-Release Technology of the Build Platform 2, removes models from the printer, detaches them from the platform, and deposits them in a holding basket, ready for the Form Wash. The Build Platform 2 is automatically reinstalled and the next print starts immediately, with no user interaction required. 
With Form Auto, hands-free, 24/7 printing is not only possible, it's affordable, and can be added to any existing Form 3B/3B+ printer. Taking up minimal additional space, Form Auto is an advanced manufacturing tool for dental labs to boost the productivity of their staff and expand output without the need for a significant increase in headcount.
How to make 1000 3D printed dental arches (Draft Resin) in one day*:
| Set up | With Automation Ecosystem | Without Automation Ecosystem | | |
| --- | --- | --- | --- | --- |
| Printers Needed | 6 | 9 | | |
| Number of cartridge changes | 2 | 14 | | |
| Shifts Required | 1 | 2 | | |
| Cost per part | $1.89 | $3.11 | | |
* Calculation based on dental arches printed in Draft Resin at 200µm. Calculation includes equipment and labor costs, and amortization.
Fleet Control
Fleet Control is a suite of advanced features across PreForm, our free print preparation software, and Dashboard, the online printer and consumables management tool, that enable centralized management of multiple Form 3 Generation printers and groups of users. 
Fleet Control simplifies management and oversight of your fleet of dental printers by identifying which printer is most suitable for each print with automatic printer assignment and by creating a continuously moving queue across all printers. With additional capabilities with Fleet Control in Dashboard, users can view and edit the queue for the Printer Group, as well as duplicate or reprint jobs without having to reopen PreForm.  
These features can be accessed from anywhere, so queue management can happen after working hours, from home, or from anywhere in the world. Operators can ensure the smooth running of the printer fleet without having to be in the lab.
High Volume Resin System
Continuous production only happens with enough material to supply it. Formlabs' new High Volume Resin System ensures that printers will never run out of material while operators are away from the job, be it overnight or over the weekend. Fleet Control and Dashboard features will alert operators when consumables are close to needing a refill, so that changing resins can always be taken care of before leaving for the night. The High Volume Resin System packs five liters of material into one vessel, enabling multiple print jobs and days of productivity without changeover, complemented by a Resin Pump to ensure quick and efficient dispensing.
The High Volume Resin System reduces packaging waste by 90+%, and requires you to keep less space set aside for storage of materials in their traditional plastic containers. High Volume Resin System is priced at a discount so that each user with consistent and reliable production volumes can plan ahead and reduce ongoing material costs.
The Future of Automation in Dental Labs is Here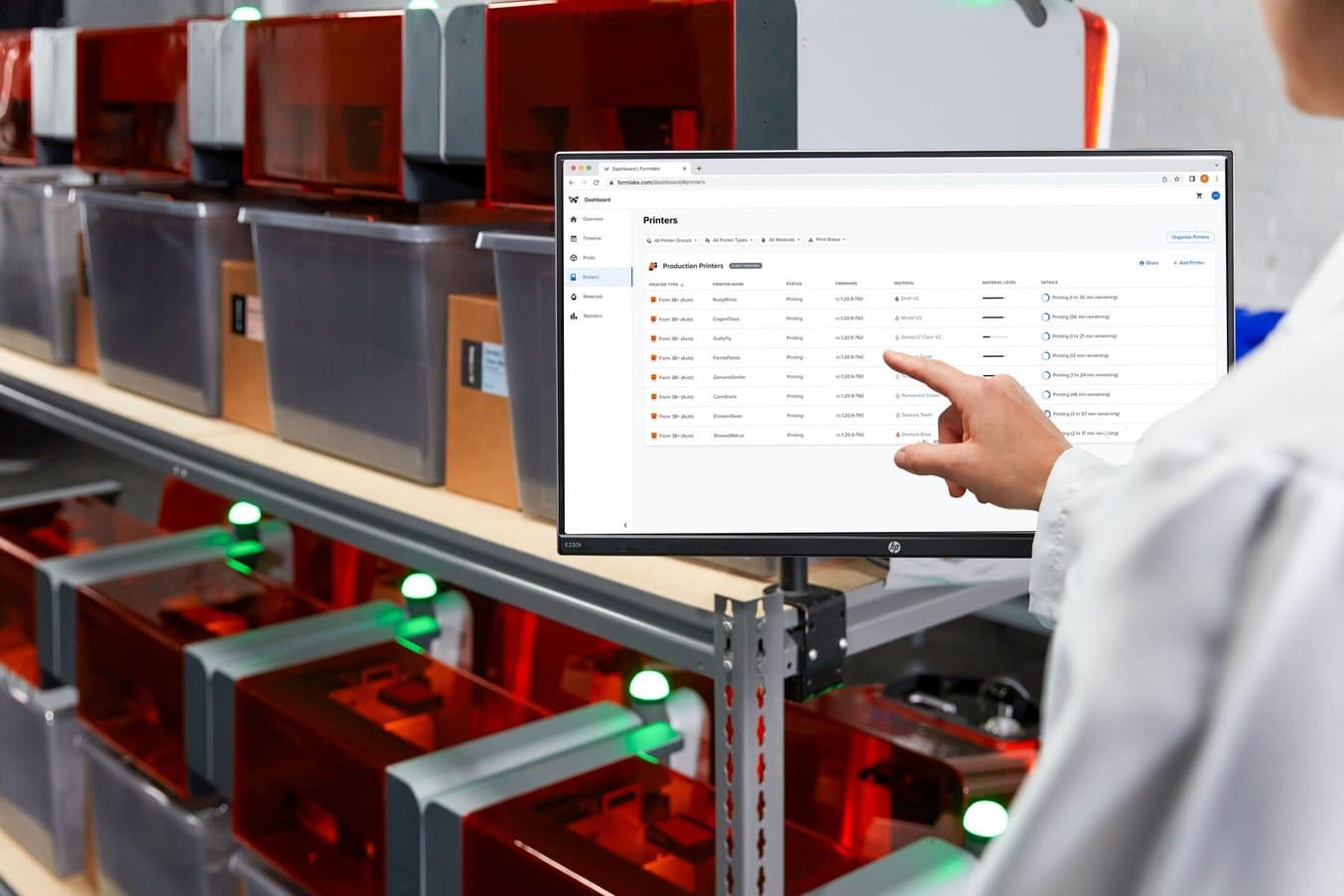 As Dental labs look to automation to help them tackle a changing and dynamic market, Formlabs Dental is excited to be part of their journey. The Formlabs Automation Ecosystem minimizes labor time, creates more flexibility for printer operators, and streamlines the 3D printing dental workflow. Dental Labs can now print all weekend long with little to no downtime, and with no staff on site to manage the printer fleet. For dental businesses looking to scale production, Formlabs Automation Ecosystem will be indispensable to expand output in tandem with demand while keeping costs and labor low so you can empower your teams to stay inspired and agile.
Automation makes 3D printing even easier and more efficient, and Form Auto, Fleet Control, and High Volume Resin System work in concert to reduce costs and improve productivity. By automating the part removal, queue management, and printer prep tasks, dental labs will be able to do more with less.
Talk to our Dental Sales team for additional information on any of the products and to discuss the right solution for your business.