Introducing IBT Flex Resin for Indirect Bonding Trays and Direct Composite Restoration Guides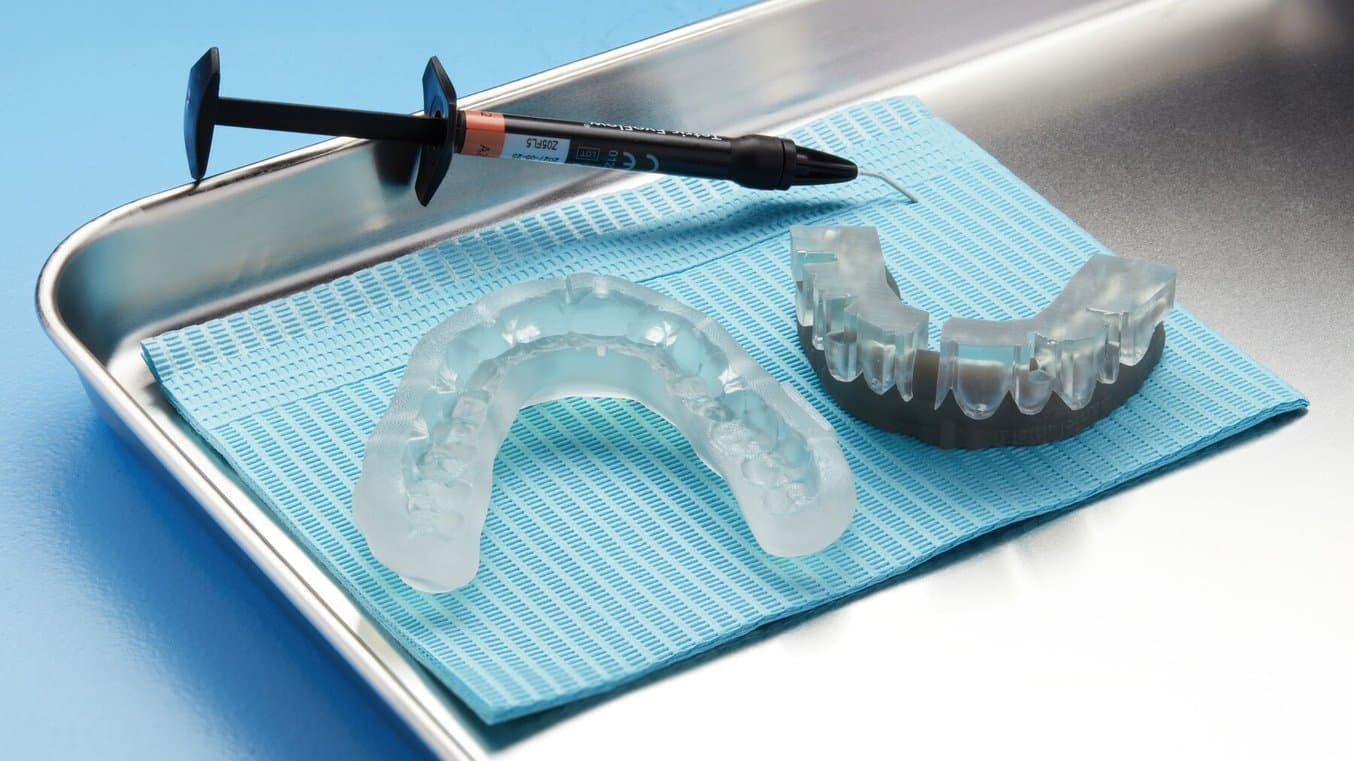 Formlabs Dental is pleased to introduce IBT Flex Resin for 3D printed indirect bonding trays and direct composite restoration guides. Highly accurate, enhanced for clarity, tear-resistant, and optimized for seamless intraoral placement and removal, IBT Flex Resin provides a critical addition to the Formlabs Dental materials portfolio. 
Together with the Form 3B+ stereolithography (SLA) 3D printer, IBT Flex Resin enables dentists, orthodontists, and dental lab technicians to improve clinical outcomes and deliver superior results in less time.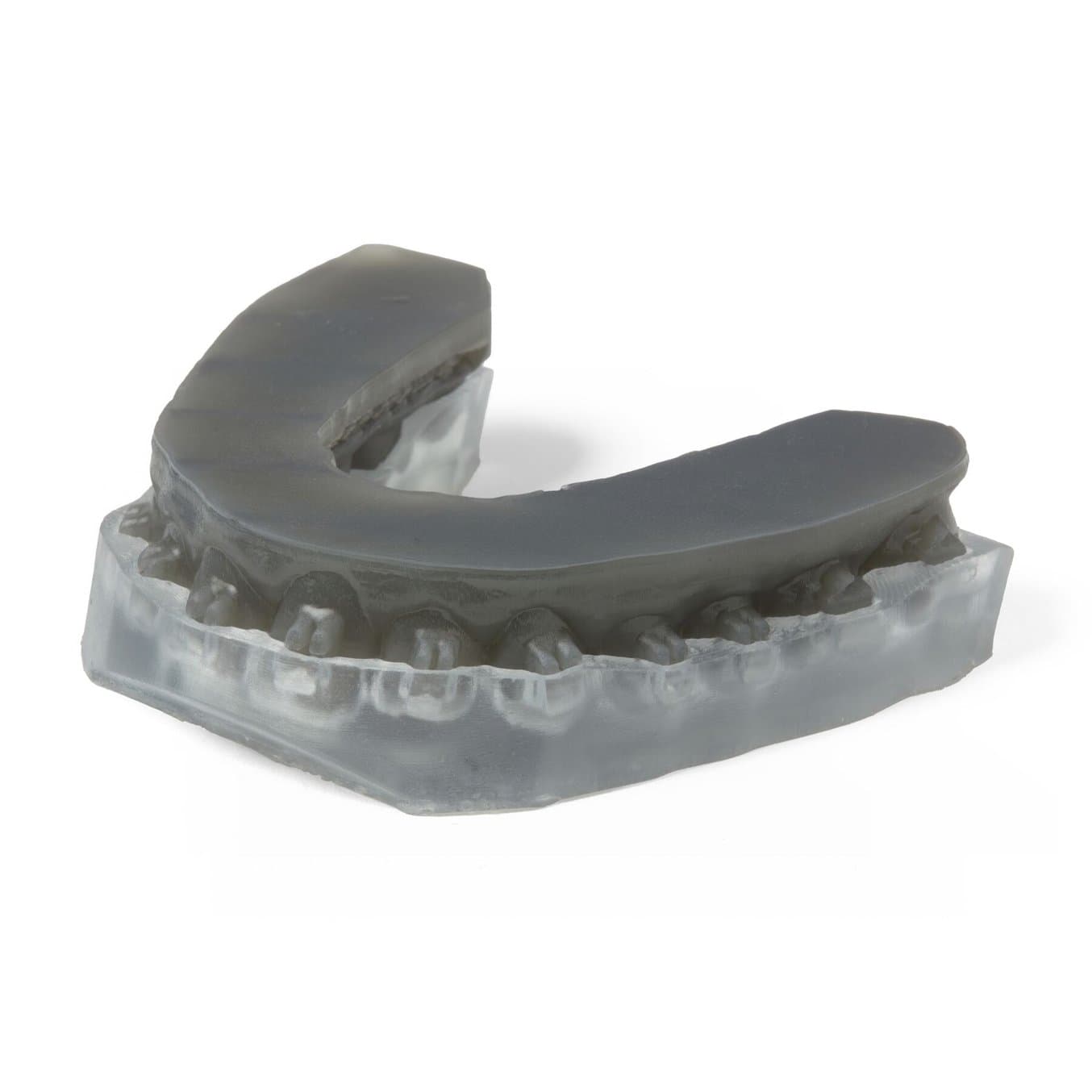 Webinar
Introducing IBT Flex Resin
In this webinar, our dental 3D printing experts will walk you through the unique features of IBT Flex Resin and explain how this innovative resin streamlines orthodontics and restorative dentistry.
Watch the Webinar
A Dental 3D Printing Material With Groundbreaking Versatility
With IBT Flex Resin, dental professionals can 3D print flexible, translucent indirect bonding trays for bracket placement that save time and deliver consistent, predictable outcomes. IBT Flex Resin also provides a first-of-its-kind capability for digital dentistry: 3D-printed direct composite restoration guides. 
Dental professionals can use IBT Flex Resin to print direct composite restoration guides to assist in the build-up of single units to full smile designs. Compared with the traditional approach, using a 3D-printed guide improves consistency and reduces procedure time and cost. 
Biocompatible, FDA Registered, and CE Marked according to the EU MDR, IBT Flex Resin is manufactured in the United States at Formlabs' ISO 13485 certified facility for dental and medical materials development and manufacturing. IBT Flex Resin can be used in Formlabs Form 3B/+, and Form 3BL resin 3D printers. 
For both indications, the strength, flexibility, tear resistance, and clarity allow dental professionals to perform with efficiency and confidence. IBT Flex Resin's best-in-class elongation eliminates the need to worry about intraoral breakage or tearing. With quick print and post-process times, teams can easily integrate IBT Flex Resin into their in-house digital workflow.
Thanks to its competitive price, this resin also carries on with Formlabs Dental's commitment to expanding access to digital dentistry via affordable 3D printers and materials as well as easy-to-use workflows.
| Property | IBT Flex Resin | Other 3DP Indirect Bonding Resins |
| --- | --- | --- |
| Shore Hardness | 77 - 80A | 89 - 95A |
| Elongation (%) | 135 | <95% |
| Tensile Strength (MPa) | 8.3 | 7.5 - 12 |
Effortlessly 3D Print Indirect Bonding Trays In House
IBT Flex Resin is a must-have for orthodontists building digital practices. When compared with manual cementation techniques, the Formlabs digital indirect bonding tray workflow significantly cuts bracket placement time while minimizing the risk of error. Indirect bonding trays can be printed in IBT Flex Resin at the 100-micron layer height, resulting in quick and accurate prints. 
| Chair time for full mouth, individual bracket cementation | 40 - 60 minutes |
| --- | --- |
| Chair time for full mouth, indirect bonding tray cementation | 10 - 20 minutes |
| Time savings per patient | 20 - 40 minutes |
Orthodontists can improve procedure precision and elevate patient comfort while integrating printed appliances into existing treatment protocols. To 3D print an indirect bonding tray, orthodontists begin with a scan. The scan is imported into a CAD planning software, where orthodontists or technicians can do the virtual bracket set-up and select the ideal construction and appliance offset and other important design considerations. When the design is finalized, orthodontists export the STL file to PreForm Dental and prepare the tray for printing.
As a highly accurate material with optimal clarity, IBT Flex Resin enables orthodontists to avoid bond failures and minimize rework. 3D printed indirect bonding trays that do not provide enough clarity or accuracy can prevent easy visualization of brackets and teeth and affect bracket placement precision, making indirect bonding more difficult for doctor and patient alike. Many currently available resins for 3D printing indirect bonding trays produce parts that lack sufficient clarity or are susceptible to tearing upon placement or removal. 
Formulated for optimal flexibility, patient comfort, tear resistance, and translucency, IBT Flex Resin improves upon current market options at a more affordable price.
At Alvetro Orthodontics in Sidney, Ohio, Dr. Lisa Alvetro works with a dedicated staff to treat over 120 patients a day and relies on the Form 3B+ and Form Auto for producing models and various appliances. Whenever the practice can reduce chair time and streamline their workflows, both the business and their patients see the benefits. 
We spoke with Patricia Mitchell, Digital Specialist at Alvetro Orthodontics, to learn how IBT Flex Resin has made an impact on their day-to-day operations. 
"IBT Flex Resin is an enhanced material that provides a higher quality of flexibility and translucency in comparison to other indirect bonding materials we have used. IBT Flex Resin provides superb accuracy and fit of the brackets. Providers can be confident that it will deliver an excellent indirect bonding experience for their team members and patients. The workflow from beginning to end is effortless and will leave an overall lasting impression!"

Patricia Mitchell, Digital Specialist at Alvetro Orthodontics
Revolutionize Direct Composite Restorations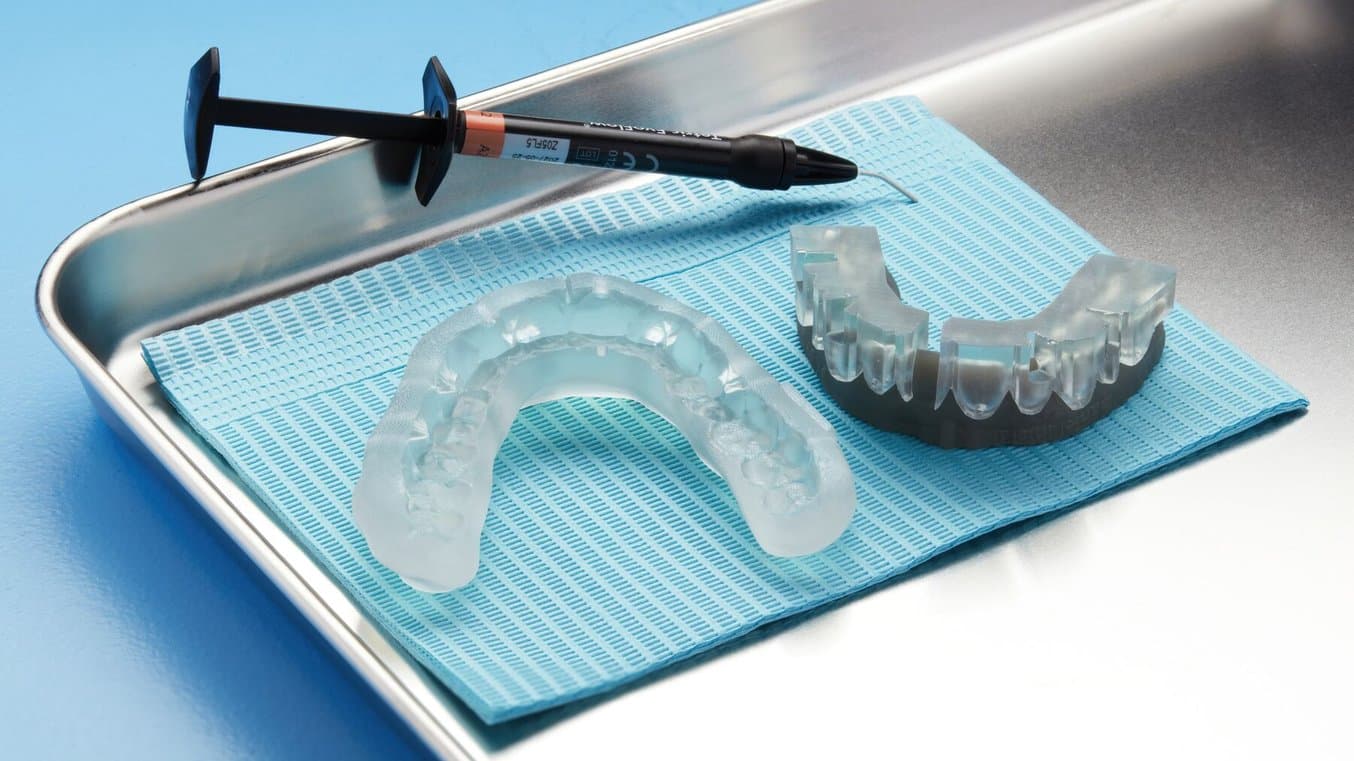 Unlike its competitors, IBT Flex Resin can be used to 3D print more than indirect bonding trays. For the first time ever, dental professionals can 3D print direct composite restoration guides. This new indication improves upon an expensive and time-consuming manual workflow that relies heavily on the dental professional to produce consistent outcomes. 
With a direct composite restoration guide printed in IBT Flex Resin, dentists can reduce the margin for error and overall procedure time. A streamlined, fully digitized workflow produces a guide with optimal transparency, flexibility, and fit, allowing dentists to focus on aesthetics and performance. Printed at a 50-micron layer height, direct composite restoration guides display an excellent surface finish, reducing the time dental professionals need to spend polishing.
The digital production of 3D printed direct composite restoration guides provides clear advantages compared to the traditional production where clear polyvinyl siloxane (PVS) is used:
Time savings: The traditional workflow requires you to print a model with the ideal design or wax-up which is later used to fabricate the silicone index upon it. The ability to 3D print the guide directly allows you to eliminate the model production as a whole and obtain the end-use appliance for clinical use leading to time savings. 

Reduced steps: As fewer steps are required for the production of digital direct composite restoration guides, not only is there an advantage of time-saving but the elimination of steps reduces the possibilities of losing details or adding errors throughout the way. The directly printed appliance is able to accurately transfer the wax-up to the patient's mouth based on the digital design already planned in the CAD software.

Cost savings: Traditional clear PVS materials can range from $80-$130 for two cartridges of material containing limited volume, which can provide a cost of $10-$20 per tray depending on the design. The cost for a full arch direct composite restoration tray 3D printed with IBT Flex Resin is reduced to $2-$5.

More accurate guides with reduced waste: 3D printing the guides enables dental professionals to accurately design the extension of the guide and control its adaptation at the gingiva margin which is critical for this technique. This also means that waste is reduced as there is no need to cut the guides with a blade to adjust to the gingiva margin. Moreover, the thickness of the appliance can be controlled when designed digitally to guarantee that it is consistent throughout the appliance which is not achievable via the analog workflow.

Separating agent is not mandatory: Traditional silicone guides require the application of a separating agent to prevent the composite from adhering to it during clinical use. For trays used for guided restorative techniques, some of the composites tested did not adhere to the tray, providing a nice advantage compared to conventional workflows. Nevertheless, applying a separating agent can reduce adhesion of the tray to composite materials.
Today, dentists might perform direct composite restorations freehand or use a variety of digital or analog tools. One current digital workflow involves creating a 3D printed model of the patient's dentition and manually fabricating silicone indexes with clear polyvinyl siloxane to create a guide. 
With IBT Flex Resin, dental professionals can go directly from digital design to 3D printed index, eliminating costly steps that create room for mistakes. The 3D printed guide directly replicates a digital design with exceptional accuracy, whether that design is a single unit, a full smile, or anywhere in between. With this release, Formlabs Dental enables dental professionals to take a massive leap forward in creating all-digital workflows for restorative dentistry. 
Dr. Edouard Lanoiselée, Formlabs Dental KOL and restorative dentistry expert, has been testing and using IBT Flex Resin for chairside permanent and temporary crowns and bridges, mock-ups or try-ins during aesthetic treatments, and molds for restorations. Dr. Lanoiselée reported excellent results after using this material clinically.
"There is great fidelity between the reference and the printed guide, which results in good reproduction of details and helps to avoid surface or occlusion corrections. Another advantage is the translucency of the material, which makes it possible to control the distribution of the temporary resin in the guide and avoid the presence of bubbles. The printed guide is flexible, so it's easy to insert and remove. Furthermore, the composite does not stick to the printed guide so we can use it for different techniques with chemo-polymerizable resins such as temporary resins or photo-polymerizable restoration composites."

Dr. Edouard Lanoiselée, DDS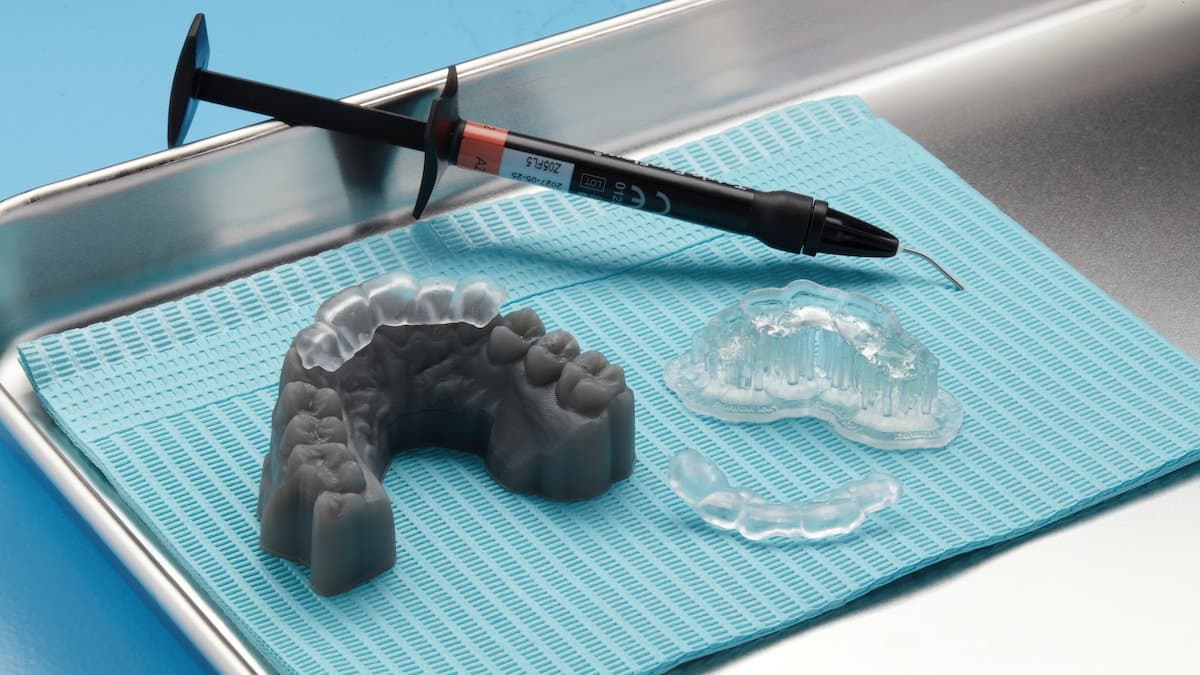 Webinar
Unlock the Potential of 3D Printed Direct Composite Restoration Guides
In this webinar, Dr. Luken de Arbeloa, Education Content & KOL Manager at Digital Smile Design and Dr. Elisa Praderi, Senior Clinical Protocols & KOL Manager at Formlabs Dental will walk you through the workflow for 3D printing high quality direct composite restoration guides with IBT Flex Resin.
Watch the Webinar
Formlabs Dental: Accelerating Digital Workflows for Every Dentist, Lab Technician, and Orthodontist
IBT Flex Resin reinforces the Formlabs Dental promise of Making Dentistry Easier. With this release, Formlabs Dental continues to disrupt dentistry by expanding access to new digital workflows. With market-leading properties for 3D printed indirect bonding trays and an entirely new 3D printed restorative workflow, IBT Flex Resin puts the power in the hands of digital dental professionals.
Interested in IBT Flex Resin? Order it now directly from our store or request a free sample to see the quality firsthand.