Produce high-quality and affordable parts more efficiently and effortlessly than ever with Form Auto, an automated hardware extension for Form 3/3+ and Form 3B/3B+ that enables 24/7 3D printing with no printer downtime.
Form Auto automatically removes finished parts from Build Platform 2 and starts the next print without the need for operator interaction.
Form Auto is simple to set up with existing and new printers. Use Form Auto for low-mid volume production, and shared printer installations.
Each Form Auto package includes a one-year Fleet Control license.
Note: A Formlabs 3D printer or a Build Platform 2 are not included in the purchase of Form Auto.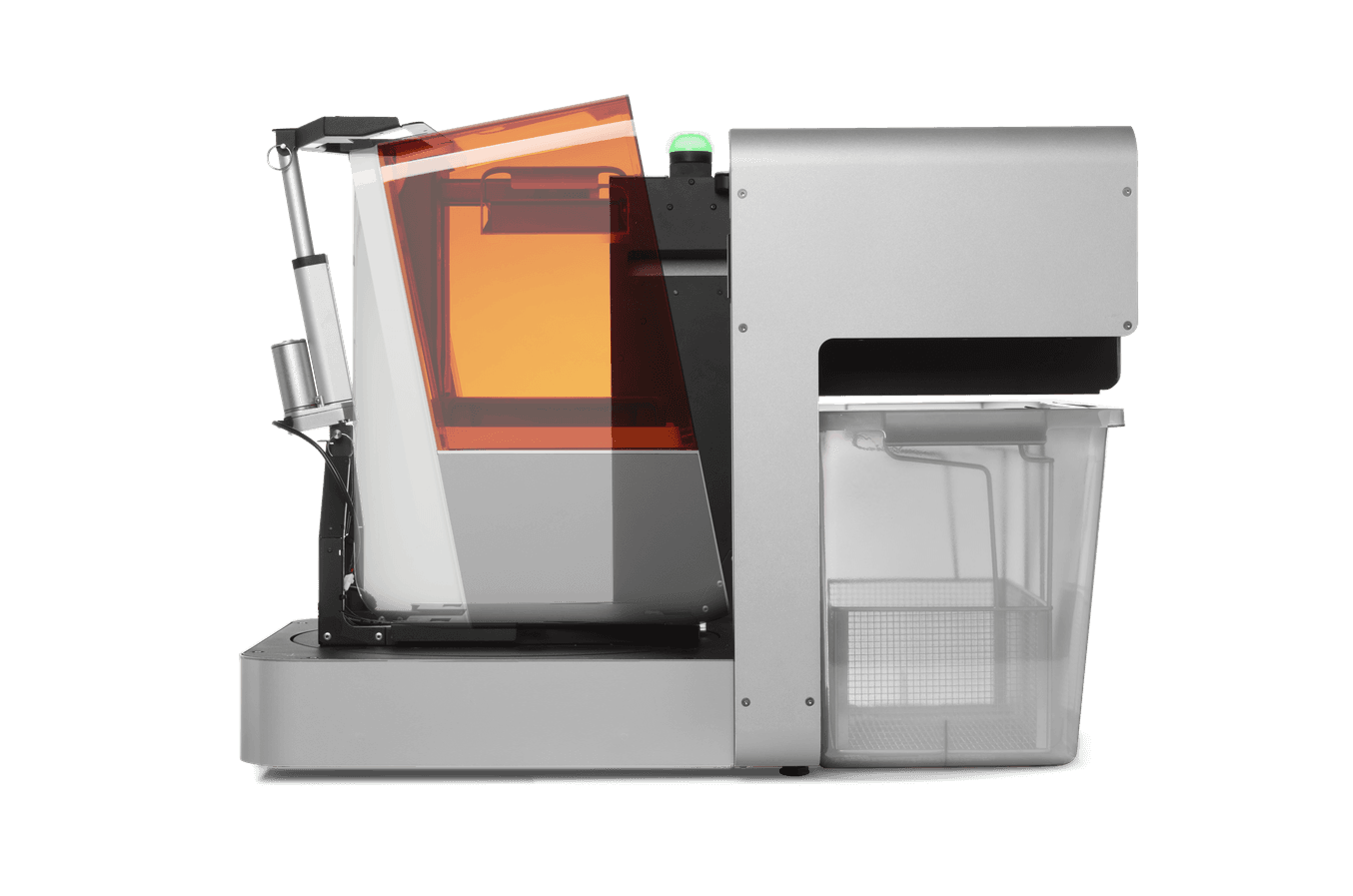 Features
Reduce cost per part and increase your 3D printer's capacity by autonomously printing high-quality dental parts 24/7.
Automatic Part Removal
Form Auto will actuate Build Platform 2 to remove parts safely and release them into a UV-blocking container for batched post-processing.
Retrofittable
Start using your Form Auto immediately with simple setup on any Form 3B/3B+. There is no requirement for a minimum number of printers or restrictions on scaling in multiples of printers.
Always Ready for the Next Print
Instantly start production with or without an operator on-site. After part removal, Form Auto will immediately start the next print in the queue.
Integrated Checks
View videos and still images of part removals in Fleet Control via the Form Auto onboard camera. Form Auto utilizes multiple stages of checks to make sure the automation is working correctly.
How It Works
Form Auto enables an easy-to-use workflow for maximizing output that reduces the number of tasks required by the operator. By leveraging the Quick Release Technology of Build Platform 2 to remove finished parts and Fleet Control to queue the next print, Form Auto can print through a queue of back-to-back prints without any user interaction.
Use Cases
Skyrocket fleet productivity, uptime, and throughput with the ability to constantly be printing. Form Auto removes challenges such as limitations associated with shift schedules or idle printers waiting for labor by removing finished parts and starting the next print.
Form Auto is ideal for:
Performance Comparison
Compare the change in productivity and labor for a Form 3/B/+ (top row) compared to a Form 3/B/+ with Form Auto (bottom row), across a 24-hour timeline with one operator shift.

| | Form 3/B/+ | Form 3/B/+ with Form Auto |
| --- | --- | --- |
| Print Length (Minutes) | 65 | 65 |
| Models Per Print | 8 | 8 |
| Prints Per Day | 8 | 22 |
| Models Per Day | 64 | 176 |
| Utilization (Over 24 Hours) | 36% | 99% |
| Minutes of Labor Per Print | 12.8 | 1.5 |
| Total Labor (Minutes) | 102.4 | 33 |
Feature Comparison
| | Form 3B/3B+ | Form 3B/3B+ with Form Auto | Benefit |
| --- | --- | --- | --- |
| Supports Automatic Part Removal | No | Yes | Enables back-to-back printing with no printer downtime. |
| Autonomous, Hands-Free Printing | No | Yes | Starts prints sent from anywhere and at any time. Jobs can be sent and started without interacting with the printer. |
| Automated Multi-Print Queue | No | Yes | Reduces management overhead when sharing your printer within a team. Jobs can be sent to the queue and automatically printed in prioritized order. |
| Part Removal Videos | No | Yes | Ensures longterm traceability and provides peace of mind for remote printing. |
| Compatible with Fleet Control | Yes | Yes | Allows you to group, operate, manage, and monitor your printers. |