Denture Teeth Resin 1 L
PKG-RS-F2-DT
482.78999999999996
including 21% BTW
Formlabs Denture Resins are certified biocompatible materials for 3D printing digital dentures.
Use Denture Teeth Resin along with Denture Base Resin to produce long-lasting, wear-resistant biocompatible denture teeth at a fraction of the cost compared to traditional methods.
With six fully characterizable shades available, technicians can achieve truly patient-matched aesthetics.
Download our Application Guide to learn the complete digital workflow and best practices for making 3D printed dentures on Formlabs Dental printers.
Shades available: A1, A2, A3, A3.5, B1, B2
Supports print resolutions: 50 microns.
Post-curing required.
Requires Form 2 Resin Tank LT for Form 2.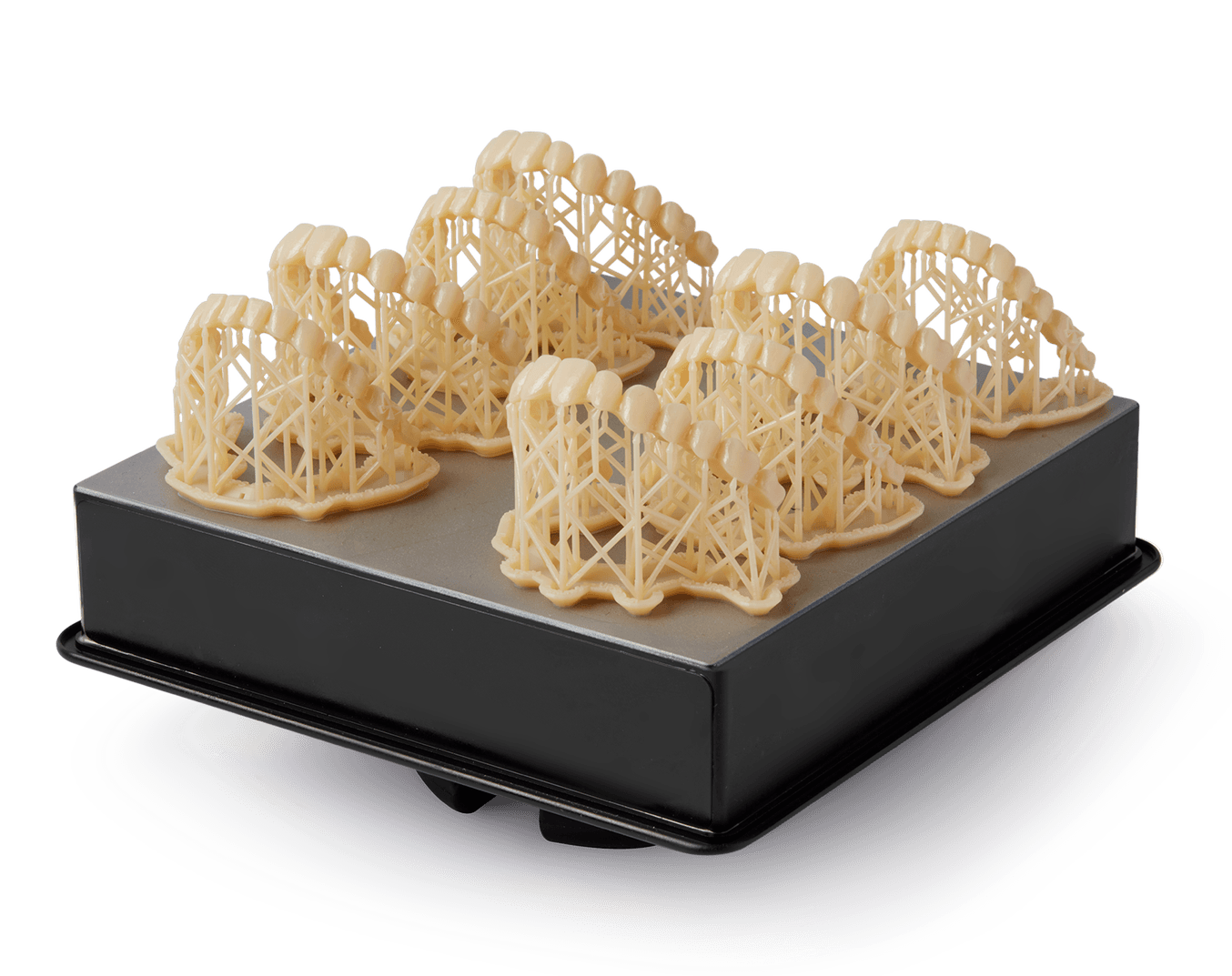 Why Choose Denture Teeth Resin?
Denture Teeth Resin enables dental professionals to produce 3D printed dentures accurately and reliably.
Patient-matched aesthetics
Provide six characterizable tooth shades to produce truly custom teeth for every patient.
Strong and Wear-Resistant
Produce long-lasting dentures that won't break or wear down easily.
Repeatable and reliable
Reach an end result in fewer steps, start to finish, than traditional workflows.
Biocompatibility
Provide the patient and clinician the peace of mind they deserve.
Applications
Denture Teeth Resin is expanding access to digital dentures with an efficient, cost-effective manufacturing solution.

Consider Denture Teeth Resin for:
Flexural Strength
> 65 MPa
Density
1.15 g/cm 3 < X <1.25 g/cm3
* Material properties may vary based on part geometry, print orientation, print settings, and temperature. Data refers to post-cured properties obtained after exposing green parts to 108 watts each of Blue UV-A (315 – 400 nm), in a heated environment at 80 °C (140 °F) and 1hr, with six (6) 18W/78 lamps (Dulux blue UV-A).
Form Wash Settings
To ensure that finished parts are biocompatible, follow all part washing notes in the Instructions for Use. Maintain separate wash buckets for biocompatible materials. Wash in IPA with a concentration of 99% or higher to comply with biocompatibility regulations. Maintain separate wash buckets to meet biocompatibility requirements.
Form Cure Settings
Fill a glass container with glycerin. Preheat the glycerin to 80 °C in Form Cure. Use heat resistant silicone tongs to fully submerge the assembled denture in the glycerin, leaving the container inside Form Cure. Cure for 30 minutes. After the first 30 minute post-cure, flip the denture to the opposite side. Post-cure again for 30 minutes. Warning: The glycerin and denture at 80 °C are hot. Use heat-resistant silicone tongs to insert and remove the denture from the curing chamber. Post-curing as recommended in the material-specific Instructions for Use is required to ensure optimal performance and biocompatibility of 3D printed dental appliances.