Iverson Dental Lab: Using 3D Printing And Innovation To Deliver The 555 Advantage
Iverson Dental is a full service dental lab specializing in dental implants, cosmetic dentistry, and digital dentistry. Eight years ago Iverson Dental Lab initially invested in digital dentistry, buying their first Stratasys 3D printer. Today, they use a range of printing technologies, from DLP to Formlabs SLA, to create 100% of their current dental lab products in-house. These technologies include the new Formlabs Build Platform 2 and reformulated Model Resin 3, which are helping Iverson Dental Lab deliver industry-leading results for its customers.
We spoke with President Cody Iverson and Lab Technician Manager Leo Bravo to hear from Iverson Dental Lab about why Formlabs Dental is playing a growing role in their business, what they think of Build Platform 2 and Model Resin, and why the lab is set up for long-term success.
Model Resin and Build Platform 2 Are the New Game-Changers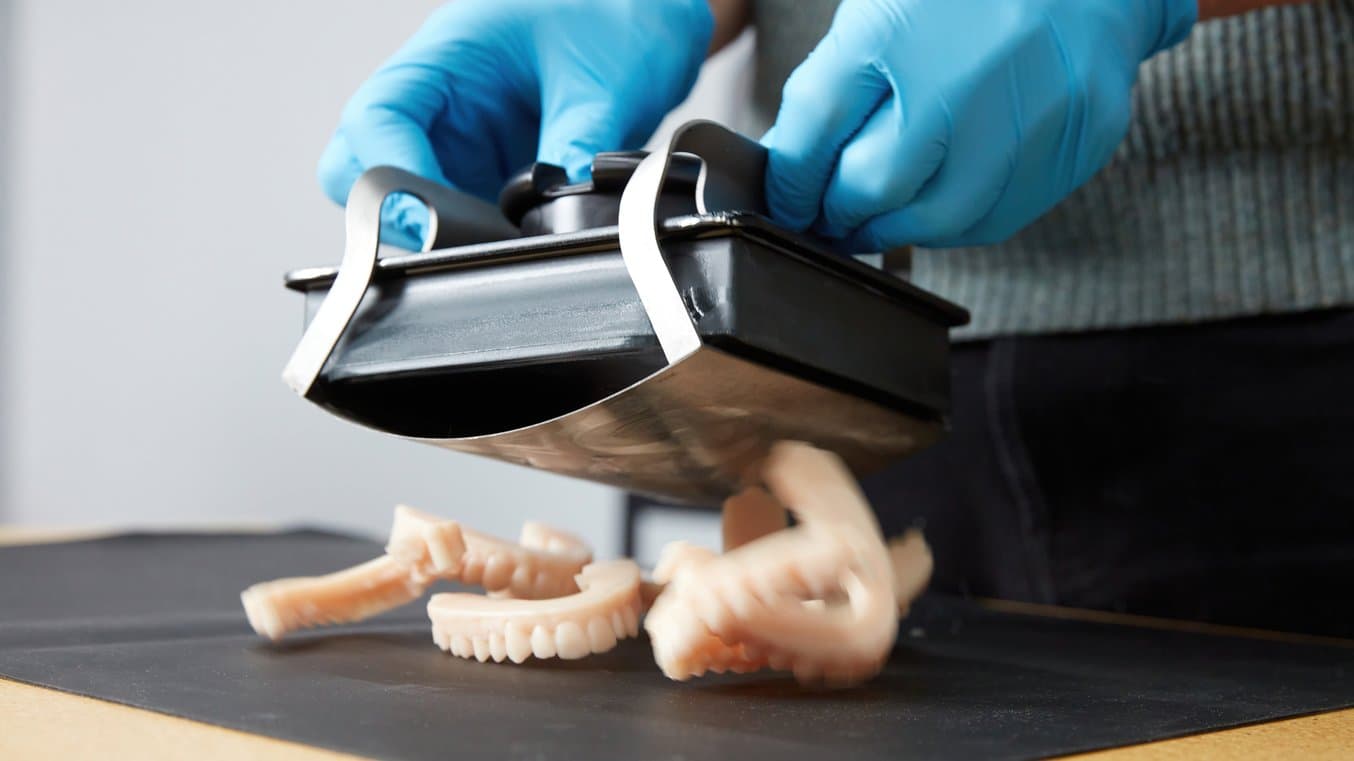 Lab Technician Manager Leo Bravo originally used Formlabs a few years before joining Iverson Dental Lab, and did not walk away with a positive experience. He told us that at the time, "I felt the printers and materials were not up to par with what else was on the market." So upon starting at Iverson Dental Lab, Bravo was hesitant to give Formlabs another chance. But he quickly changed his mind after working with the reformulated Model Resin 3, and the newly released Build Platform 2.
Model Resin was recently re-developed to meet the precision, reliability, and throughput requirements of restorative dentistry. The goal of the new formulation was to enable dental professionals to print models quickly and efficiently, while increasing accuracy. Iverson Dental Lab noticed the improvements, and quickly moved away from the older versions of Model Resin, with Bravo saying that, "the print times on the new Model Resin are significantly better. Also the print times on Draft Resin are fast and the models come out clean." This echos comments from Lonni Thompson, Founder and President of Image Gallery, a world-class boutique dental laboratory based out of Dublin, Ohio. She told us that her lab has, "completely switched over to Model Resin V3. I love the color and the new texture, and it's stronger. The old formulation had a mushy feel to it, but now it's easier to make sure the dyes are settled. Overall, it's just a better product."
Build Platform 2, with patented Quick Release Technology, allows dental professionals to quickly and easily remove parts from the build platform without tools in seconds, eliminating the conventional methods for scrapping models off a build platform. Build Platform 2 was viewed as a game-changer for Iverson Dental Lab. Iverson told us that, "If you guys completely got rid of Build Platform 1, it would be a favorable move, because if you want to scrape stuff off you can still do that with Build Platform 2." Bravo went a step further adding, "it doesn't make sense to use Build Platform 1 if you have Build Platform 2." At a dental lab with industry-defining standards and practices, reducing post processing time and the number of chipped or damaged models with Build Platform 2 is a major improvement over older workflows. Ultimately, it means less time with the printers and more time creating dental models for clients. Iverson told us that, "we actually have another Form 3B ready to bring online, but we're waiting for another Build Platform 2 before we start printing."
New materials and hardware such as Model Resin and Build Platform 2 are compatible on all Formlabs Dental desktop 3D printers, including the latest Form 3B+, as well as the Form 3 and Form 2, meaning labs such as Iverson Dental Lab don't need any additional investments in hardware to take advantage of them, and it's easy to use across a bigger fleet of printers.
Reducing Reprints Through Innovation and SOPs
Iverson Dental Lab offers what they call the 555 Advantage: five day turnaround time, five minute seat time for patients, and five extra patients being serviced per day. This can be attributed to multiple factors, including significant investment in R&D and strict adherence to multiple standard operating procedures (SOPs) across model production and employee training.
With one of the lowest remake rates in the industry, quality control and SOPs are of utmost importance, and Iverson told us that his lab, "doesn't stop improving, R&D pushes our processes, pushes us to make better products, we expect a lot from our lab managers. The most expensive thing to a lab is labor, the second is a machine that is underutilized. We've found lots of ways to innovate but also remain careful about quality." Ultimately, Iverson's goal is to use a fleet of Form 3Bs to produce more of the lab's crown and bridge models.
When expanding production with Formlabs Dental there are multiple factors Iverson considered:
Economical: Iverson told us, "The models are given away for free or offered at a low cost, so the name of the game is to reduce costs as much as you can. They still have to be relatable—and the Form 3B material pricing is more palatable than other printers. Also, the price of adding new printers is so palatable that you can scale as you need."
Compact size. He continued, "Real estate is the most expensive thing for a business. The size of the printer matters. Some of these 3D printers take up lots of space, unlike the Formlabs printers which can be double or triple stacked. Real estate, throughput, cost of material, and cost of labor to run the printer: Formlabs checks all of those marks."
Reliability. Finally, Iverson is running his fleet 24 hours per day, five days a week. Keeping the five day turnaround time of the 555 Advantage is critical, and that means a low rate of errors. He told us, "We run prints overnight, and the last thing you want is to come in and see the print failed overnight. We have not had an overnight print failure with the Form 3B yet, but nothing is 100%. Having confidence in your producers, your materials, your models, it gives you the foundation you need to grow."
Iverson Dental Lab is an FDA registered dental lab, meaning compliance with FDA quality manufacturing practices and regulations. As Iverson Dental Lab thinks about further investment in digital dentistry, they believe the core competencies that have led them to success so far will continue to make the lab an industry leader in California. Iverson told us, "we're spending more money and effort on R&D than anything else, more than our marketing. We will continue to have the highest quality control methods, with quality management systems in place, from personal to machine maintenance, and qualifications." At the end of the day, hard work pays offs, and Iverson Dental Lab will continue to be a dental leader for years to come.
Learn more about Formlabs Dental, Build Platform 2, and Model Resin.