Start Small, Scale Up: From One 3D Printer to Nine in an Orthodontic Lab
Perfect Finish Ortho Lab is a full-service orthodontic laboratory that specializes in hawley retainers, fixed & removable appliances, clear aligners, and more. For years, the company has been on the cutting edge of investments in digital workflows, building a large fleet of 3D printing to accommodate growing demand. Recently, Perfect Finish added a large-format Formlabs printer to their printing lineup to help boost productivity and output.
We spoke with President Phil Pelligra to hear his insights into Perfect Finish's success, and why they invested in 3D printing. 
Journey Into Digital
Perfect Finish was an early adopter of 3D printing in 2010 when they bought a PolyJet printer. The machine had a steep learning curve, but a year later, they were using it at full capacity to print models for appliance production. The technology has proven itself to be able to meet their basic needs.
However, this printer was expensive to own and operate. Pelligra cites expensive maintenance costs, materials, and post-processing equipment as the particular components that meant they were lucky to break even on 3D printing. Luckily, they were able to make up the difference with their premium appliances, but they needed to explore other options that would make printing more accessible.
Enter Formlabs. Perfect Finish bought their first Form 2 in 2016 and noticed the high quality and cost savings immediately. For a few years, they ran the two printing systems in parallel: the Polyjet printers for horseshoe models, which were smaller by volume and therefore used less of the expensive materials, and their eventual fleet of Form 2s for low profile models.
| | PolyJet printer | Formlabs printer | Price charged | Savings per model with Formlabs |
| --- | --- | --- | --- | --- |
| Single horseshoe model | $8-10 | $2-3 | $12 | $5-8 |
| Single low profile model | $10-15 | $4-5 | $14 | $6-10 |
When the Form 3 came out in 2019, they decided to switch their production entirely over to Formlabs. They let the support agreements lapse on the old PolyJet systems and brought in several more Form 3s. By late 2020, Perfect Finish had eight desktop Formlabs printers, and even added a large-format 3D printer from Formlabs — one of the first to ship to customers.
According to Pelligra, the printer worked from day one: "It was super easy to set up. It worked right out of the box. We did one test print and went right into production. That was impressive." 
Prioritizing Reliability and Accuracy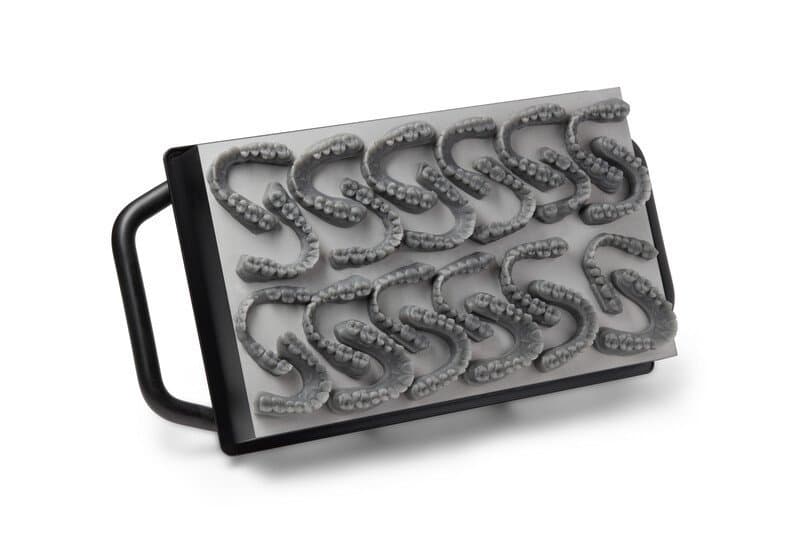 When Pelligra looks to invest in a new 3D printer, reliability is the most important factor. When a lab is printing hundreds of appliances per week, consistent and reliable quality prints become a must have in order to avoid re-printing and missing patient appointments. According to Pelligra, "the Formlabs 3D printers are all super reliable. We can't waste time, we create over 700 appliances per week. We don't have time for reprints of models, they need to be accurate all the time, and that is why we are Formlabs customers."
While reliability is important, a 3D printer that is reliably inaccurate is not acceptable. Pelligra's team created a specific test to make sure their 3D printers produce high quality parts. Once per week they print a retainer test print on each machine, and monitor fit to make sure their expectations are met. "We don't accept small inaccuracies in the 3D prints. We have moved away from other 3D printing platforms and stayed with Formlabs because the others didn't meet our standards for quality," said Pelligra.
Printing for Throughput
Pelligra and his team found the Formlabs ecosystem easy to use on each of their different printer models. Pelligra said that "Even after buying the large-format printer, we are actually looking to continue adding Form 3's as the business grows. Our biggest problem right now is finding physical space to grow the office!"
Pelligra's team starts their longest prints at the end of each day, so the printers run overnight. With minimum intervention, Perfect Finish is using the machine to print approximately 90+ models per day. Each morning, the team begins to post-process the parts with three short wash cycles in the Form Wash, and then one cycle in the Form Cure. From there, the prints are used to process appliances on. Then, the next batch of products begins printing.  
Still More Room for Growth
Pelligra predicts that, over time, more dentists will shift to digital workflows: "Right now, maybe half the dentists we work with are doing digital scanning. So there is a lot of room to grow our business and expand our 3D printing capabilities." 
As intraoral scanning becomes more common in dental and orthodontic practices, labs will need to add more digital fabrication capacity to keep up with demand. A flexible, modular, production-ready system like the 3D printer suite from Formlabs can unlock growth for labs of all sizes. 
Learn More About the Form 3BL
The Form 3BL is the large format dental 3D printer that raises the bar for dependable high-production dental 3D printing, designed to work day and night with minimal intervention. 
Want to get hands-on with Formlabs Dental Resins? Request a free sample part below, or click to learn more about the Form 3BL.