Why Choose BioMed Flex 80A Resin?
Achieve new design possibilities and efficiencies using 3D printing and BioMed Flex 80A Resin, from producing flexible biocompatible medical devices to anatomical models requiring biocompatibility.
Flexible
Produce flexible medical devices or firm tissue models requiring short-term mucosal membrane contact that can optimize mass personalization applications versus using cumbersome molds.
Transparent
Produce complex transparent firm tissue models and bring them directly into the operating room (O.R.) as a reference for complex medical procedures (eg. sizing models, cartilage models, or disease organs.)
Medical-Grade Material, Biocompatible Parts
Leverage a material manufactured within our Quality Management Systems, with strict adherence to ISO 13485. Instill confidence that this material is suitable for biocompatible applications with long-term skin (>30 days), short-term mucosal membrane contact (<24 hours), and USP Class VI certifications.
Applications
Directly 3D print flexible parts requiring biocompatibility with BioMed Flex 80A Resin. Reduce workflow times by eliminating molding to directly produce flexible, patient-specific medical devices or firm tissue medical models surgeons can reference in the O.R.

BioMed Flex 80A Resin is ideal for:
Flexible biocompatible medical devices and components
Medical devices requiring short-term mucosal membrane contact
Firm tissue models to assist in surgeries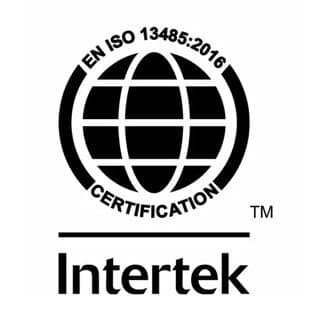 Formlabs manufactures our Biomed and Medical Device Resins at our FDA Registered facility in Ohio. These materials are designed and manufactured within our robust Quality Management System that is ISO 13485 and EU MDR certified. A dedicated team of operators and quality assurance professionals make the resins inside a certified ISO Class 8 clean room. All of our Medical Device Resins are appropriately registered with FDA and CE marked according to the EU MDR. View our ISO 13485 certification.
Ultimate Tensile Strength
7.2 MPa
Stress at 50% Elongation
2.6 MPa
Stress at 100% Elongation
4.5 MPa
*Material properties may vary based on part geometry, print orientation, print settings, temperature, and disinfection or sterilization methods used. Data were measured on post-cured samples printed on a Form 3B/+ with 100µm BioMed Flex 80A Resin settings, washed in a Form Wash for 20 minutes in 99% Isopropyl Alcohol, and cured at 70°C, submerged in water for 30 minutes in a Form Cure according to the Manufacturing Guide. BioMed Flex 80A Resin was tested at NAMSA World Headquarters, OH, USA.