3D Printed Teeth Models Support Dentistry Education at Home During COVID-19
The COVID-19 pandemic has upended our daily lives and the education system is no exception. While some programs can be taught feasibly through online courses, hands-on professional training, such as practical coursework for dental students, is particularly difficult to replicate with remote learning.
Normally, dental students practice techniques on teeth extracted from patients for their pre-clinical training, but the pandemic made it very difficult or even impossible for students to obtain these teeth from dental hospitals or health institutions. There are also legal and ethical responsibilities that arise from taking extracted teeth outside of education institutions.
To solve this challenge, Assoc. Dr. Gülşah Uslu from the endodontics department at the Canakkale Onsekiz Mart University in Turkey had to search for innovative solutions to be able to continue carrying out practical training at home for dentistry students. 
Read on to learn how Dr. Uslu and Dt. Halit Yosunçığır, dental product manager at Formlabs reseller Btech Dental, used Formlabs 3D printers to give students the opportunity to gain practical hands-on experience, even in a remote learning environment. Using Formlabs 3D printers, Btech and the university were able to produce more than 1,500 pieces of anatomically accurate artificial teeth models that include colored channel structures and offer other benefits like standardized complexity of cases and no risk of cross-infection.
Designing and Manufacturing Accurate Teeth Models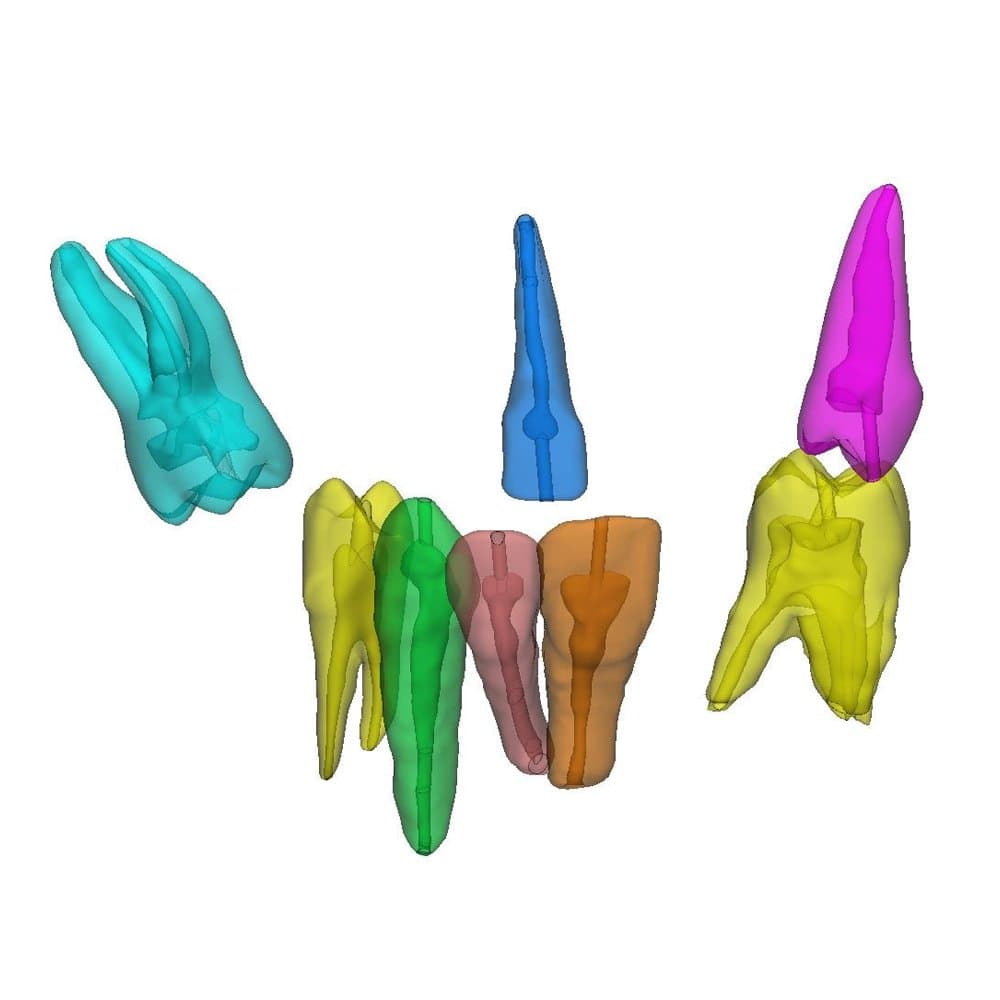 While considering creative solutions to the problem of providing hands-on training remotely, Dr. Uslu reached out to Formlabs reseller Btech to see if 3D printing could solve her problem. After receiving the request from the professor, the Btech Dental and Medical team used Materialise's medical image analysis software, Mimics Innovation Suite, and computed tomography (CT) images with a slice thickness of 0.5 mm taken from the head and neck region of a patient. Using Mimics, they isolated individual teeth, including roots, made adjustments, and exported each model as a 3D file.
The team then imported the first test batch into Formlabs' PreForm print preparation software and used Formlabs Clear Resin to print the teeth models. 
"The Formlabs Form 3B is a perfect 3D printer with a large build platform that empowers us to print 80 molar teeth in 9 hours. Details of the printed teeth are really sharp and the accuracy is really high, so we managed to print the demo teeth for the students," said Mr. Yosunçığır.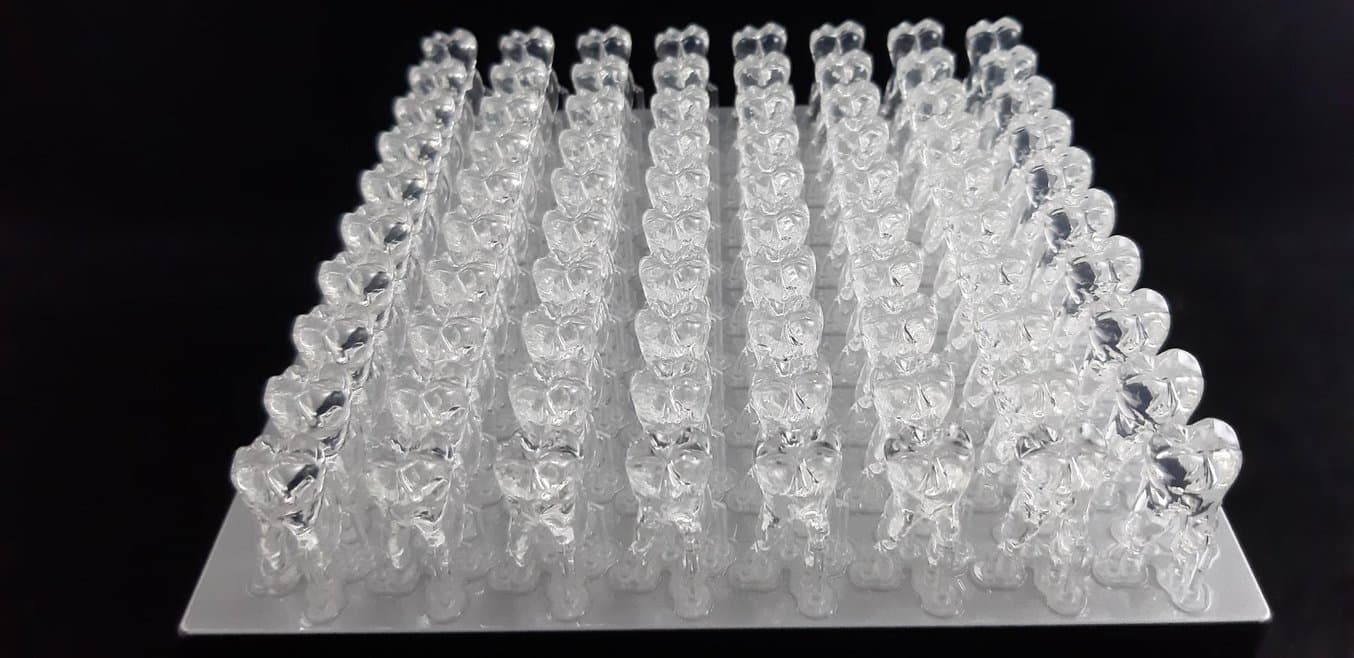 Btech's production team then washed and cured the parts, removed the support structures, and painted the root canals red to mimic pulp tissue. It was challenging to achieve the required color saturation due to the fine structure of the root canals, but the team achieved the optimum appearance thanks to a special painting technique that they have developed.
The team developed different kinds of anatomical models for canine teeth, upper and lower molars, and diverse canal variations like two canals in one root.
Once the models were finished, Btech shipped the first test batch to the professor. Dr. Uslu performed a root canal treatment on the samples of 3D printed models and shared the X-ray image with the team. Based on the feedback from the professor, Btech modified the design for the second batch, including  the root diameter and the root curvature.
Dr. Uslu performed a root canal treatment on the samples of 3D printed models and shared the X-ray image with the team.
Using 3D Printed Teeth in Endodontics Training
With the 3D printed teeth, students will be able to practice procedures like accessing the pulp chamber, root canal enlargement, irrigation, and root canal filling and sealing. Thanks to the resin's transparency, procedural errors made in root canal preparation can be detected easily without an X-ray in these simulated teeth.
"The artificial teeth 3D printed on the Formlabs Form 3B will be a very useful and safe tool in the endodontics training of dentistry students for imitating dental anatomy with different channel variations," said Dr. Uslu.
So far, Btech has produced more than 1,500 teeth models that they've been shipping to the university with more planned for later. 
"I am very happy for the innovative work carried out by our dental and medical team. During the pandemic, we saw how life-saving 3D printers are, but these days, when we are trying to adapt our lives to the new normal, a new study has emerged to ensure that education continues without interruption," said Kuntay Aktas, CEO at Btech Innovation.
Benefits of 3D Printing Teeth Models for Pre-Clinical Hands-On Dental Training
Normally, students get pre-clinical training on typodont or extracted teeth before they treat patients in the clinic. These are used for a wide range of applications, from training the different types of tooth preparations, tooth restorations with direct materials, and root canal treatment.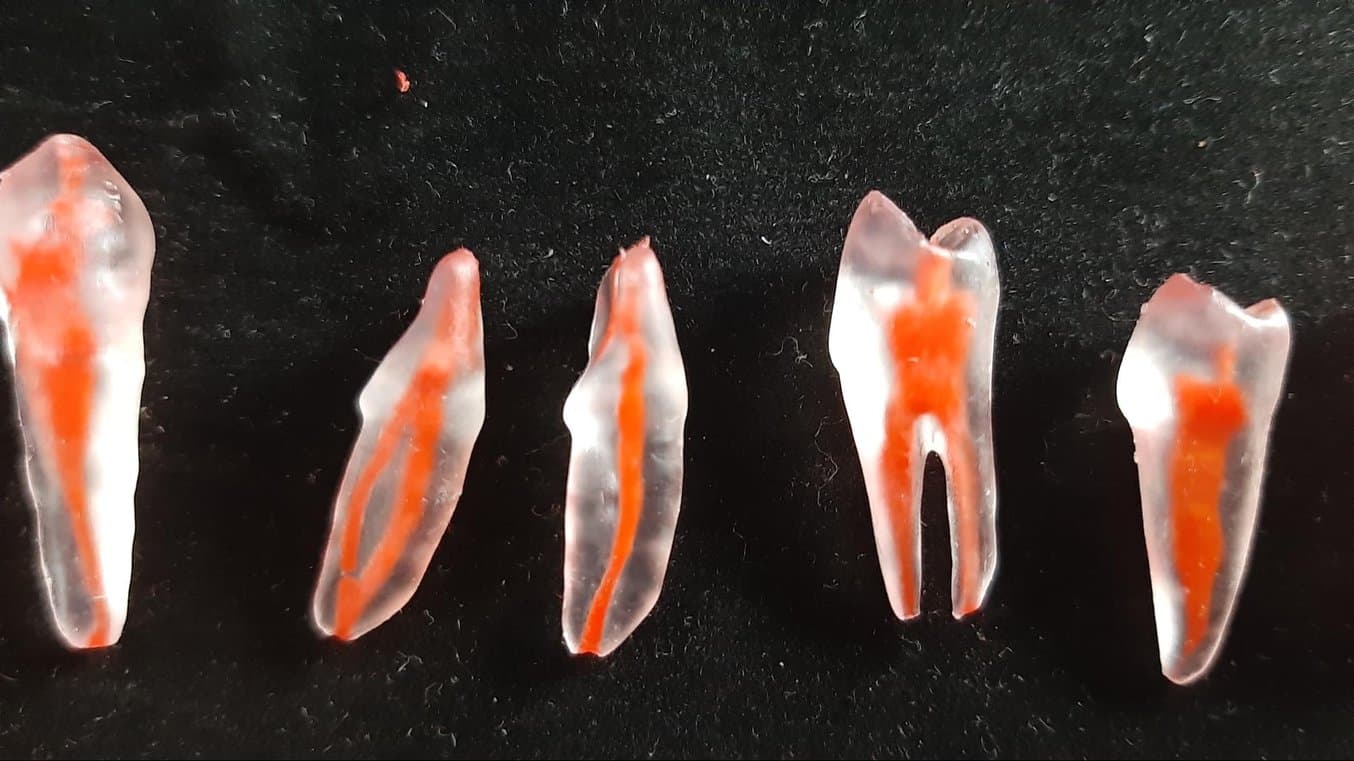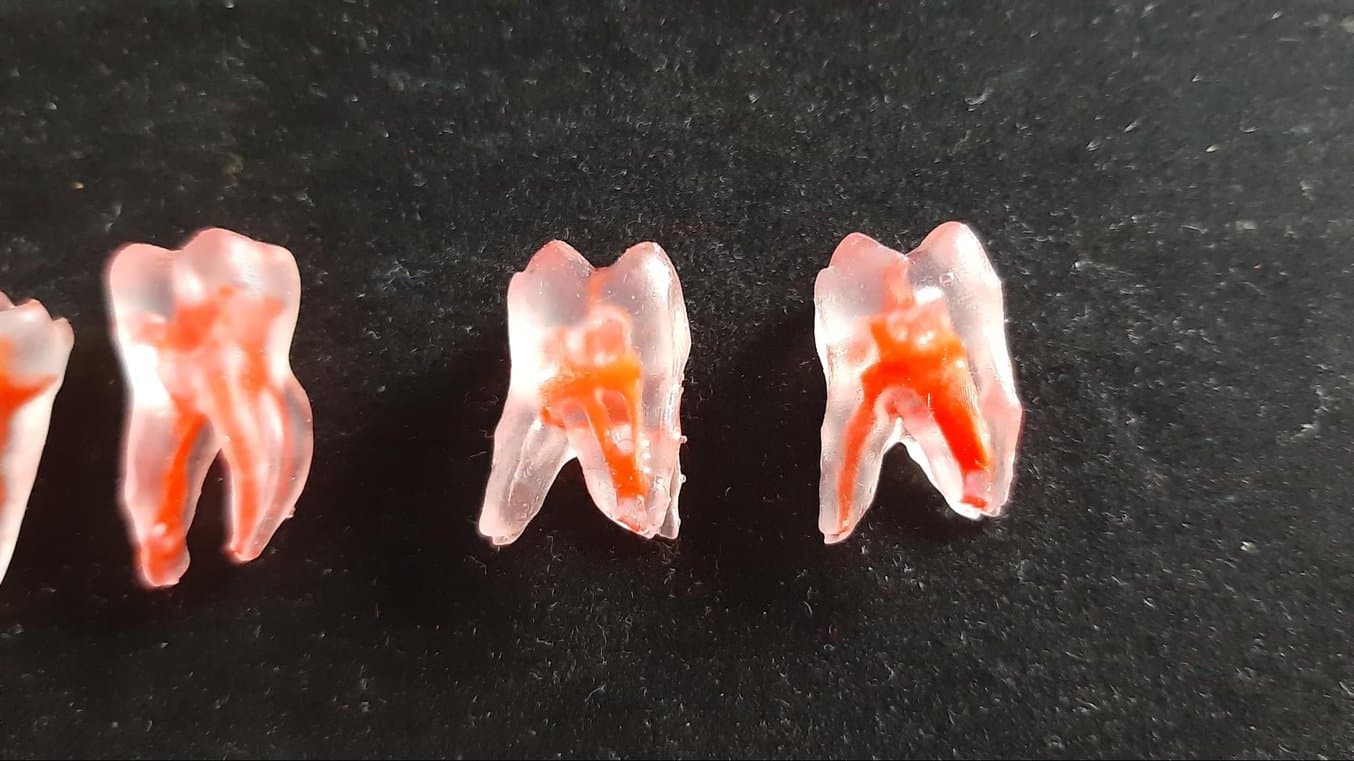 Working with extracted teeth allows students to have hands-on experience based on real case situations. However, these are not always easy to access, can become a potential source of cross-infection, and they can vary in quality and complexity, which makes assessment by dental students not uniform.  As Dr. Ulsu and her students have learned, 3D printed teeth provide accurate and realistic learning experiences based on real patient cases, while giving every student the opportunity to practice on the same exact case—and all without the risk of cross-infection. 
1. Accurate anatomical models based on real patient cases
The combination of digital imaging technologies like CBCT and intraoral scanning allows professionals to gather patient data which can later be replicated via 3D printing technologies. This allows students to practice real cases without being affected by variables like the quality of tooth extraction or the availability of extracted teeth. Unlike extracted teeth, models printed with clear materials also allow students to visualize the treatment they perform.
2. Standardized complexity of cases
Endodontics treatment training requires hands-on experience in different teeth with different complexities. The training starts with single root teeth structures such as anterior teeth, progressing to multi root teeth like posterior teeth, and expanding the complexity to root canal curvatures or calculus removal. Extracted teeth provide inconsistent experiences for each student with variable complexity. With 3D printing, dental professors can create teeth with the same level of complexity according to the stage of training the student is in. This way dental students can learn to treat different cases that are present in the clinical practice with confidence.
3. No risk of cross-infection
As with any type of artificial teeth, another distinct advantage of 3D printed teeth models compared to extracted teeth is that they do not come from the human body. Therefore, they do not contain bacterial specimens and don't require a disinfection and sterilization protocol prior to being used for preclinical training. As an example, according to CDC guidelines, extracted teeth used for preclinical educational training should be cleaned to remove any blood or impurities, kept in a special environment like water or a saline solution, properly labeled, and then heat-sterilized. With 3D printed teeth, there is no need to follow this protocol, as once printed, washed and post-cured, the teeth are ready to be used.
Get Started with Digital Dentistry and 3D Printing
A few years ago, 3D printers were only affordable to the largest dental labs and milling centers. Now they are a common sight in dental practices, labs, and educational institutions and can create a wide range of indications from dental models to fully 3D printed dentures.
Explore Formlabs dental resources for free guides, step-by-step tutorials, white papers, webinars to learn how you can integrate 3D printing into your workflow.
Curious to see the quality firsthand? Pick a material and we'll ship you a free sample part 3D printed on the Form 3B to evaluate.
Special thanks to Btech Dental, our reseller partner in Turkey, for working with Dr. Uslu on this project.