Explore Dental Resins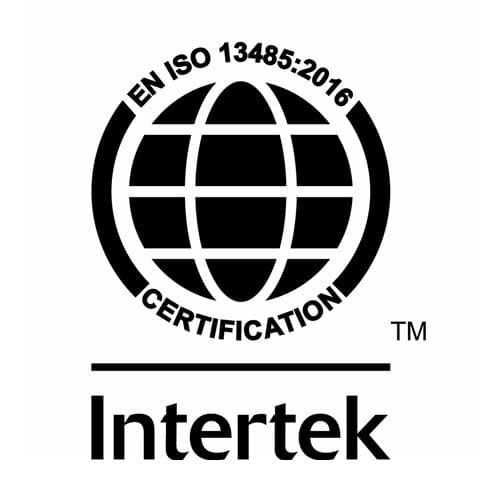 Formlabs manufactures our Biomed and Medical Device Resins at our FDA Registered facility in Ohio. These materials are designed and manufactured within our robust Quality Management System that is ISO 13485 and EU MDR certified. A dedicated team of operators and quality assurance professionals make the resins inside a certified ISO Class 8 clean room. All of our Medical Device Resins are appropriately registered with FDA and CE Marked according to the EU MDR. View our ISO 13485 certification.
model-resin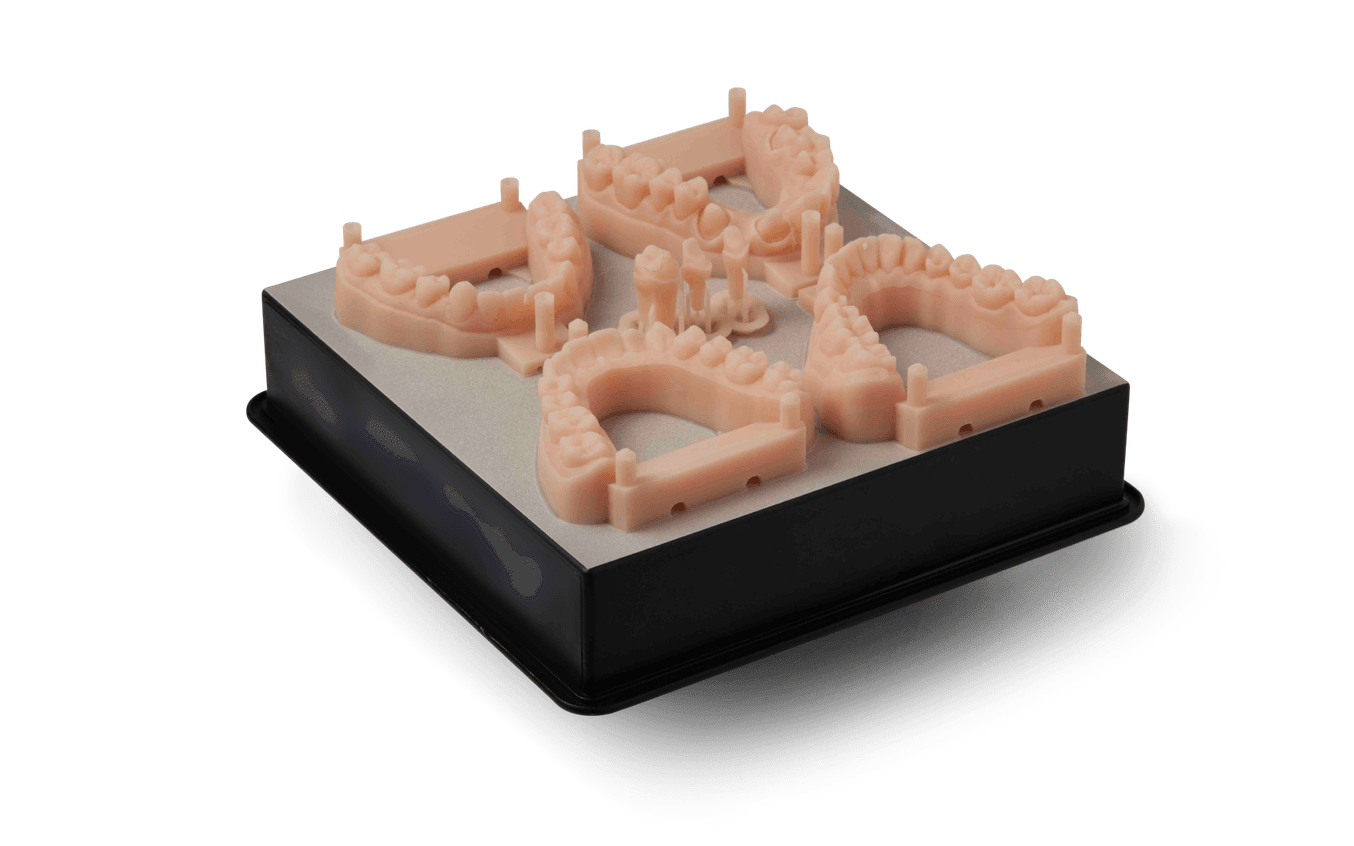 Model Resin is ideal for:
Crown and bridge models
Implant analog models
Orthodontic models
Diagnostic models
Model Resin
A fast-printing material for production of high-accuracy restorative models
Model Resin was developed to meet the precision, reliability, and throughput requirements of restorative dentistry. Print accurate models and dies with crisp margins and contacts, delivering high-quality results on fast-paced timelines.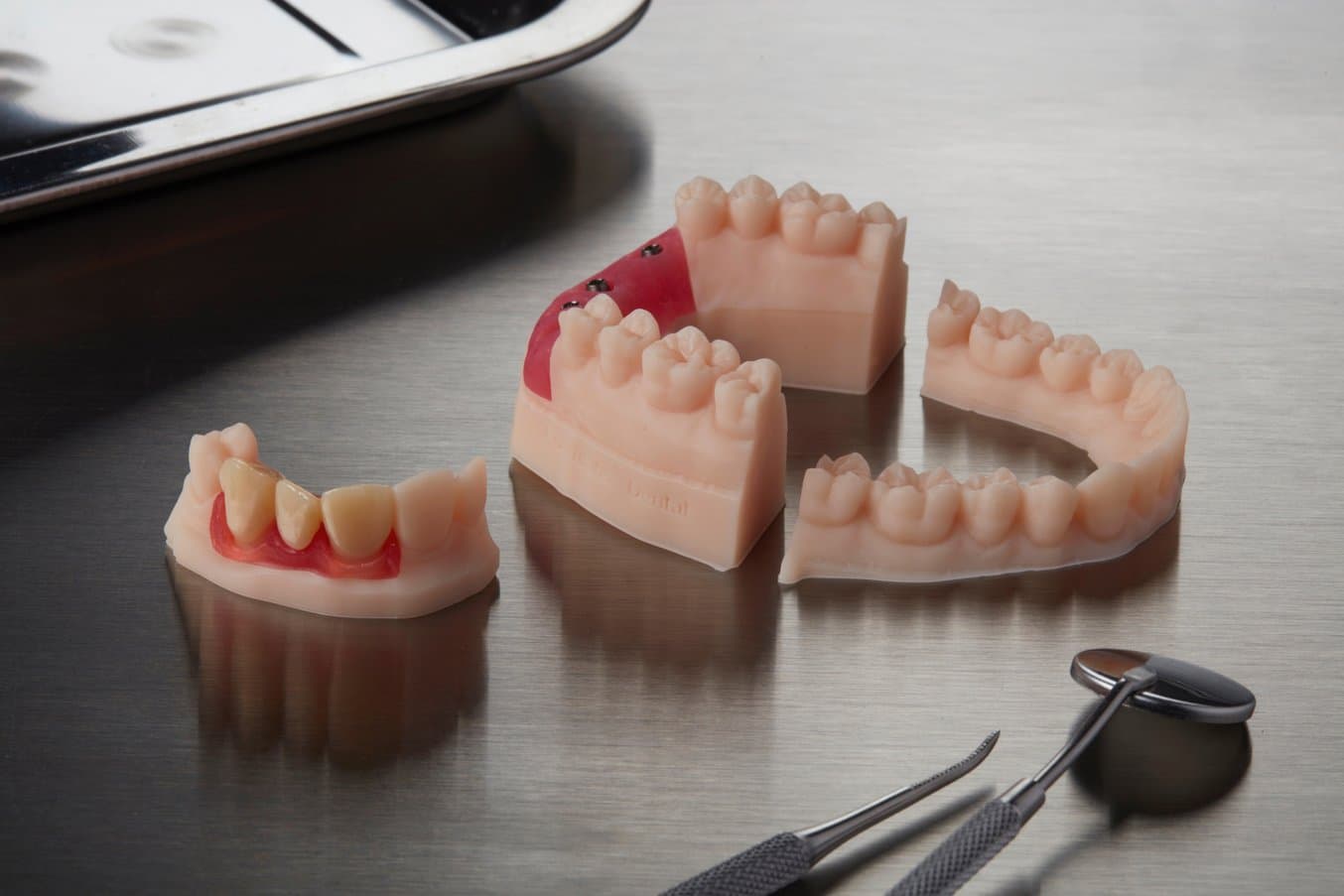 Explore Indications
Downloads
draft-resin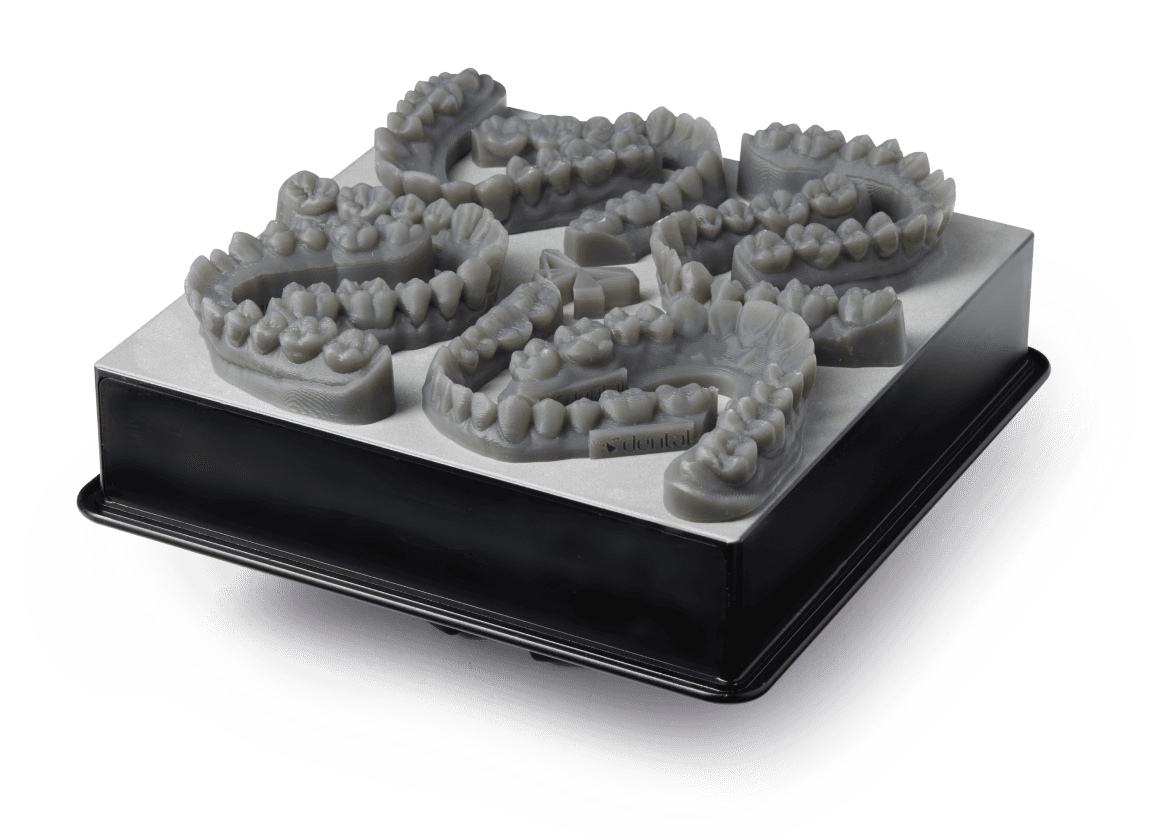 Draft Resin is ideal for:
Thermoforming models
Orthodontic appliance models
Diagnostic models
Crown and bridge models
Draft Resin
A cutting-edge material designed to print accurate orthodontic models – fast
Draft Resin is our fastest printing material, capable of printing a dental model in under 10 minutes. This highly accurate resin prints with a smooth surface finish, making Draft Resin the ideal material for aligner and retainer production. Use 200 micron settings for fastest print speeds and same day appliances, or use 100 micron settings for more detailed models.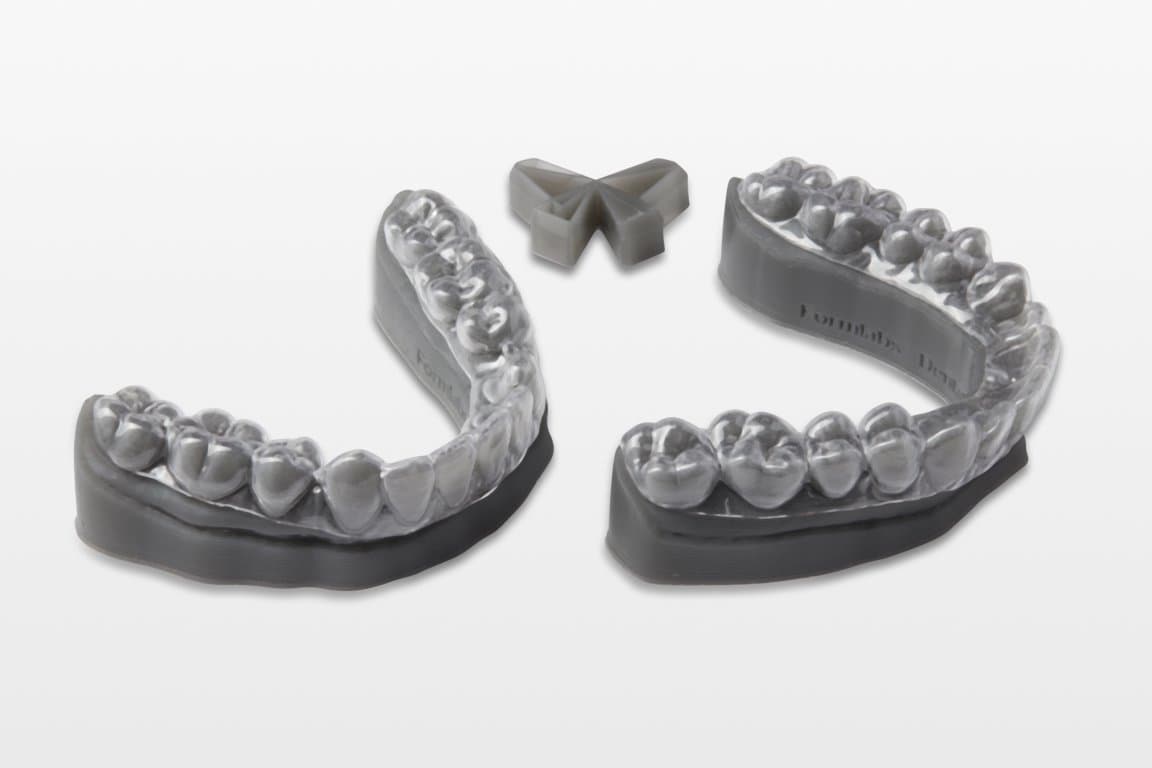 Explore Indication
Downloads
surgical-guide-resin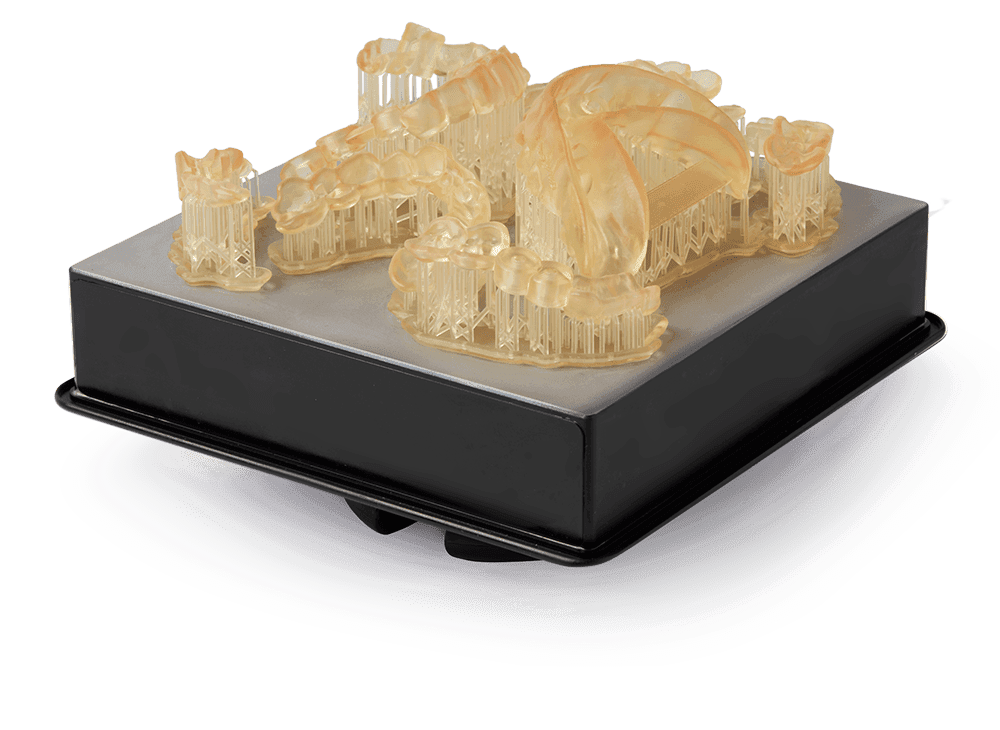 Surgical Guide Resin is ideal for:
Surgical guides
Drilling templates
Pilot drill guides
Device sizing templates
Surgical Guide Resin
A next generation 3D printing material for premium-quality surgical implant guides
Surgical Guide Resin is an autoclavable, biocompatible resin for applications including 3D printing dental surgical guides for implant placement. Developed specifically for Formlabs printers and rigorously tested with autoclaves, solvents, and implant systems, this material was designed from the ground up to exceed dental demands in part quality, accuracy, and performance.
View the full regional availability list.
Explore Indications
Downloads
dental-lt-clear-resin-v2
Dental LT Clear Resin is ideal for:
Hard Occlusal Splints
Hard Night Guards
Dental LT Clear Resin (V2)
Our second-generation, long-term biocompatible material for hard occlusal splints and night guards
Directly print affordable, high-quality hard occlusal splints in-house with Dental LT Clear Resin (V2). Highly durable and resistant to fracture, this color-corrected material prints clear, polishes to high optical transparency, and resists discoloration over time for a finished appliance you'll be proud to deliver.
View the full regional availability list.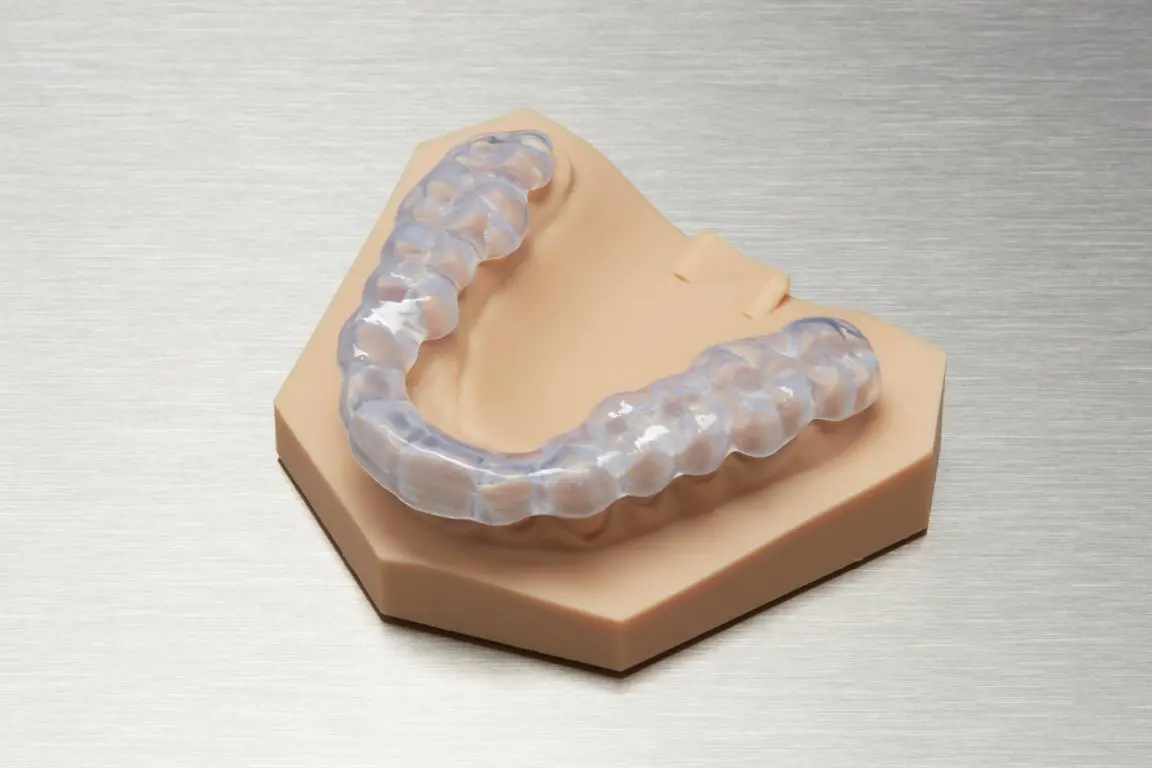 Explore Indication
Download
castable-wax-resin
Castable Wax Resin is ideal for:
Casting copings and substructures
Pressing and casting full contour crowns
Casting removable partial denture frameworks
Castable Wax Resin
A highly accurate material for casting and pressing crowns, bridges, and RPDs
Tested at length by dental technicians, Castable Wax Resin provides accurate, sealed margins and contains 20% wax for reliable casting with clean burnout. Printed patterns are strong enough to handle with no post-cure required, allowing for a faster, simpler workflow.
Explore Indication
Downloads
digital-dentures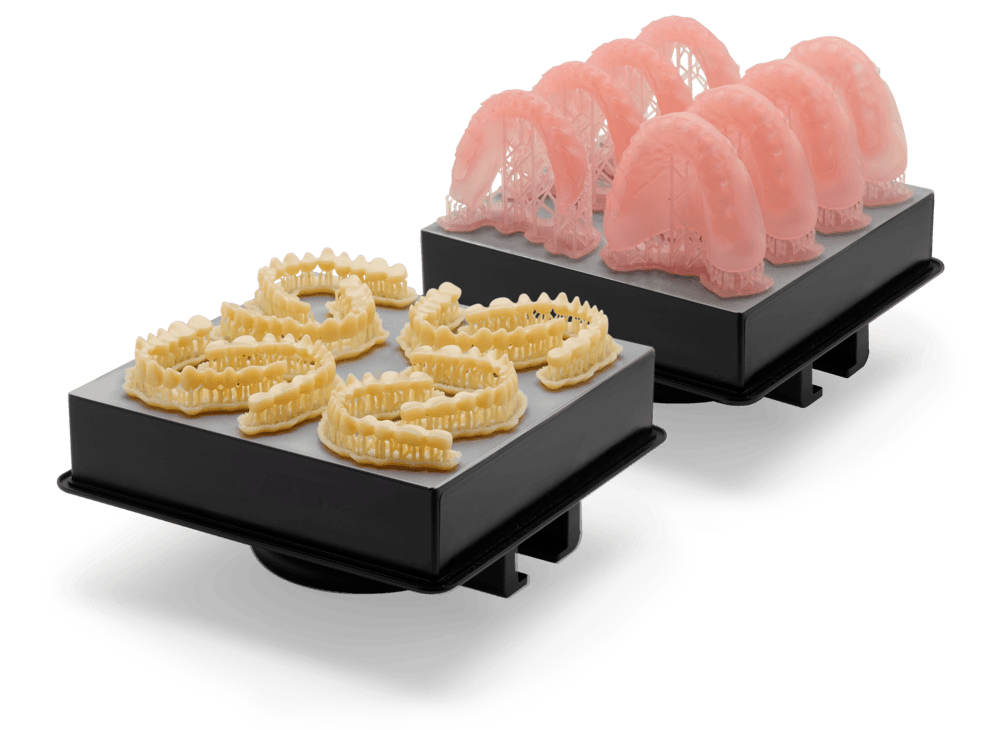 Digital Denture Resins is ideal for:
Final dentures
Try-in dentures
Digital Dentures
Truly accessible direct printed dental prosthetics
Bring your removables department digital now. Formlabs is expanding access to digital dentures with an efficient, cost-effective manufacturing solution. Class IIa long-term biocompatible Digital Denture Resins enable dental professionals to produce 3D printed full dentures accurately and reliably.
Use Denture Base Resin for denture bases and try-ins
Use Denture Teeth Resin for denture teeth
View the full regional availability list.
Watch the video for an introduction to the digital dentures workflow.
Explore Indication
Downloads
custom-tray-resin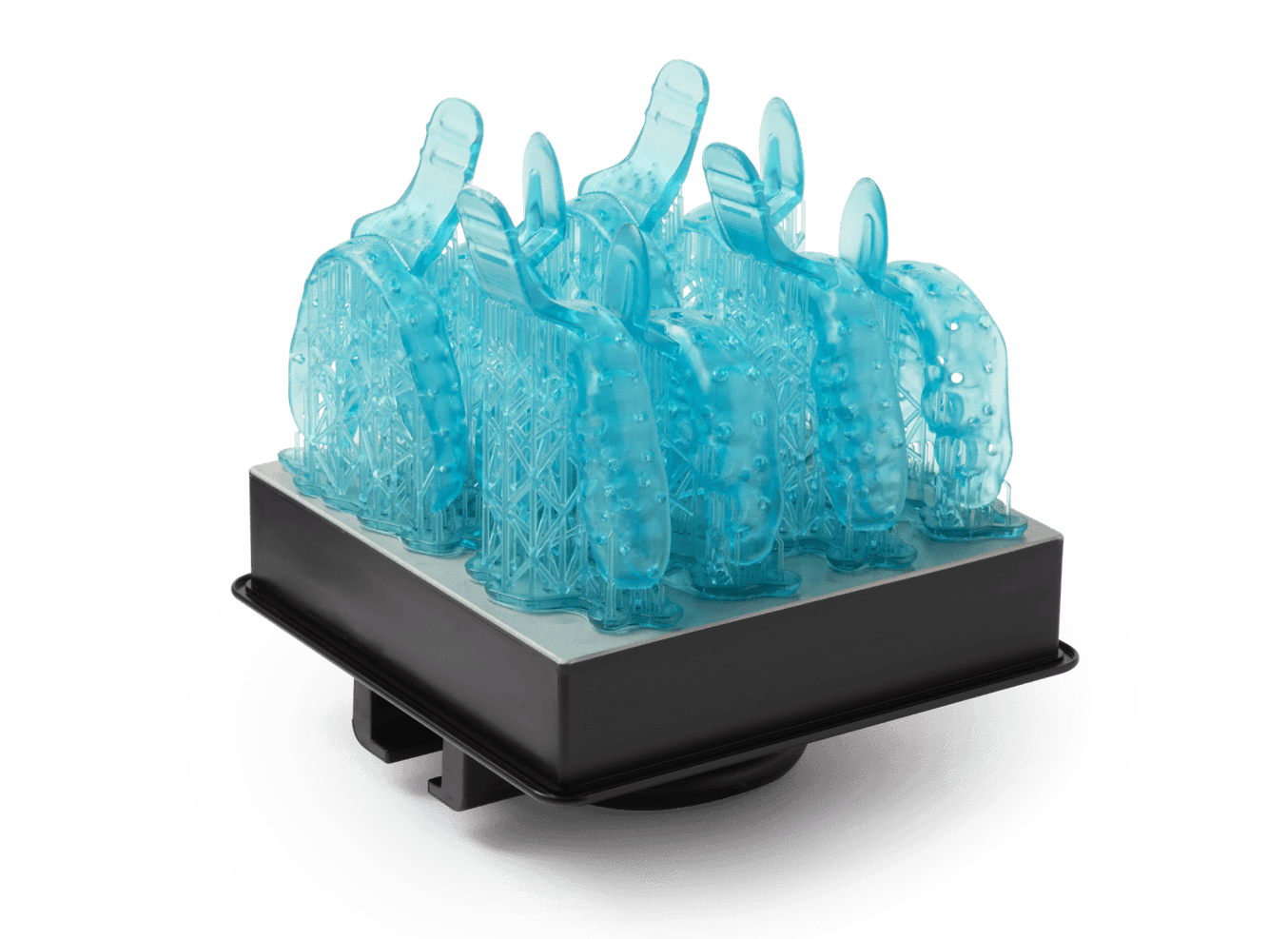 Custom Tray Resin is ideal for:
Custom Tray Resin
A fast-printing biocompatible material for custom impression trays
Use Custom Tray Resin to directly print impression trays for implants, dentures, crowns and bridges, and other comprehensive cases. Digitally manufactured impression trays provide consistent, accurate impressions for high-quality dentistry. Custom Tray Resin prints full impression trays quickly using 200 micron layer heights, reducing labor time and enabling higher throughput.
View the full regional availability list.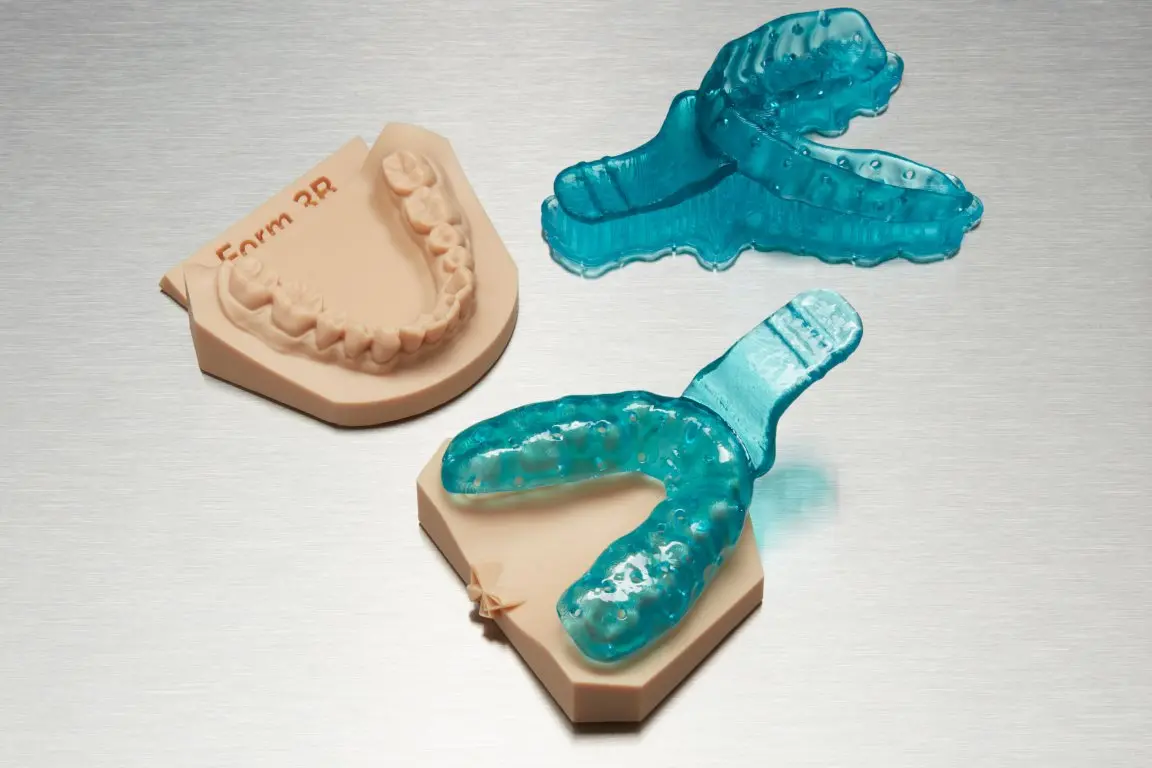 Explore Indication
Downloads
temporary-cb-resin
Temporary CB Resin
A tooth-colored resin for 3D printing of temporary crown and bridge restorations, inlays, onlays and veneers
Indicated for up to seven-unit bridges and available in five shades, Temporary CB Resin provides excellent marginal adaptation, strength, and aesthetics. Use traditional temporary cements to fix restorations produced with Temporary CB Resin. Restorations made with Temporary CB Resin may remain up to 12 months in the mouth. Digitally created restorations enable a quick, collaborative process between dentist, technician, and patient.
View the full regional availability list.
Explore Indication
Downloads
permanent-crown-resin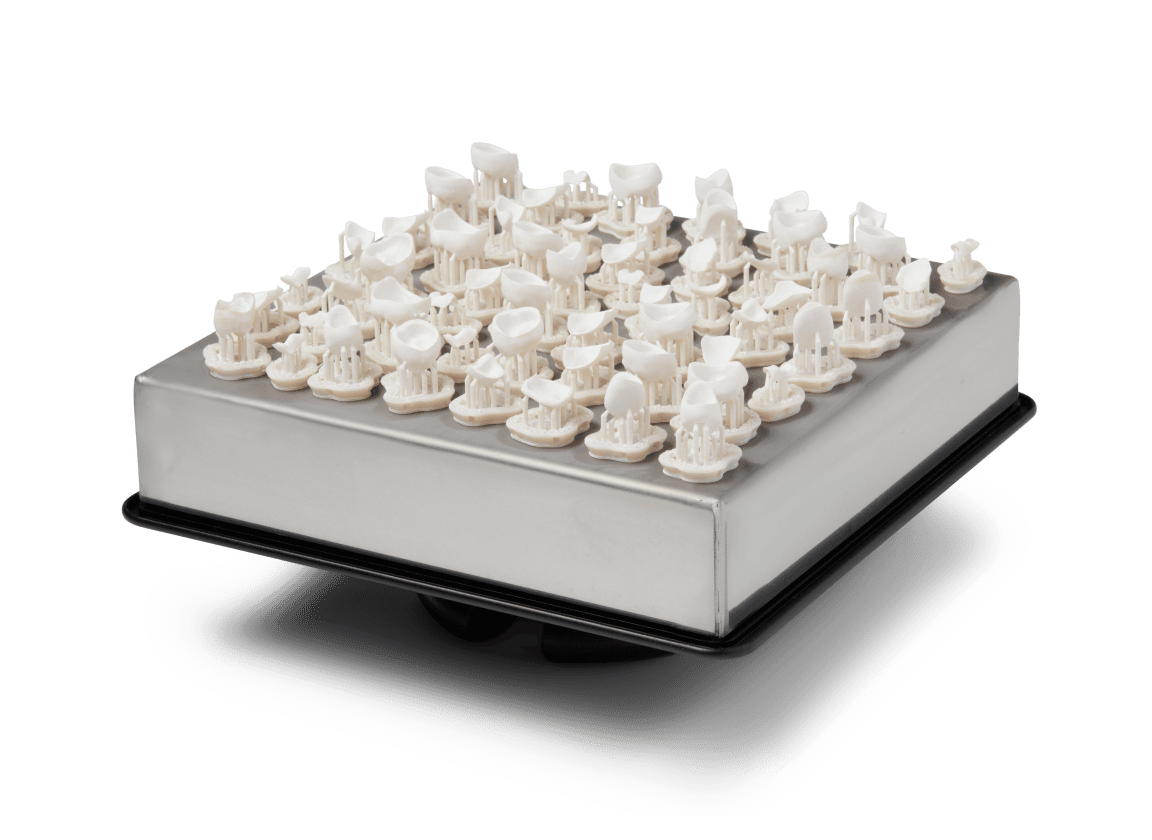 Permanent Crown Resin is ideal for:
Single crowns
Inlays
Onlays
Veneers
Order Permanent Crown Resin Now
Permanent Crown Resin
A tooth-colored, ceramic-filled resin for 3D printing permanent single crowns, inlays, onlays, and veneers
Permanent Crown Resin produces high strength, long term restorations with an accurate and precise fit, available in four VITA Classical* shades. Low water absorption and a smooth finish ensure restorations made from Permanent Crown Resin have a low tendency to age, discolor, or accumulate plaque.
View the full regional availability list.
*VITA Classical is a registered trademark of a company not affiliated with Formlabs Inc.
Explore Indication
Downloads
ibt-resin
IBT Flex Resin is ideal for:
Indirect bonding trays
Direct composite restoration guides
IBT Flex Resin
A flexible biocompatible material for 3D printing highly accurate indirect bonding trays and direct composite restoration guides
3D print flexible and tear-resistant translucent trays and guides that save you time and deliver consistent, predictable outcomes. 

IBT Flex Resin is a Class I biocompatible material with enhanced flexibility, strength, translucency, and part clarity to guarantee optimal clinical outcomes while providing a great patient experience and for seamless and precise transfer of orthodontic brackets and restorative composite materials.
View the full regional availability list.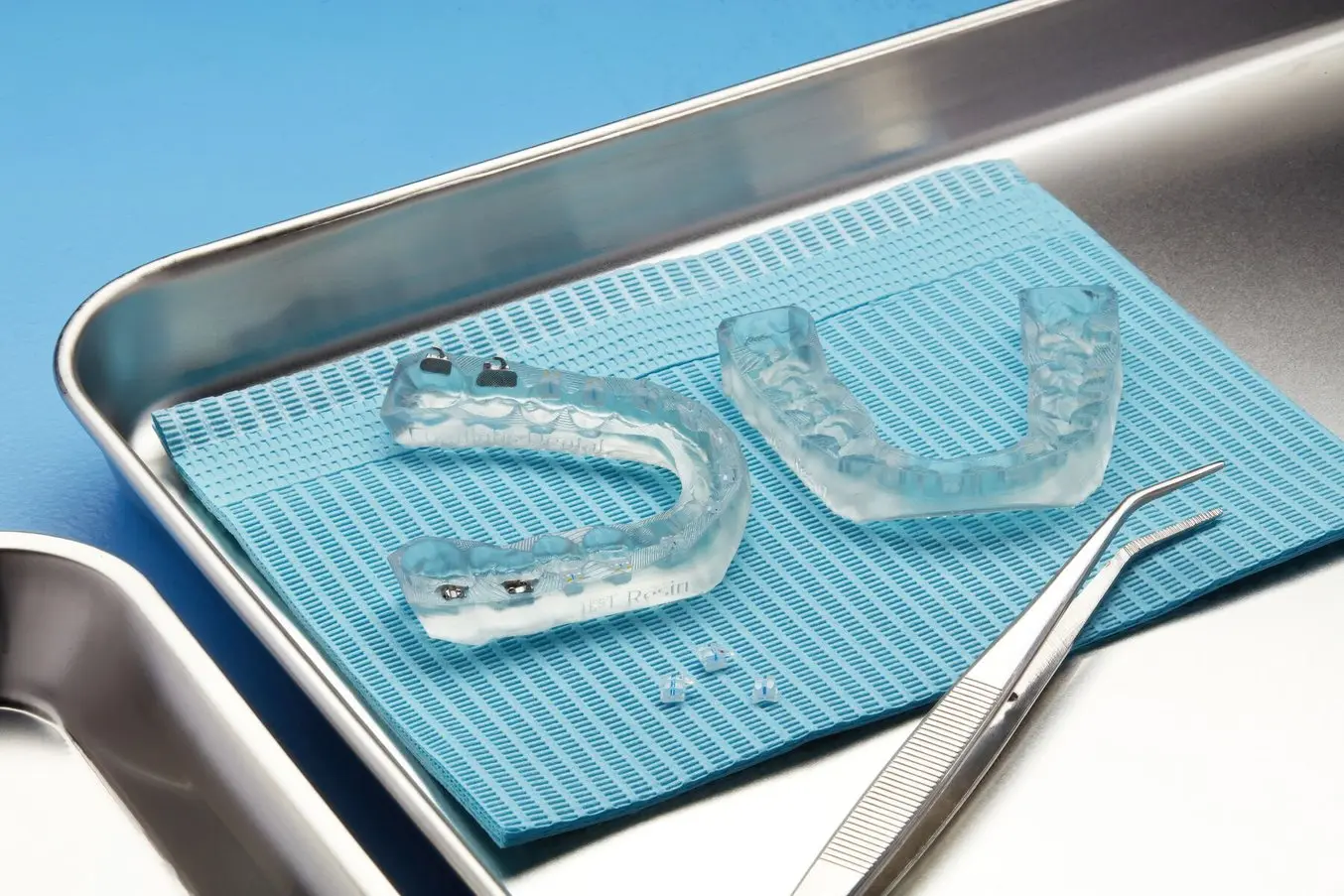 Explore Indication
Application Guide: Direct Composite Restoration Guides
Downloads
soft-tissue-starter-pack
Soft Tissue Starter Pack is ideal for:
Soft tissue for implant models
Gingiva masks
Order Soft Tissue Starter Pack Now
Soft Tissue Starter Pack
Expand your digital capabilities with 3D printed gingiva masks and implant models
Create flexible gingiva masks for use in combination with rigid dental models. Confidently check implant prosthetics by adding removable soft tissue components to your model production. Use the Soft Tissue Starter Pack to create your own Soft Tissue Resin in customizable dark, medium, and light pink shades.
View the full regional availability list.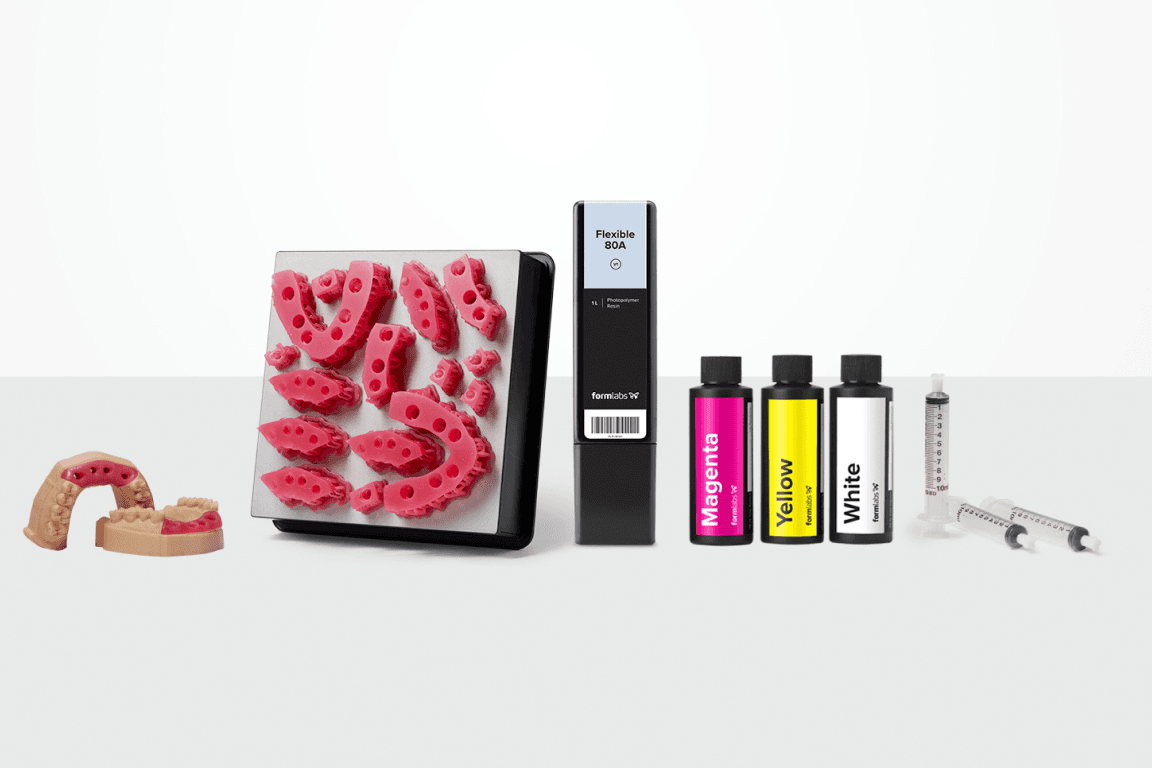 Explore Indication
Downloads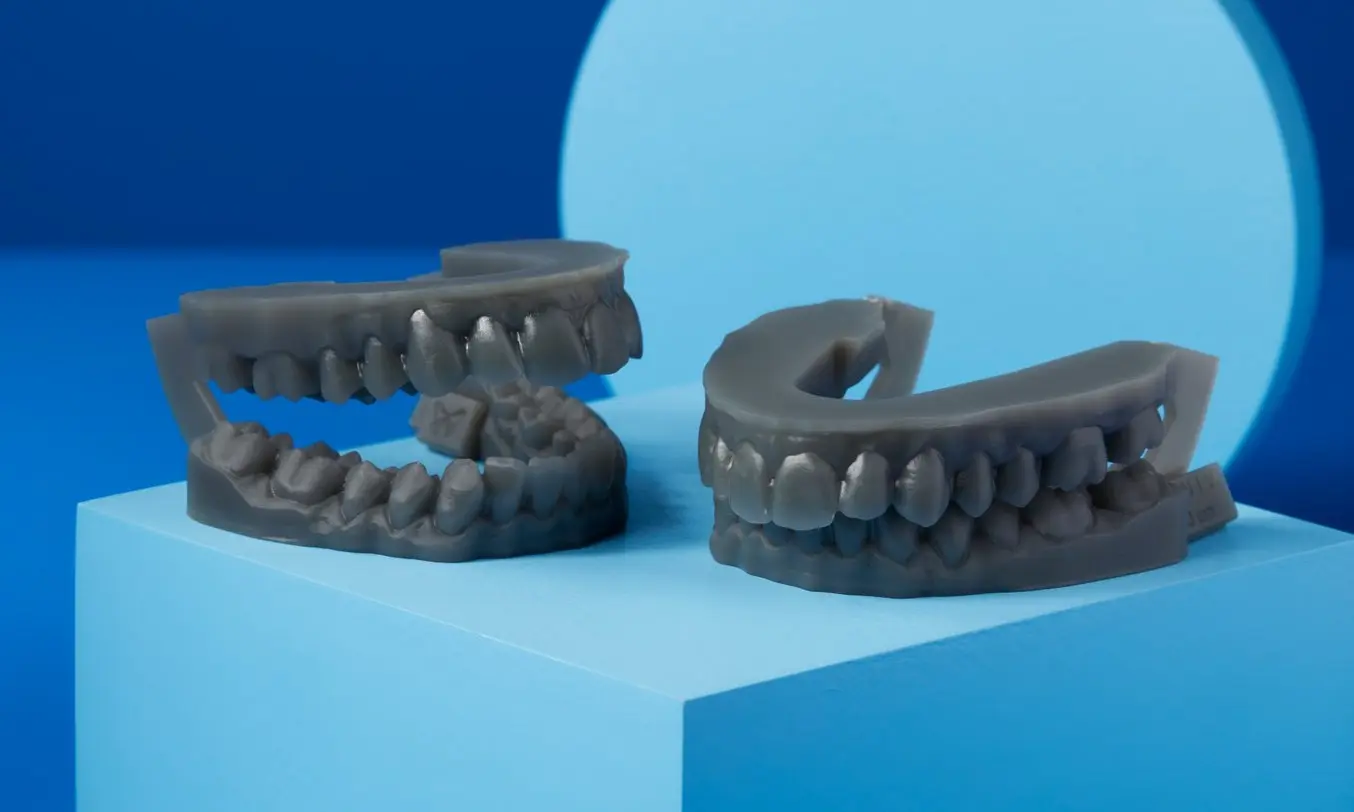 Request a Free Sample 3D Print
See and feel Formlabs quality firsthand. We'll ship a free sample part to your lab or practice.
Request a Free Sample Part
Formlabs Open Platform
Formlabs Open Platform unlocks best-in-class third-party resins from across the industry and enables users to fine-tune print settings for tailored print performance. Together, these solutions provide maximum clinical flexibility on the industry's most trusted dental 3D printer.
Learn More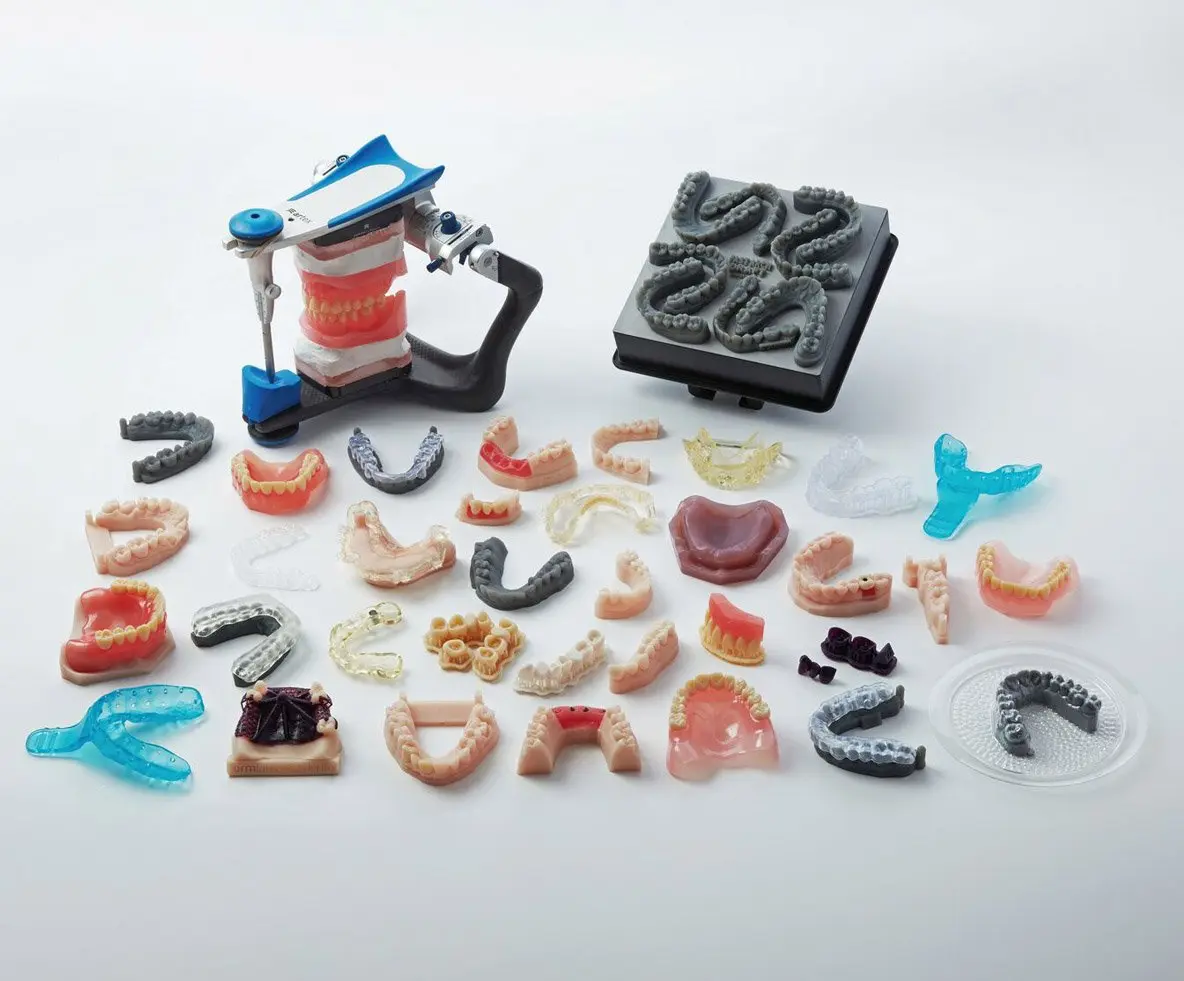 Resin Bulk Discount
Volume discounts on resins are available for production customers. Please contact our sales team or your Formlabs certified partner for additional information.

Even More Materials
The Form 3B+ and Form 3BL are compatible with the complete Formlabs resin library of more than 20 general purpose and speciality materials.
Get in Touch
For more information, help choosing a material, or bulk orders, we're here to help.