How ROE Dental Lab Pivoted to Manufacturing Medical Supplies to Fight COVID-19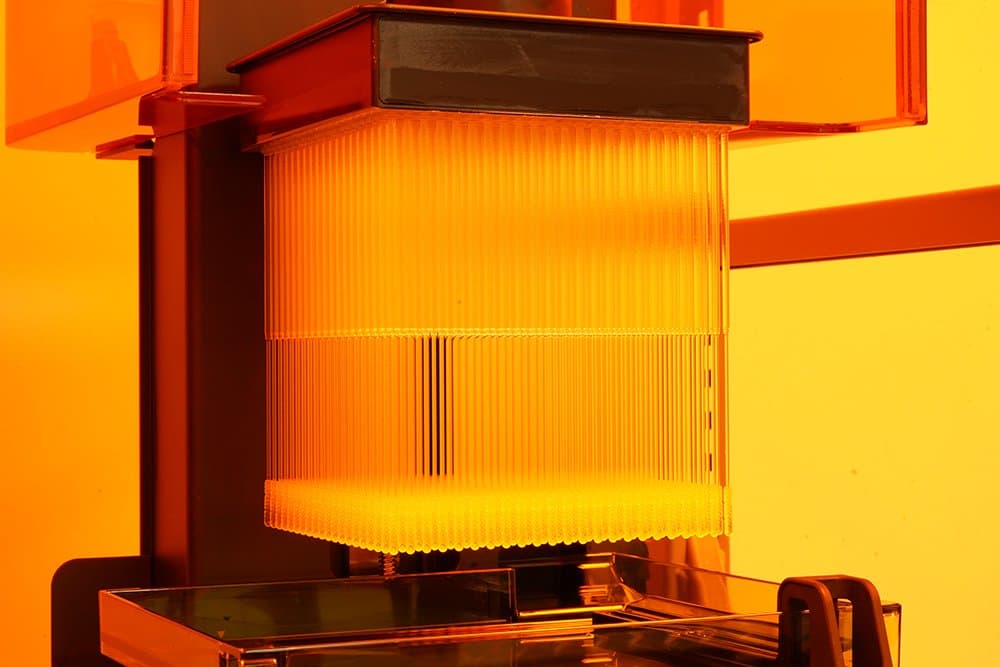 The COVID-19 pandemic has disrupted our lives and the economy. The dental industry has been especially hard hit, with the majority of dental practices around the US limited to doing emergency-only cases. Dental laboratory workloads have dropped an average of 92% and one-third of laboratories are closed completely.
ROE Dental Laboratory, one of the largest dental labs in the US, was no exception. As incoming orders came to an almost complete halt, they had to furlough most of their staff and were facing an uncertain future.
Fast forward a couple of weeks, ROE Dental has now retooled to manufacture PPE and medical supplies, including 15,000 nasopharyngeal (NP) swabs a day. These swabs are vital for collecting samples for COVID-19 testing. The lab has already managed to bring back 175 staff and have been personally thanked by Ohio Governor Mike DeWine for supporting the fight against the pandemic.
Read on to learn from ROE Dental President BJ Kowalski how they leveraged state-of-the-art dental technology, including almost 40 Formlabs 3D printers, to not only get their business back on track, but do good for their clients and the wider community.
An Opportunity Emerges in the Crisis
"We had a really quite thriving and growing dental business, which, in a matter of a week, came down to an almost complete halt. We realized we needed to do something. But what were we going to do at this time?" said Mr. Kowalski.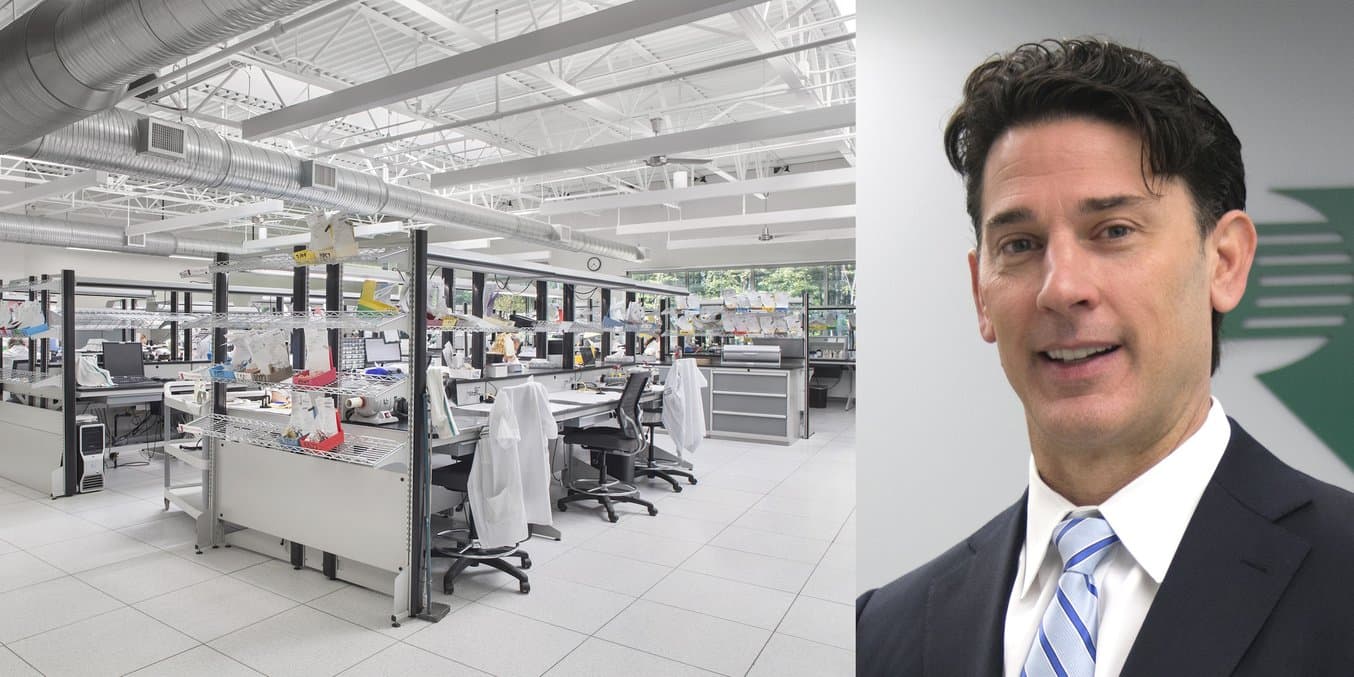 While their order volume dwindled, the lab switched focus to internal projects and R&D, but those weren't nearly enough to substitute the loss in orders. ROE had to furlough most of its staff and only kept a skeleton crew and the management team.
In the meantime, Formlabs had started to look into ways to help the medical community and use 3D printing to address the COVID-19 pandemic and associated supply chain shortages. The company has been working with dozens of hospitals, health systems, and government agencies around the world on various projects spanning COVID-19 testing, PPE, and medical equipment.
3D printed NP swabs emerged as an effective application for 3D printing to respond to the crisis. These swabs are typically used for influenza testing and other respiratory infections, but now they are in high demand and extremely limited in supply as countries around the globe are ramping up COVID-19 testing.
Over the span of one week, Formlabs and medical teams worked together to develop a nasal swab prototype that can be manufactured on stereolithography 3D printers using the biocompatible and autoclavable Surgical Guide Resin. The prototypes went through validation testing and rapid clinical testing at USF Health and Northwell Health labs. The 3D printed swabs are now in production at various healthcare institutions and Formlabs' manufacturing facility in Ohio.
Mr. Kowalski had been following the updates from Formlabs and reached out to see if his office could help.
Nasopharyngeal swabs are medical devices that require manufacturers to comply with regulatory requirements. If you are interested in 3D printing test swabs in-house, see whether you fulfill the criteria and contact us.
A Gamble That Paid Off
"I think we had 18 printers at the time and I actually had an agreement in place to replace those with newer [Form 3B] models. We are in a unique position as a medical device manufacturer registered in the US with the FDA. We are familiar with the materials, the post-processing, and we have a highly-trained technical staff. So we had everything we needed to have in place," said Mr. Kowalski.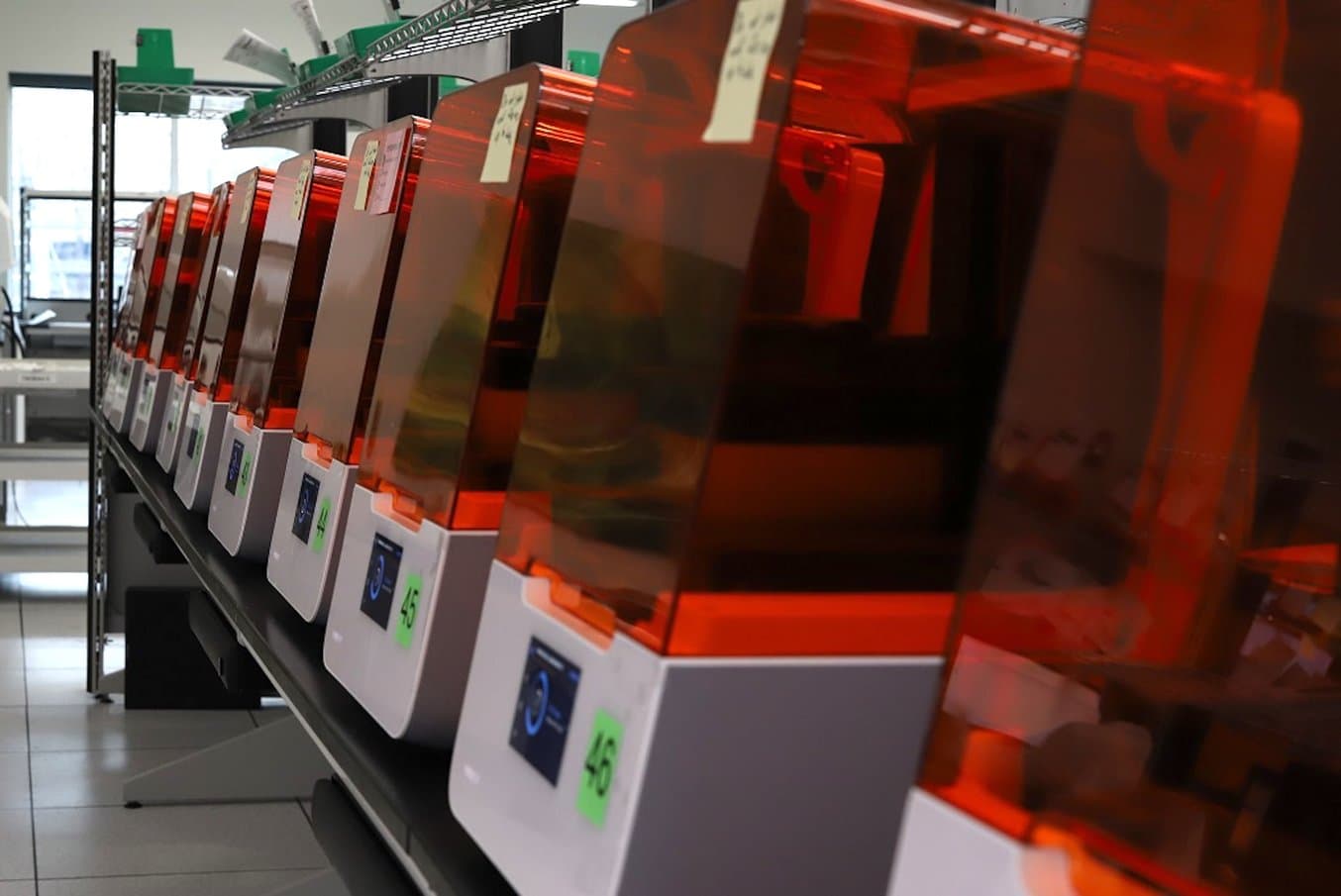 Mr. Kowalski started to gauge interest, and once he confirmed that there was strong demand for swabs, he committed another 18 printers and a large amount of resin to immediately increase production.
"It was a bit of a gamble. Fortunately, it paid off. We're doing about 15,000 swabs a day that we're able to manufacture and package, that is not 100% capacity, so we could probably get up to 20,000 if we wanted to. We were down to about maybe 30 people and we brought back 175," said Mr. Kowalski.
"The state of Ohio has contracted us to buy a million swabs and we have several hospital systems, counties, and municipalities in the United States that are interested," said Mr. Kowalski.
Retooling From Dental to PPE and Medical Device Production
In addition to swabs, ROE is manufacturing PPE, including headbands, face shields, and mask fitters, which consist of a personalized 3D printed frame that is contoured to the shape of a person's face based on 3D scan data to improve the seal of face masks.
"We're just trying to stay viable and help our dental clients get back to work," said Mr. Kowalski.
"[If we didn't have 3D printers], we would be shut down. That's the beauty of 3D printers, it gives you instant flexibility. I have a room full of milling machines, but they are not as flexible as 3D printers because I'm stuck to milling particular dimensions for dental pucks. It's really encouraging, the business flexibility that 3D printing capacity gives you, because you can get a lot of different things accomplished," said Mr. Kowalski.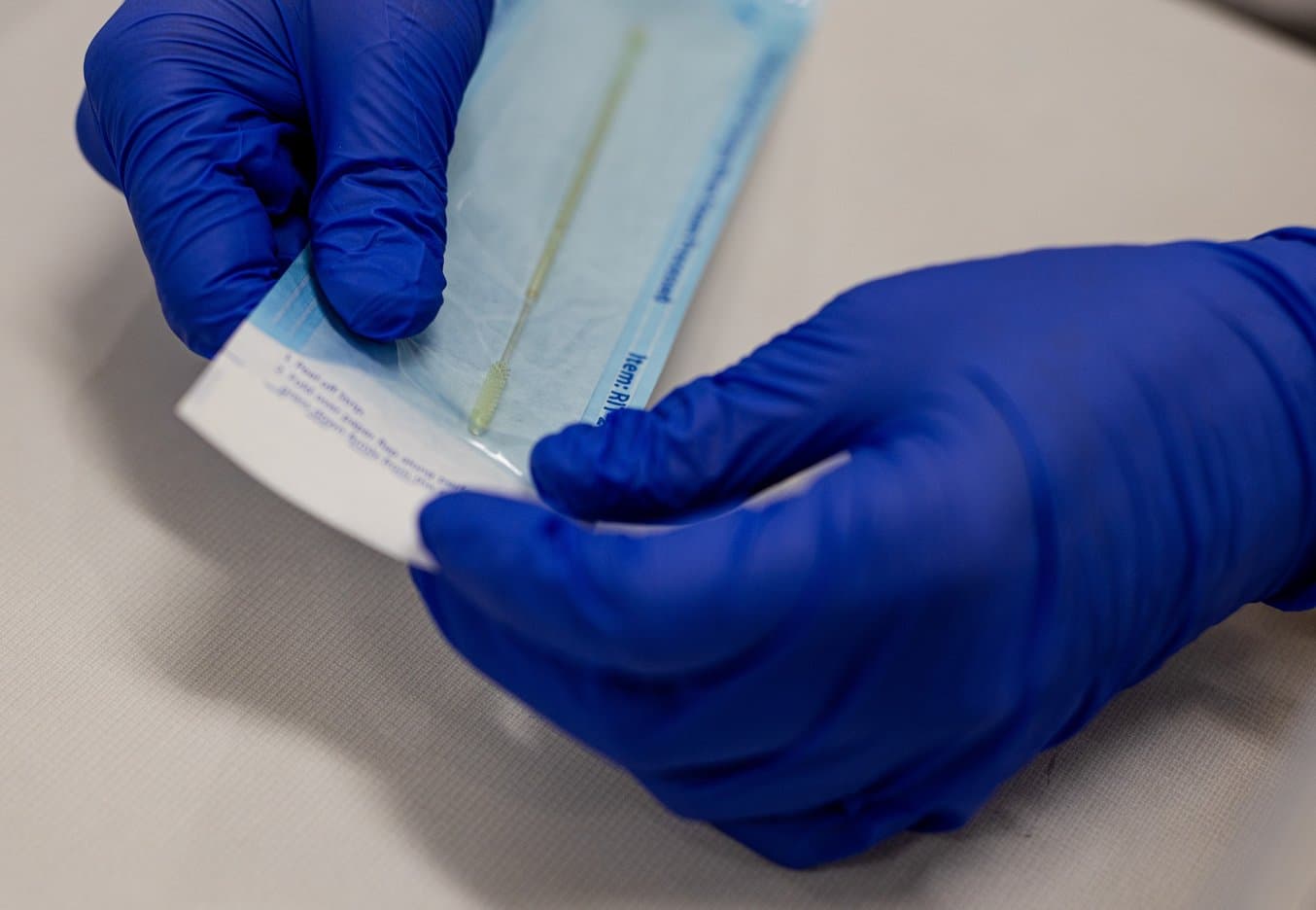 During this time when some commodities are scarce, having materials on-site and resolving supply chain problems are crucial.
"We had previously been buying alcohol [that is required for post-processing resin 3D printed parts] in 55-gallon drums on pallets of four or eight of them. Well, the price went up four times, so I had to make sure I had enough alcohol available. We needed boxes and labels for the swabs, packaging, and all the materials had to be autoclavable. We basically began making sure we had our things covered and as we started to get interest in orders, we invested in another 18 printers and more material to make sure that we could meet production demands," said Mr. Kowalski.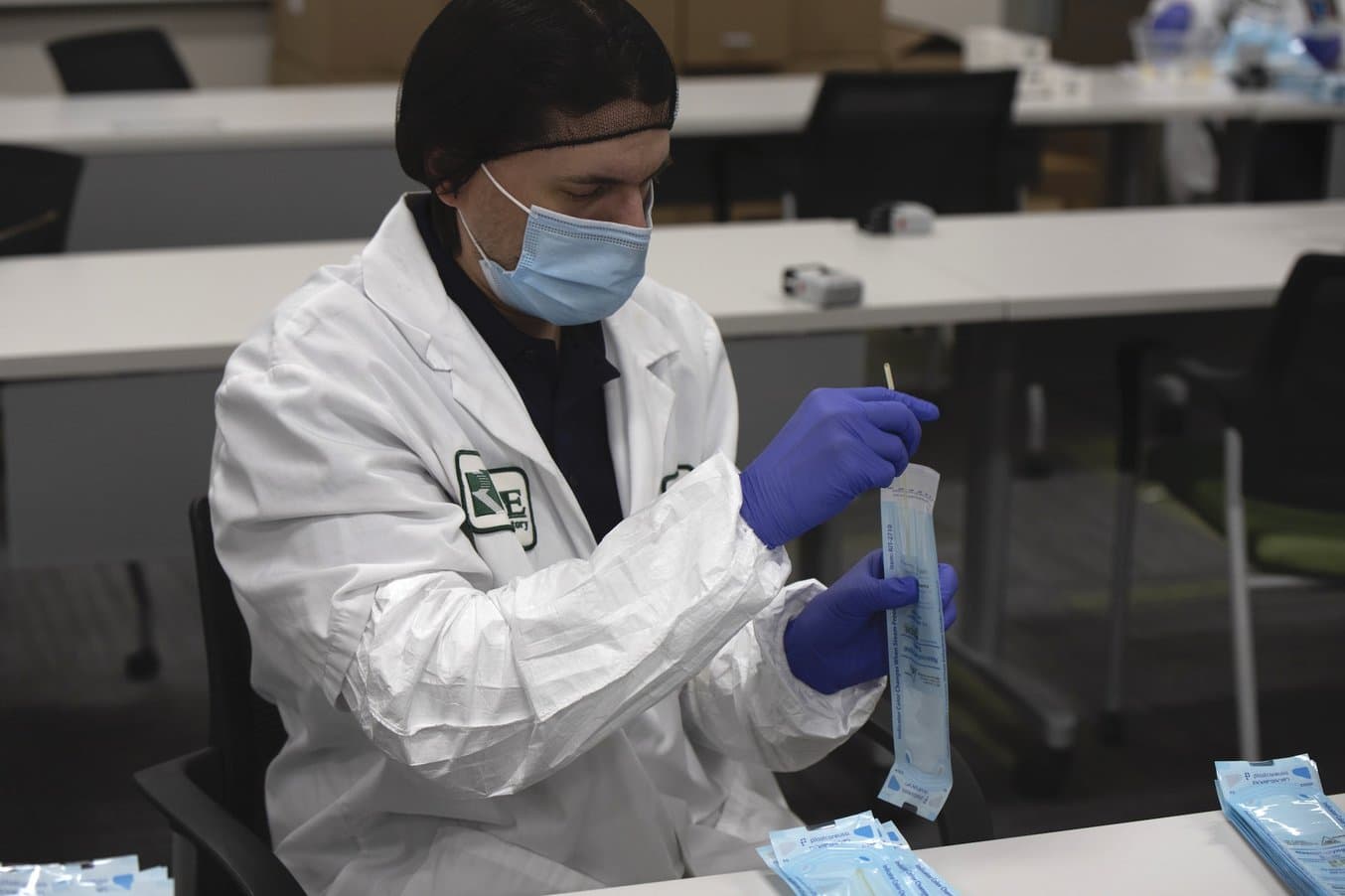 The ability to quickly pivot to swab production was greatly aided by the fact ROE Dental had already heavily invested in 3D printing prior to the recent crisis.
"Fortunately, most of our staff are used to the Formlabs machines and the post-processing. We have a system for lot number traceability, we're tracing each individual swab to what machine, light-curing station, and alcohol bath it came from, and who packaged it. So we're tracing all these steps all the way back, which is really important for this type of device. Should something happen, you'd have nice traceability of the product all the way through the production process," said Mr. Kowalski.
The Path Back to Normal
While the pivot to swab and PPE production helped the business stay afloat and bring staff back into the office, the dental business has started to show signs of recovery.
"Just this week we started getting some reasonable volume levels coming in, certainly not full capacity, but we're back to about 50% of the incoming orders that we previously had, while we were down 70% or 80% before. I don't see any interruption in trying to balance our dental work with this work because there's all the new equipment doing these procedures at this point, purchased specifically for this," said Mr. Kowalski.
ROE Dental normally uses 3D printers to produce dental models, surgical guides, bone models, and a patented system called CHROME GuidedSMILE, a solution for guided surgery.
"We'll have more capacity than we need for dental, but it gives us a lot of room for growth and a lot of room to explore other opportunities. Sometimes we're limited with new projects based on trying to fit them into a printer that's already busy. We'll have a lot of extra capacity once, hopefully, things get back to normal. We're looking forward to playing with all kinds of different new materials," said Mr. Kowalski.
Continued Support in the Fight Against COVID-19
Having ramped up the manufacturing of PPE and nasal swabs, ROE Dental continues to explore ways to support the fight against COVID-19.
"We're exploring some different medical devices that some people have brought to our attention that they have a need for. So we have several different R&D projects with different medical devices that are just going through some design considerations now," said Mr. Kowalski.
"The team at Formlabs has been great at communicating with us, getting us information, and meeting their deadlines. They've been very honest and straightforward and really, really great to work with. We have some other 3D printing partners, but Formlabs definitely seemed to have the lead on this." said Mr. Kowalski.