Surgical Guide Resin 1 L
RS-F2-SGAM-01
Lead time: 7 days
Surgical Guide Resin is an autoclavable, biocompatible resin for applications including 3D printing dental surgical guides for implant placement. Surgical Guide Resin was formulated specifically for Formlabs printers and rigorously tested to meet solvent disinfection and autoclave sterilization standards for implant systems.
Use Surgical Guide Resin to 3D print surgical guides, drilling templates, pilot drill guides, and device sizing templates that exceed dental demands in accuracy, part quality, and performance. Download our Application Guide to learn the complete digital workflow and best practices for making 3D-printed surgical guides.
Note: Dental SG Resin is no longer available for direct purchase. Formlabs recommends switching to Surgical Guide Resin.
Supports print resolutions: 100 and 50 microns (Form 2), and 100 microns (Form 3B). Post-curing required. Requires Resin Tank LT for Form 2.
Form 2, Form 3B, and Form 3B+ only. Not compatible with Form 3.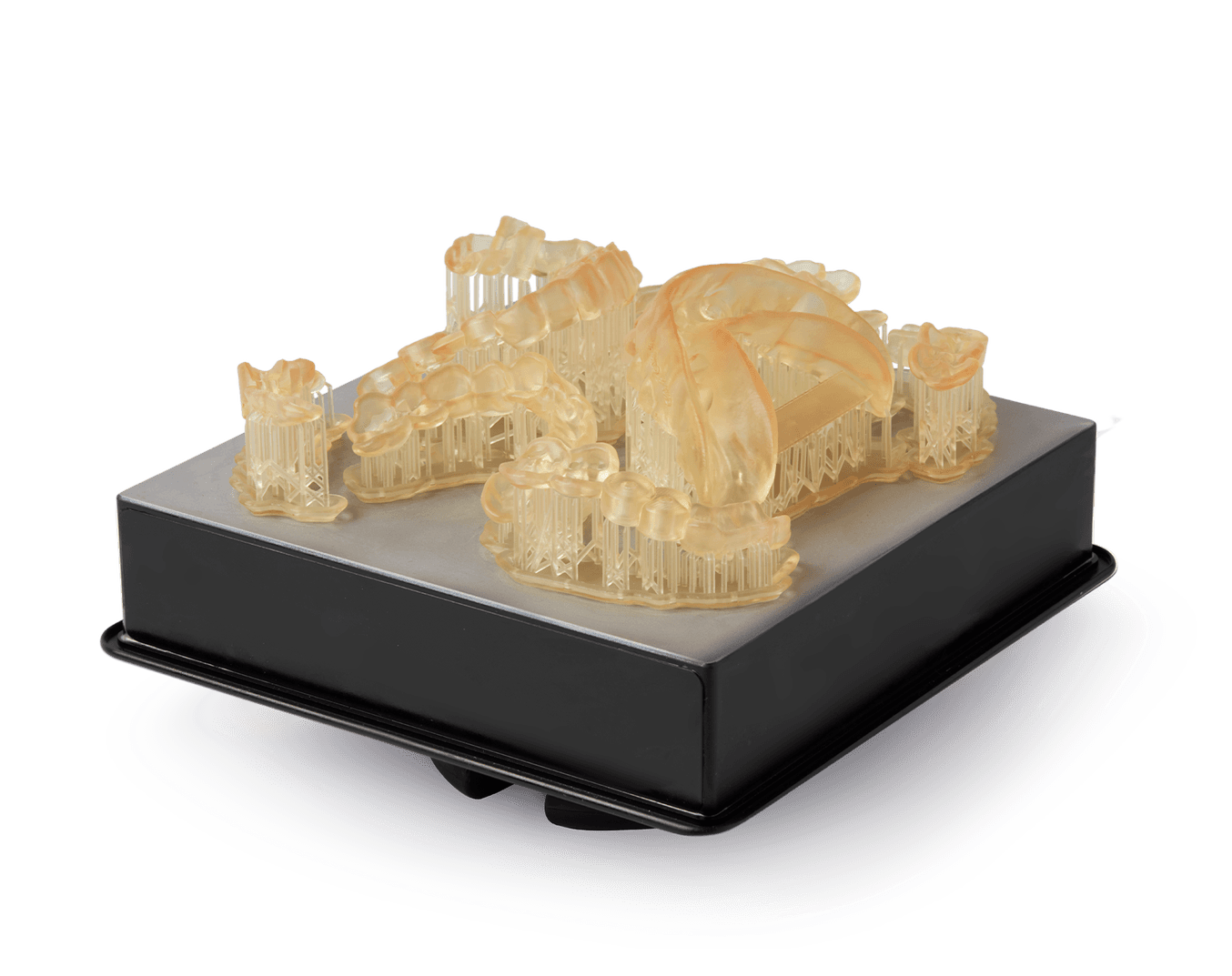 Why Choose Surgical Guide Resin?
Surgical Guide Resin provides dental professionals with a biocompatible material for the production of dimensionally accurate dental implant guides and templates.
Reliable
Consistency produce reliable guides.
Efficient
Leverage a digital workflow from intraoral scanning to production.
Biocompatibility
Provide the patient and clinician the peace of mind they deserve.
Applications
Surgical Guide Resin is a premium-quality material for printing surgical implant guides.
Consider Surgical Guide Resin for:
Flexural Strength
> 102 MPa
Flexural Modulus
> 2400 MPa
* Material properties may vary based on part geometry, print orientation, print settings, and temperature. Data for post-cured samples were measured on Type IV tensile bars printed on a Form 2 printer with 100 μm Surgical Guide Resin settings, washed in a Form Wash for 20 minutes in ≥99% Isopropyl Alcohol, and post-cured at 60°C for 30 minutes in a Form Cure
Form Wash Settings
To ensure that finished parts are biocompatible, follow all part washing notes in the Instructions for Use. Maintain separate wash buckets for biocompatible materials.
Form Cure Settings
Form 2: 60 °C; Form 3B & Form 3BL: 70 °C
Post-curing as recommended in the material-specific Instructions for Use is required to ensure optimal performance and biocompatibility of 3D printed dental appliances.