How Formlabs Dental Evolves Our Hardware Products With Software
At Formlabs Dental, our line of professional, affordable 3D printers, software, and materials are designed to function optimally together. We believe the best hardware products are those that grow better over time, and we're committed to continually evolving our hardware through software improvements. 
In this post, we'll break down how we approach software improvements, walk through the many evolutions of the Form 2 3D printer since its release in 2015, and explore what this means for the Form 3B, our new flagship dental printer.
A Philosophy of Continuous Improvement
Since the Form 2 launch in September 2015, we've released over 40 versions of our free 3D print preparation software, PreForm. Our software ecosystem also includes the web-based Dashboard, which allows users to remotely track and manage their printers and materials, and the firmware (and touchscreen interface) included with each printer. 
Our commitment to continually improving the software behind all of our products is, at its core, a commitment to improving product performance and extending product lifetime and usage. Users shouldn't need to replace their hardware to expand its range of applications (within the realm of possibility) and to experience updates and improvements. Our products are made to adapt to a rapidly changing market and respond to emerging patterns and trends, without quickly facing obsolescence and prematurely ending up in a landfill.
What We Can Change With Software
In the years following its release in 2015, the Form 2 became the industry leader for desktop dental 3D printing, in part due to continuous software updates. The best part: every single update was free.
New Materials, New Workflows
Formlabs Dental releases several new and reformulated printing materials each year. Every new resin we release expands the capabilities of our machines, and, more importantly, what's possible with desktop 3D printing. Our resins are developed in house to work seamlessly with our printers.
We optimize the printers for the resin and vice versa. You get a combo that's pretty superior to what you could get with an off-the-shelf resin, or another company using our material on their printer.

Alex McCarthy, Materials Scientist
Our Materials Partner Platform allows Formlabs Dental to partner with leading dental companies and other partners to collaboratively co-develop print settings for materials already on the market. This means our customers get the best of both worlds: top-performing materials that have undergone extensive validation.
Faster Printing for High Throughput
When making speed improvements for our 3D printers, we prioritize continuous improvement while striking a balance with quality and accuracy.
In PreForm 2.20.0, we introduced a 140 micron print setting for Dental Model Resin, enabling faster printing of orthodontic models for clear aligner and retainer production, reducing print time for one model in 37 minutes compared to 75 minutes at 100 microns. In PreForm 3.0.0, Draft Resin, a material that prints at 300 microns to save time in rapid prototyping, was introduced. In PreForm 3.0.3, it became possible to print Grey Resin at 160 microns.
Accuracy and Ease of Finishing
Support structures are critical to keep the part in place as it prints, and they influence a number of aspects of the print process.
Over the course of the last several years, we've worked to develop lighter, stronger, and more efficient supports. Specific improvements have included:
Smaller touchpoints, which makes part cleanup faster and easier.
Better-placed cross-braces or trussing to ensure optimal accuracy, even on large parts like a full set of denture teeth.
Smaller pillars to help save print material.
Identifying Different Parts in a Print
The raft portion of the support structure generated by PreForm forms a base that improves adherence to the build platform. For some parts and geometries, it's possible to save print time and material by changing the shape of the raft or removing it altogether. 
PreForm 2.14.0 included the option to print the name of the model around the edge of the base, useful for differentiating between similar looking parts, such as aligner models, or identifying quickly which part corresponds to which patient case or doctor order.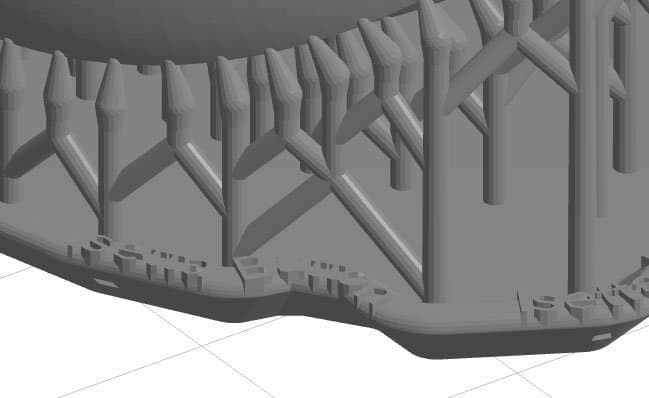 A Simple, Powerful Interface
3D printers are complex—hardware, software, and a wide array of materials need to operate in harmony. Making that process easy and intuitive for the end user starts with a friendly, simple interface.
Some of the people using our printers have never touched digital dentistry before. Others are among the best technicians on earth and demand fine-tuned control over their machinery. The trade-off between these two use cases is one of the primary challenges we face: we aim to design an interface anyone can understand and start a print from day one, without limiting the granular control required by advanced users.
As capabilities increase, we'll continue updating our interface to accommodate the latest innovative workflows, while ensuring that our 3D printers are accessible to dentists, orthodontists, and technicians of all experience levels.
New Possibilities with Next-Generation Hardware
All of the above changes were made with the Form 2, which was released in 2015. With the release of the Form 3B in 2019, we've updated our hardware to open up even more possibilities. The significantly lower peel forces of Low Force Stereolithography open up new possibilities in the realms of print quality, materials development, and support removal. More sensors across the printer enable more control and smarter alerts, even remotely.
Learn more about Form 3B or try our PreForm software for yourself with a free download.
Try PreForm for free