Dental 3D Printer Price: How Much Does Dental 3D Printing Cost?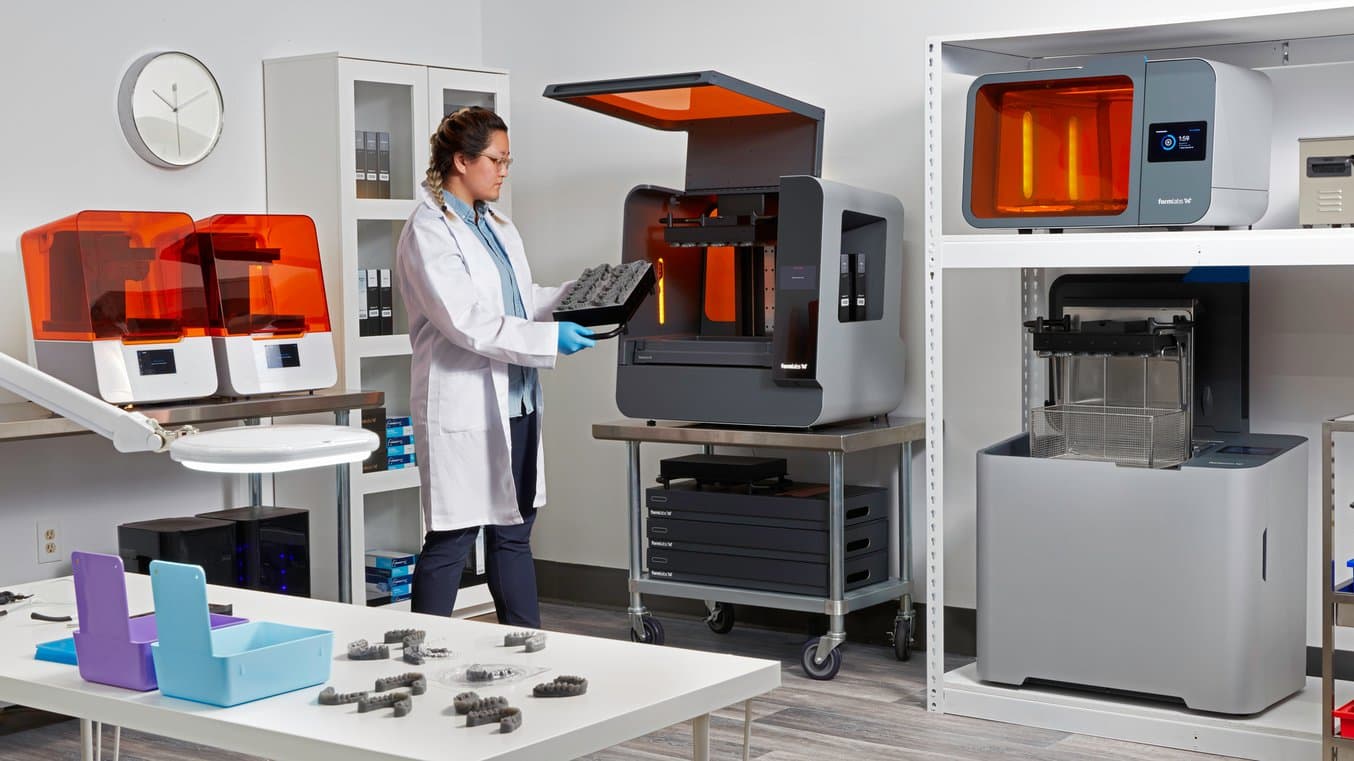 The future of dentistry and orthodontics is digital. With cutting-edge digital dental technologies for impressions, treatment planning, design, 3D scanning, and 3D printing, digital technologies are transforming thousands of dental practices and labs worldwide. As CAD/CAM continues to replace traditional workflows and become the standard of dental care, digital solutions have become a necessary consideration for any dental business.
One of the first concerns a dental professional will have about upgrading or expanding into in-house 3D printing is about costs. Does this printer make sense for my business? Will the investment break even? What's the ROI going to be?
Dental 3D printer prices range from a few thousand dollars to $100,000 or more, with costs scaling depending on the printing process, throughput required, manufacturer, services and support, and more. However, as we'll see, a higher price often doesn't equal an overall better solution.
In this guide, we'll walk you through the true cost of investing in and owning various dental 3D printers, compare outsourcing with in-house production, lay out the various factors you should account for to calculate cost per part, and look at considerations beyond cost when comparing various 3D printing solutions and other production methods.
Interactive
Calculate Your Time and Cost Savings
Try our interactive ROI tool to see how much time and cost you can save when 3D printing on Formlabs dental 3D printers.
Calculate Your Savings
Choosing a Dental 3D Printer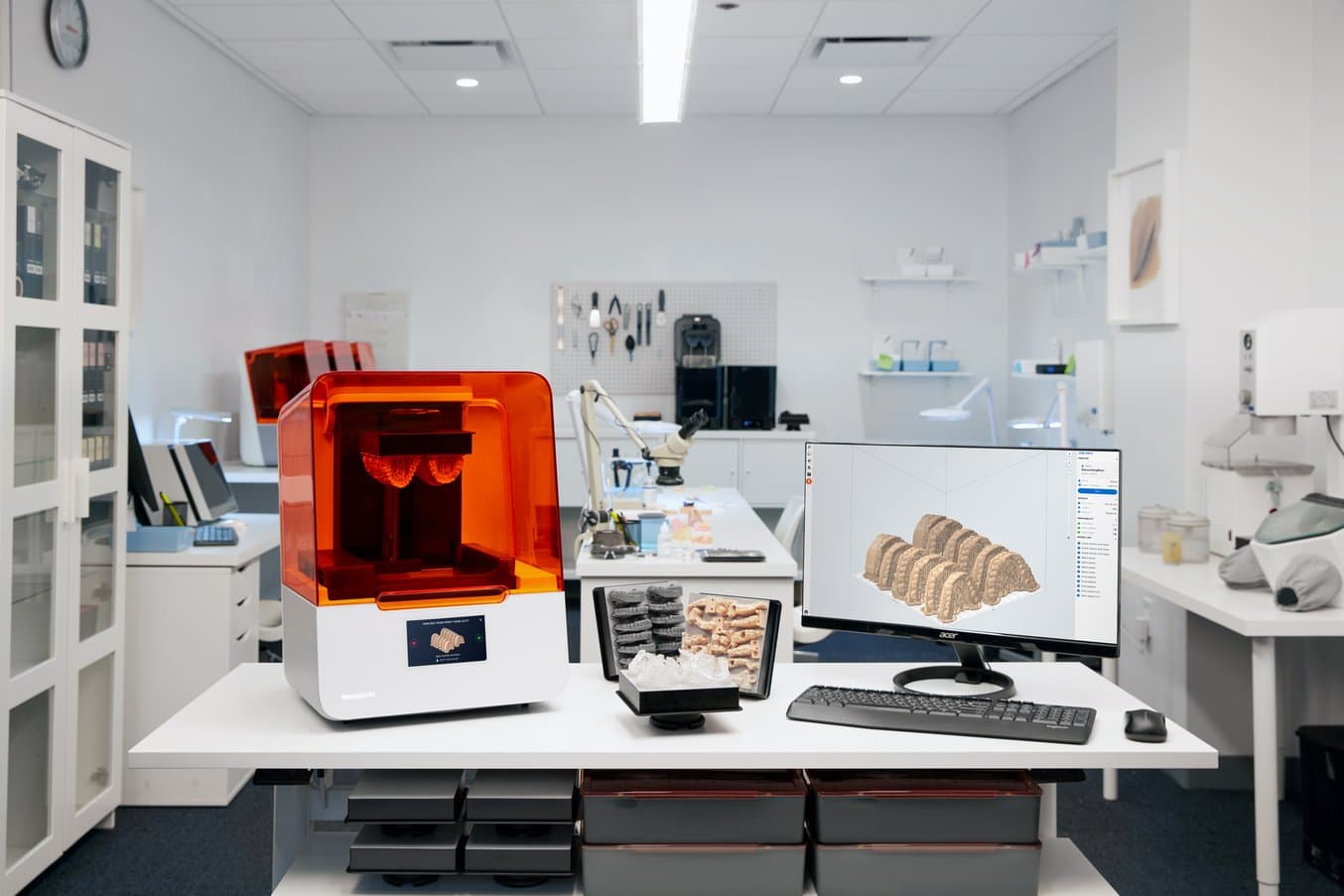 When choosing a dental 3DP printer, there are a few things to consider in addition to price. In general, dental professionals should be concerned with:
Accuracy: Guaranteeing high-quality, accurate, final parts is the most important concern for any dental professional. Accuracy and precision depend on many different factors: the quality of the 3D printer, the 3D printing process, materials, software settings, post-processing, and how well-calibrated all of these systems are.
Reliability: Dental printers often run 24/5, if not 24/7, making print failures unacceptable and requiring practitioners to miss patient deadlines. 
Maintenance: Consider the types of everyday interactions and maintenance the printer will need once it is up and running. Beware of compulsory service contracts that can cost as much as 20% of the upfront cost of the printer annually.
Ease of Use: There are big differences in the software used to prepare 3D models for printing, the complexity and the number of steps to set up and operate printers, and the availability of (automated) post-processing tools.
Materials: The ability for a single 3D printer to create prints in multiple different materials, with materials tailored-made for various dental applications, is one of the most powerful aspects of digital dental technologies.
Production Volume: It's important to consider production volume when investing in a dental 3D printer, not just print speed. Because a printer can finish a small set of prints quickly does not mean it will meet your business production needs. Preparing the printer, setting up the prints in your dental software, and post-processing the parts are all steps not immediately made visible in a basic print time metric. 
Sample Part
Request a Free 3D Printed Sample Dental Part
Curious to see the quality firsthand? Pick a material and we'll ship you a free sample part 3D printed on the Form 3B+ to evaluate. 
Request a Free Sample Part
Dental Printer Technologies: SLA, DLP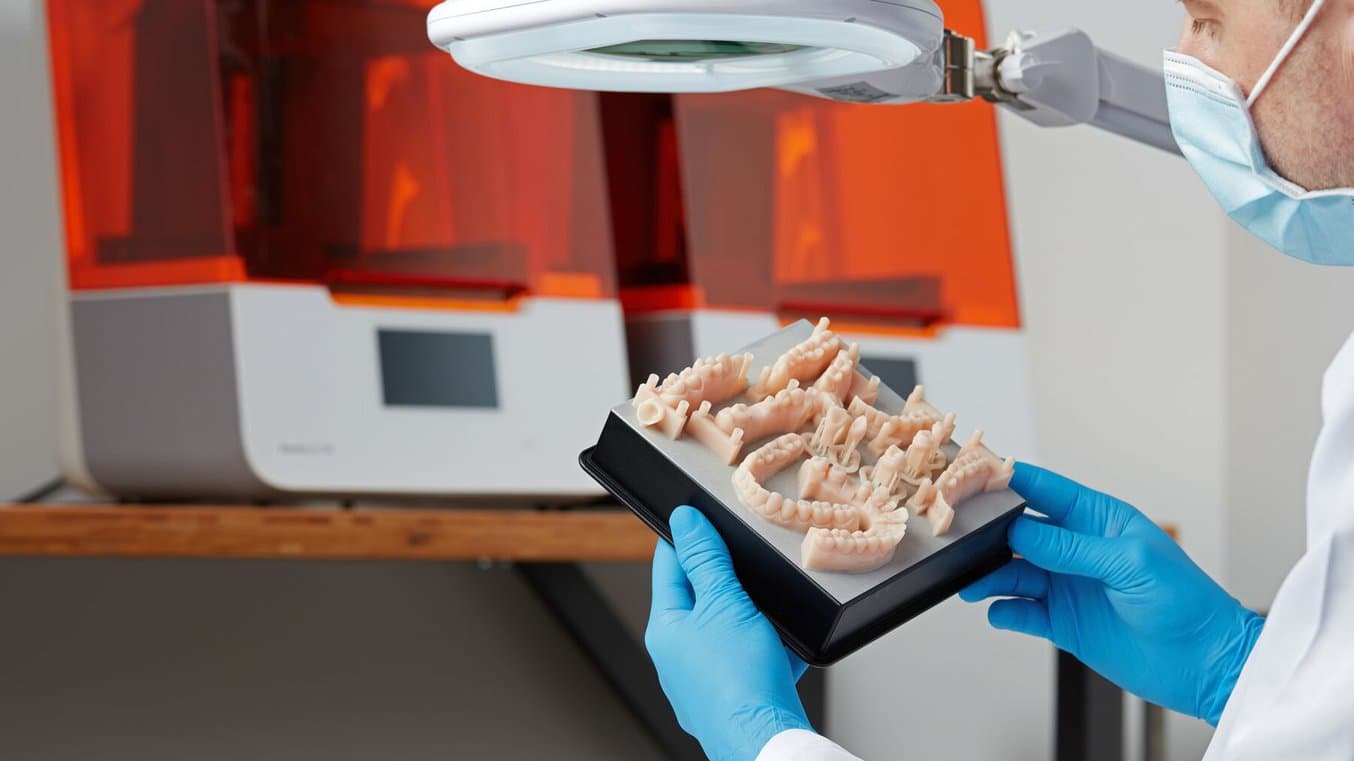 Let's start with some basic definitions and technology overviews. Dental 3D printers are predominantly resin 3D printers. The two main processes on the market are SLA and DLP technology (defined below). Both SLA and DLP dental printers all work in similar ways: by using a resin tank with transparent bottom and a build platform that descends into the tank to create parts upside down, layer by layer, as a light source cures a thin layer of resin. 
The difference in technology emerges in how light is used to cure the resin.
Stereolithography (SLA): SLA printers, such as the Form 3B+, use a laser and mirror galvanometers, which direct the light to the correct coordinates on a series of mirrors, focusing the light upward through the bottom of the tank and curing a layer of resin. Formlabs has taken this process to the next level by creating Low Force Stereolithography (LFS). LFS enables SLA printers to offer incredible print quality, lighter supports, and a platform for more advanced materials and applications.
Digital Light Processing (DLP): DLP 3D printers use a digital projector screen to flash an image of a layer across the entire platform, curing all points simultaneously.
Best Dental 3D Printers: Price Comparison
In this section, let's take a look at some printers currently available and dive into their costs, which include both upfront costs and long term maintenance costs. When purchasing a dental 3D printer, users should consider all types of costs associated with 3D printing, which include:
| | Stereolithography (SLA) | Digital Light Processing (DLP) |
| --- | --- | --- |
| Models and Manufacturers | Formlabs Form 3B+, Formlabs Form 3BL | SprintRay, Asiga, Desktop Health, Carbon3D |
| Equipment Ownership | Desktop printers start at $4,299, complete solution for $6,350. Large-format printers start at $13,000. | Desktop printers start around $9,000, complete solutions around $15,000. Large format solutions start around $20,000 and go up to $100,000+. |
| Materials and Consumables | $150 per L for model resins, $250+ for biocompatible resins. | $150 per L for model resins, $250+ for biocompatible resins. |
| Labor | Low. Advanced post-processing tools are available to minimize labor needs. | Depends on the manufacturer. Advanced post-processing tools are available, but generally at a higher cost. Many solutions require manual labor to set up prints, pour resin, and more. |
| Maintenance | Minimal maintenance. | Depends on the manufacturer, some printers require extensive maintenance and calibration. |
| Service Plan | Depends on the manufacturer. For Formlabs dental 3D printers, pro service is included in the price of the complete solution. | Depends on the manufacturer, can be lacking or costly (up to 20% of the price of the printer per year). |
| | | |
If you're considering the Formlabs Form 3B+ vs. the SprintRay Pro, we put together an in-depth side-by-side comparison guide for prospective buyers to review which covers all of these costs in detail.
In terms of upfront costs to bring these printers in-house, DLP printers are generally at least twice as expensive as comparable SLA machines. And while print speeds are slightly faster, build volumes are generally much smaller, and often these printers are more expensive solely because they're produced in lower volumes.
Both resin cartridges and resin tanks are considered consumables, and while the material itself is comparable for most manufacturers, there are bigger differences in the cost of the resin tanks—some brands' tanks have a very limited lifetime. Labor costs are one of the areas where major differences arise. For example, Formlabs SLA 3D printers require minimal setup and can refill resin automatically, while some DLP printers require frequent calibration, lengthy setup, and a technician to manually refill the resin and pour it back into the bottle when the printer is not in use.
Post-processing is also more streamlined with some solutions than with others. The Formlabs Form 3B+ can be used with Build Platform 2 to quickly and easily remove parts from the build platform without tools in seconds. Automated post-processing units such as Form Wash and Form Cure also speed up the cleaning and post-curing process, meaning your dental workflows can go from print to final part as soon as possible, reducing completion times and labor costs.
Dental 3D Printing Costs: Outsourcing vs In-House 3D Printing
Many dental professionals, labs and practitioners included, start their digital journey by outsourcing some of their indications. This makes sense for low production volumes and for dental professionals just starting out with 3D printing or dental CAD/CAM. However, the cumulative cost of outsourcing quickly climbs and can far exceed in-house production costs in just a few months. One of the greatest benefits of 3D printing is its speed compared to traditional manufacturing methods, which quickly diminishes when an outsourced part takes multiple days or even weeks to arrive. With growing demand and production, outsourcing rapidly becomes expensive.
Let's take a look at a dental office that is producing 10 aligner models per day. The office's fixed labor cost is $20 per hour, and they expect to keep the production level set all year, creating 3,650 parts in one year.
Outsourcing comes with no upfront investment costs, and each order costs $15 per part with a lead time of one week.
Under these criteria, the break even point is just seven weeks. That is, outsourcing is cheaper than in-house printing for the first seven weeks, and then becomes increasingly more expensive after that. Bringing production in-house will save this dental business $41,103 in a single year.
Formlabs Dental created an interactive ROI calculator so you can input the parts per week and labor costs and generate your own report to compare the cost of in-house production and outsourcing.
Some common questions dental professionals might ask when they are considering outsourcing or in-house 3D printing production:
How many parts per week will you need? As we've seen, at only 10 aligner models per day, outsourcing quickly adds up to far exceed the cost of in-house production in less than two months.
How quickly will you need your parts? If you find yourself often having to re-print models for rush cases, then long outsourcing lead times can be a deal breaker.
Besides a 3D printer, what else do you need to get started? Both practices and labs generally require a scanning and software solution to complete the workflow, but outsourced design options are available for the latter. Learn more about it in our extensive guide.
Dental SLA 3D Printing Cost Per Part Examples and ROI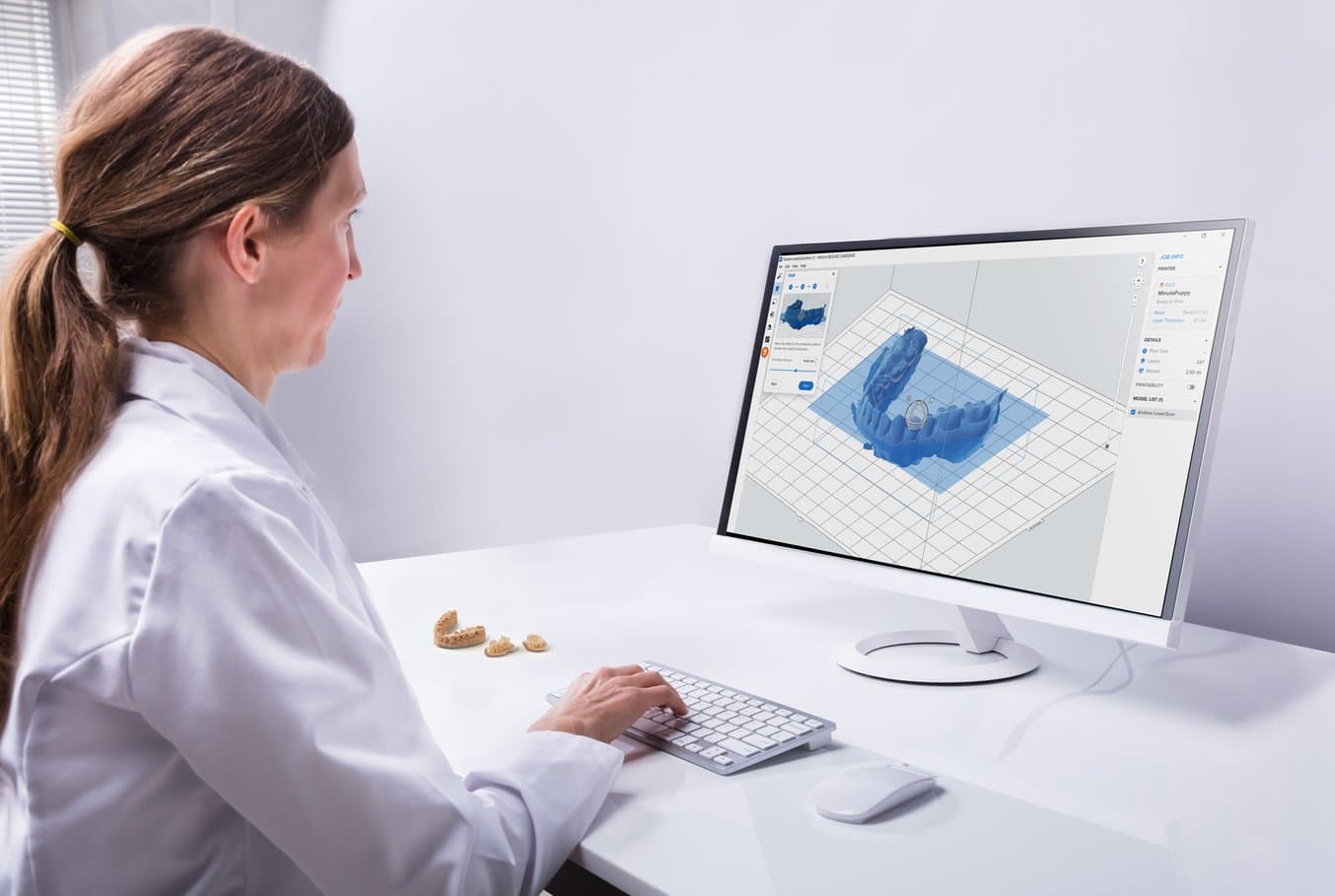 Let's take a look at some examples of costs per part based on dental indications created with the Form 3B+. We've already established that in-house 3D printing quickly becomes more affordable than outsourcing those same parts, but how much do various parts actually cost to print?
As noted above, cost per print is going to be higher on DLP printers. The costs in this table only cover the actual printing cost of materials, and not the cost of the equipment and the labor costs associated with preparing the prints.
| Dental Model | Printing Material | Cost Per Print | Print Time: Fully Packed Build Platform on a Form 3B+ |
| --- | --- | --- | --- |
| Orthodontic Models | Draft Resin | $2.10 | Nine models in one hour |
| Occlusal Splints | Dental LT Clear Resin | $3.12 | Eight models in two hours and 30 minutes |
| Temporary Restorations | Temporary CB Resin | $1.28 | 15 models in one hour and 15 minutes |
| Permanent Crowns | Permanent Crown Resin | $2.10 | 58 models in four hours and 30 minutes |
| Gingival Masks | Soft Tissue Resin | $0.36 | 15 models in four hours and 30 minutes |
| Clear Aligner Models | Draft Resin | $2.50 | Nine models in three hours and 30 minutes |
Evaluate Dental 3D Printing Solutions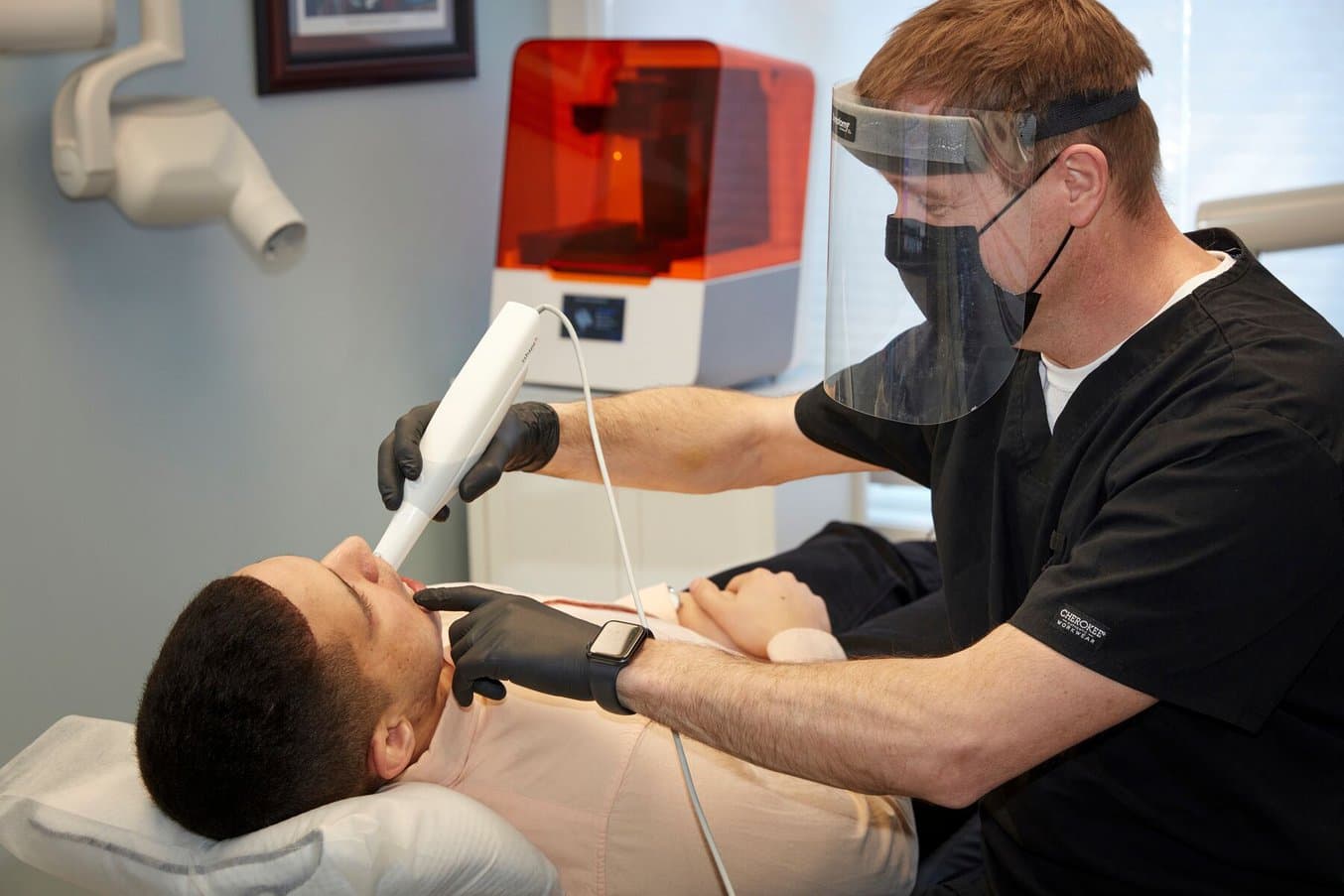 There is a lot of information to consider when looking to invest in a dental 3D printer. The true cost of a printer includes the upfront investment, long-term maintenance, labor costs, and more.
What to learn more about dental printers? Explore the Formlabs Dental Academy and our free collection of dental webinars to dive into digital dentistry workflows.
If you're interested in a dental 3D printer, evaluate parts firsthand by ordering a free sample part to your office or talk to our 3D printing experts to find the right solution for your business.