Formlabs Referral Program
Give $500, Get $500
Invite anyone from your network who is new to Formlabs to receive $500 off their first Formlabs 3D printer and we'll give you the same amount off any materials or accessories in return.
The Formlabs Referral Program is currently valid in North America and EMEA, and cannot be combined with other promotions. 
THE REFERRAL PROGRAM HAS CHANGED
Did you participate in the referral program before May 12, 2022? If yes, please click "Learn More".
Get Your Referral Link
Go to the Referral Program page and click on "Create Referral Link". Then copy your referral link.
Go to Referral Program
You are only eligible to join the referral program if you have purchased a printer from Formlabs.com in the past. See Terms and Conditions.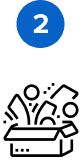 Share Your Referral Link
Message your network with your referral link. You can share it with up to 10 people!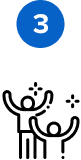 Get $500!
Once your referral completes a purchase of a Formlabs 3D printer with your referral link, you'll receive a $500 coupon in your account. To redeem, just apply your coupon at checkout towards any materials or accessories.
Completed a Referral?
Shop Materials & Accessories
If you've received a referral credit, you can shop for resins, tanks, build platforms and other accessories! Just apply your credit at checkout!

Did You Participate in the Referral Program Before May 12, 2022?
We have recently changed our program.
If you received a referral credit before May 12, 2022, you will not see any of your available balances online. Please call or email sales to redeem your credit. Your referral credit will never expire but it cannot be used online at the moment.
Have your referral credit code ready so you can be assisted faster.
Frequently Asked Questions
How do I obtain my unique referral link?
Onсe you have completed your first purchase, you can generate a referral URL unique to you on your My Account page, under the Referral Program tab.
If you have any questions or difficulties, contact Support and we'll help get you set up.
How many times can my unique link be redeemed?
Your referral link can be used up to 10 times by new customers.
Is there a limit to how many $500 coupons I can receive?
Yes, your referral link can be redeemed up to 10 times, earning a maximum reward of $5,000.
Will my referral link expire?
Your personalized referral link will never expire, however, the terms of the program are subject to change.
Who can participate in the Referral Program?
Any Formlabs customer can act as the referrer and any individual new to Formlabs can be referred.
What can the $500 be used on?
You as the referrer can redeem the $500 on materials and accessories. Referees can redeem their $500 on their first Formlabs 3D printer purchase.
Where is the referral program valid?
The Formlabs Referral Program is currently valid in North America and EMEA.
Read the Terms & Conditions here.
Resources to Share with Your Network
Share these helpful resources, along with your unique referral code, when you invite your network to experience a Formlabs 3D printer. Whether they want to see a 3D printed sample part or compare cost and time savings, these resources, in addition to your valuable experience and opinion, can help in the decision-making process. Your referral code can be redeemed up to 10 times—and you'll receive a $500 coupon each time.