How Dr. Burton Saves Time With In-House Aligners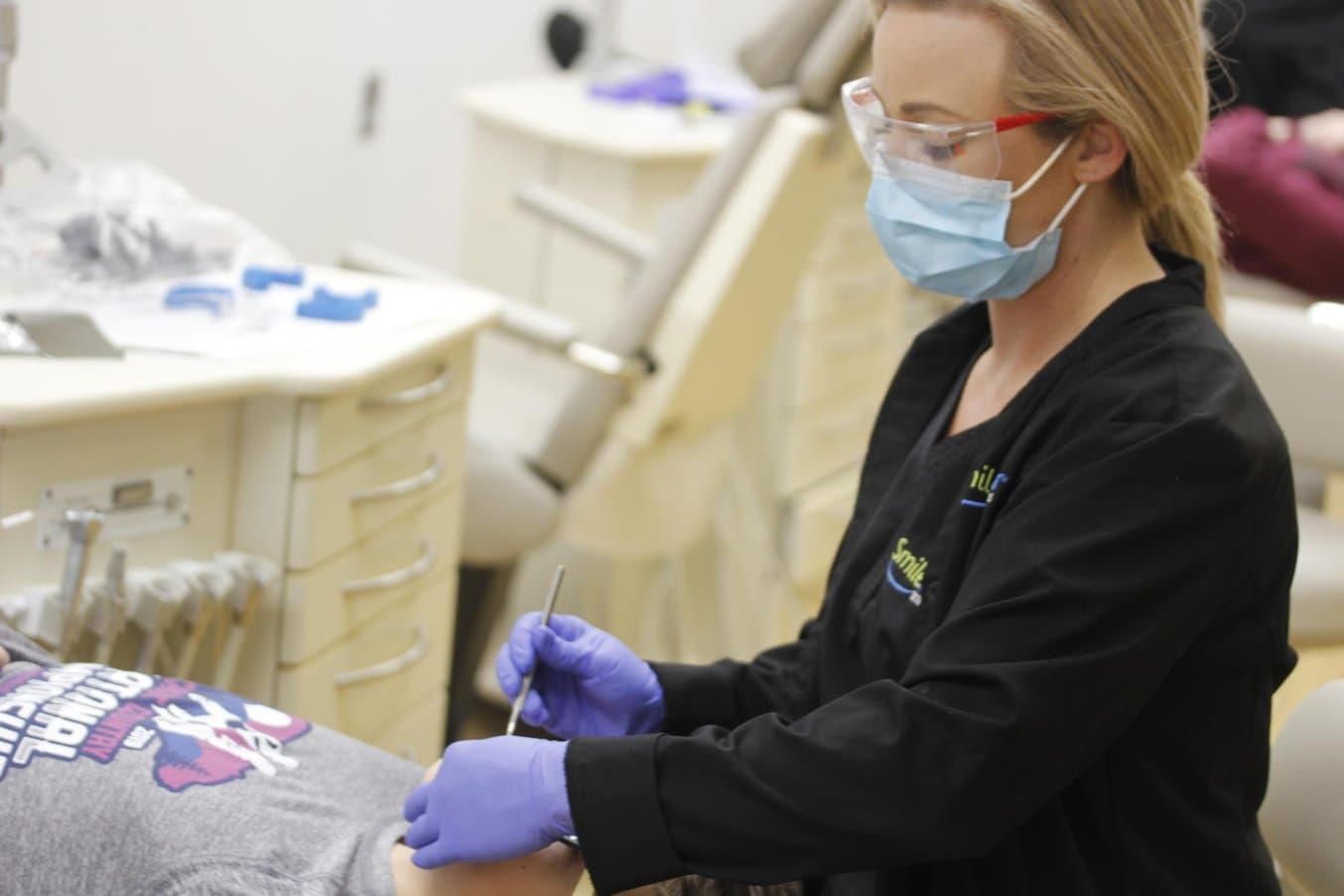 Jay Burton, DMD, MBA, is a board-certified orthodontist who runs his private practice, SmileMaker Orthodontics, near Nashville, Tennessee. 
Over the last few years, the practice has seen exponential growth in demand for clear aligners from patients. At first, Dr. Burton turned to service providers to manufacture the aligners, but soon, they couldn't keep up with the growing number of cases.
This increased the turnaround time for aligner cases, and in turn, the practice's ability to get cases started and do revisions in a timely manner decreased significantly. Dr. Burton felt that his patients deserved better and decided to invest in 3D imaging, diagnostics, and 3D printing solutions. 
Today, SmileMaker runs a small in-house lab with a Form 2, a Form 3, and the latest Form 3B dental 3D printers, primarily printing orthodontic models used for the fabrication of aligners and retainers. This has allowed the practice to move from a time when they had little to no control over the aligner process to having complete control. 
Watch our webinar with Dr. Burton for a detailed walkthrough on bringing aligner production in-house and practice management considerations, and read on for new insights on the daily workflow in his practice and how he balances speed in 3D printing.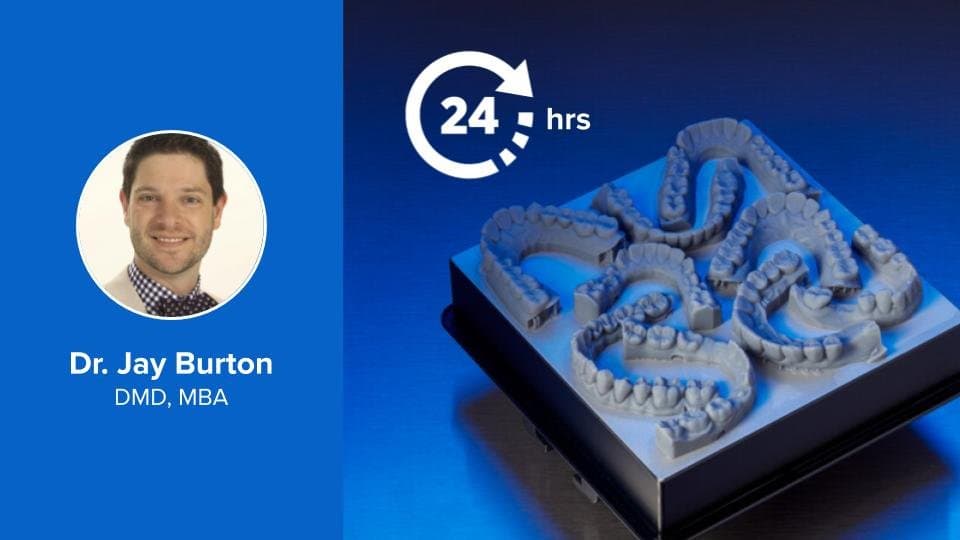 Webinar
How Dr. Burton Reduced Aligner Lead Time From 8 Weeks to One Day
In this webinar, Dr. Burton will share his personal story of how he used desktop 3D printing to bring aligner production in-house and how he adjusted his practice's day-to-day operations and appointment schedules so he could successfully deliver same-day aligners with the Form 3 3D printer.
Watch the Webinar Now
Balancing Speed and Resolution With Grey and Draft Resins
Formlabs recommends two materials for printing orthodontic models for the fabrication of aligners and retainers, Grey Resin and Draft Resin. 
In the last year, we introduced 160 micron settings for Grey Resin that reduced print time to about half compared to the previous go-to 100 microns settings, making it possible to produce more aligners in a day without compromising quality for your patients. For rush jobs, orthodontists also have a new option to use Draft Resin, which prints at 300 microns and retains the clinically required accuracy, while halving printing time for a trade-off in surface finish. 
"The benefits of using Grey Resin are not so much accuracy or fit, as both resins seem to be accurate and fit for aligner purposes, but the clarity or smoothness of the aligner with regard to the layer lines being less noticeable. The downside to Grey Resin as compared to Draft is the increased printing time. However, after using Grey Resin primarily for the last 2-3 years, the print time has not ever been an issue as I am rarely ever printing for same-day fabrication," said Dr. Burton.
"The Draft Resin is relatively new, but it did save me the other day from having to reschedule a patient that I forgot to print. In less than 15 minutes I was able to print the model to be used for clear retainer fabrication and deliver it within the already existing appointment time," said Dr. Burton. "One of the biggest benefits is that Draft can serve the purpose of speed if needed, while also maintaining a high-level quality print which is required to fabricate retainers. Initially, I had some concern over the 300-micron layer thickness and whether or not patients would be upset, but I honestly don't think they have even noticed."
Dr. Burton primarily prints horseshoe arches directly on the build platform, horizontally, without supports, though if the production requires more models, they also do overnight prints vertically on supports to fit 12 or more aligner models in a single build.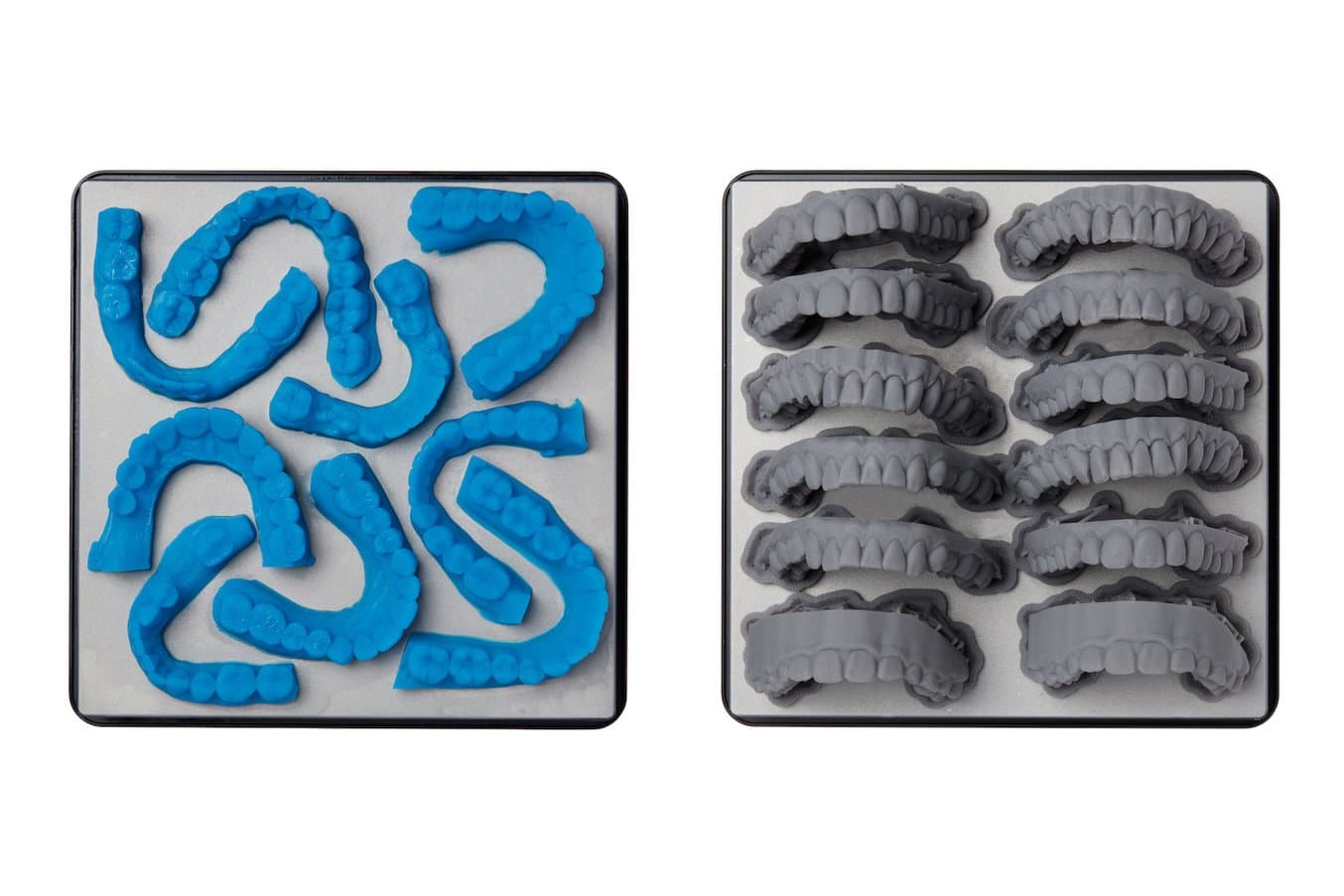 With Draft Resin optimizing the orientation can also be advantageous for improving surface finish: "I have noticed that if you orient the model so that the facial surface of the incisors is perpendicular to the build plate, the layer lines are almost impossible to see. Print time will increase slightly, but if you have a patient that is concerned about it, you could always try this as a solution," said Dr. Burton.
Speed vs. Fitting 3D Printing Into the Workflow of a Practice
"The print time of 6-8 models using Grey Resin works well as overnight prints can be removed in the morning and a new print can be started first thing. Then, after lunch, before starting seeing patients, another print can be removed and started and then the same for the end of the day before leaving. Other printers with smaller build plates, but faster print times don't seem to fit as well from a workflow perspective in a busy orthodontic practice," said Dr. Burton.
"Many people seem to be focused on the speed of prints, which doesn't make that much sense because few orthodontists want an assistant to be leaving the clinic every hour to post-process prints and start new prints.  It sounds nice and generally, we think faster is better, but for a practice without a full-time lab person, a faster printer with a smaller build plate seems to be nothing but a disruptive force," said Dr. Burton.
Replacement Aligners and Retainers With Ease
The digital workflow also comes with some added benefits compared to traditional techniques. 
"Since things are digital, if a patient loses an aligner or retainer, we either just print another model and fabricate or we have them bring in their model and make another retainer quickly.  The analog alternatives are a huge time suck on the practice as well as an inconvenience for the patient. Our most expensive resource in the practice is time. This makes the digital workflow significantly advantageous," said Dr. Burton. 
This feature came in handy recently when the state regulations due to the COVID-19 pandemic forced the practice to see patients only on an emergency basis.
"I had a patient call in two days ago, who said that he had lost his retainers. Fortunately, we had scanned for retainers on him, so we simply printed the models and fabricated the retainers. We then put them in the mail and he had them the next day! Given that in Tennessee we have only been able to see patients on an emergency basis, which will last until April 13th, the ability for an assistant to go [to the practice] and do this for a patient builds huge value for the patient as well as for the practice. Now, I don't have to worry about retreating a case because during this time we can only see emergencies," said Dr. Burton. 
Curious to learn more about bringing aligner production in-house? Watch our webinar with Dr. Burton to learn how he adjusted his practice's day-to-day operations and appointment schedules so he could successfully deliver same-day aligners with the Form 3 3D printer.