New Dental Resins for Custom Trays, Splints, and Temporary Crown and Bridge Restorations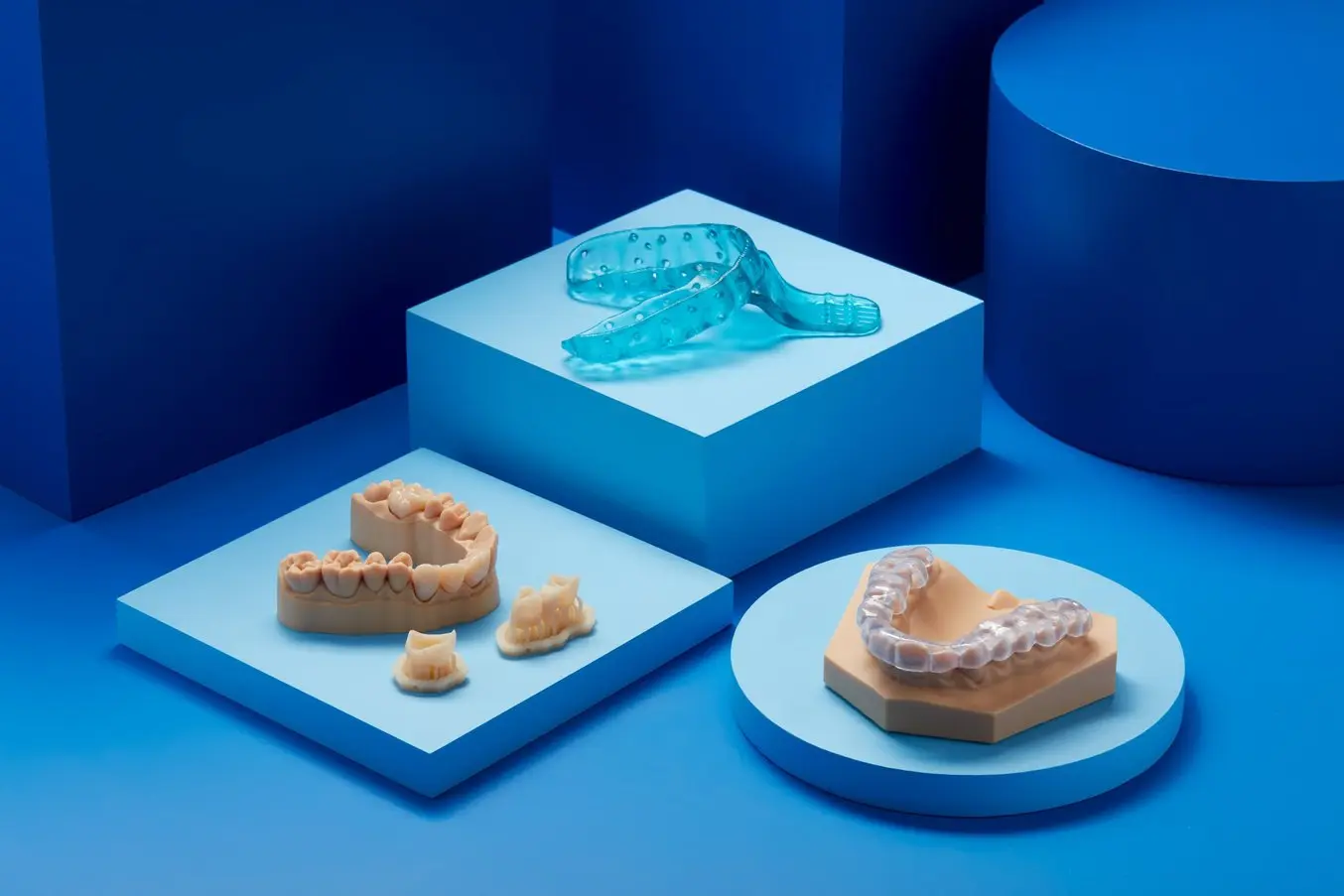 Formlabs Dental is pleased to announce three new biocompatible materials for the Form 3B and Form 2 SLA 3D printers to expand access to high-quality dental parts and appliances.
The new materials are:
Custom Tray Resin and Dental LT Clear Resin (V2) have been developed in-house by Formlabs, empowered by an investment of over a million dollars into establishing an FDA registered, ISO 13485 certified facility with an ISO Class 8 certified cleanroom for dental and medical materials development. Temporary CB Resin is enabled by our partnership with BEGO, a leading specialist in the field of prosthodontics and implant dentistry. 
Formlabs is committed to the continuous development of new materials for dentistry and increasing the number of supported indications on the Form 3B dental 3D printing platform. 
Read on to learn about the materials and indications in detail.
---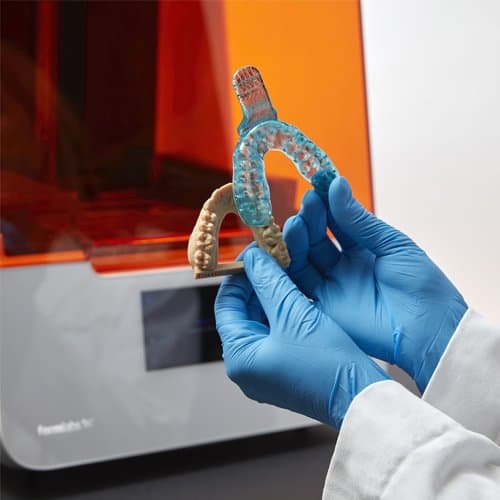 Webinar
Dental Materials Launch: A Deep Dive Into Our Three New Dental Materials
In this webinar, learn about the key features of our new dental resins and how you can use them to produce dental parts and biocompatible appliances in your practice or lab.
Watch Now
A Fast-Printing Biocompatible Material for Custom Impression Trays
Custom Tray Resin is a Class I biocompatible resin that is ideal for directly 3D printing impression trays for implants, dentures, crowns and bridges, and other comprehensive cases.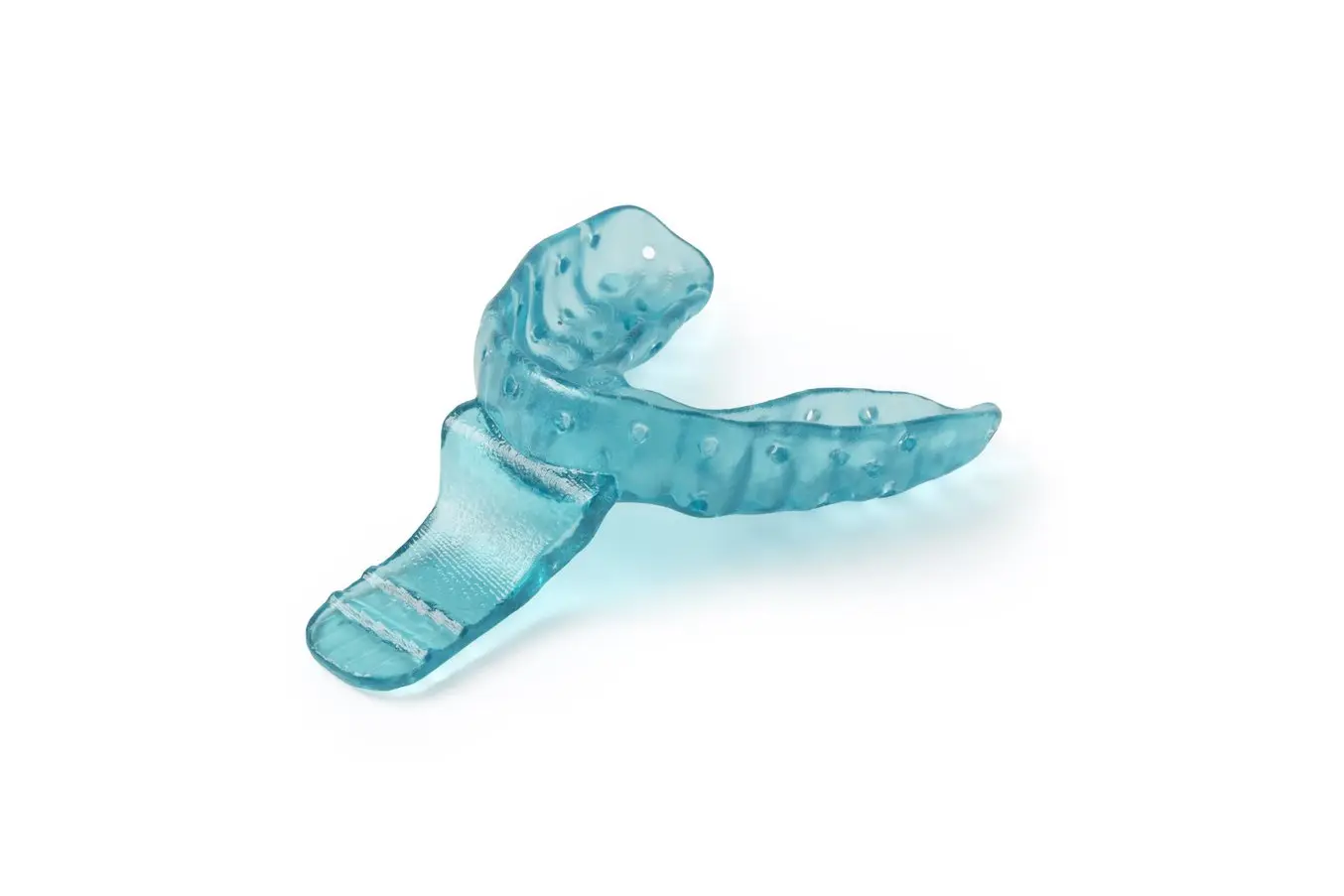 Having an accurate impression is fundamental for prosthetic and restorative work. In conventional dentistry, getting an accurate impression requires the fabrication of a custom tray using a two-set technique that is time-consuming and prone to errors. It is hard to guarantee that the custom trays will have the appropriate extension and even spacing for the impression material which are critical for this application.
The digital workflow for fabricating custom trays allows dental professionals to combine the advantages of the conventional impression taking technique with regular impression materials while reducing labor time and achieving consistent, accurate impressions for high-quality dentistry.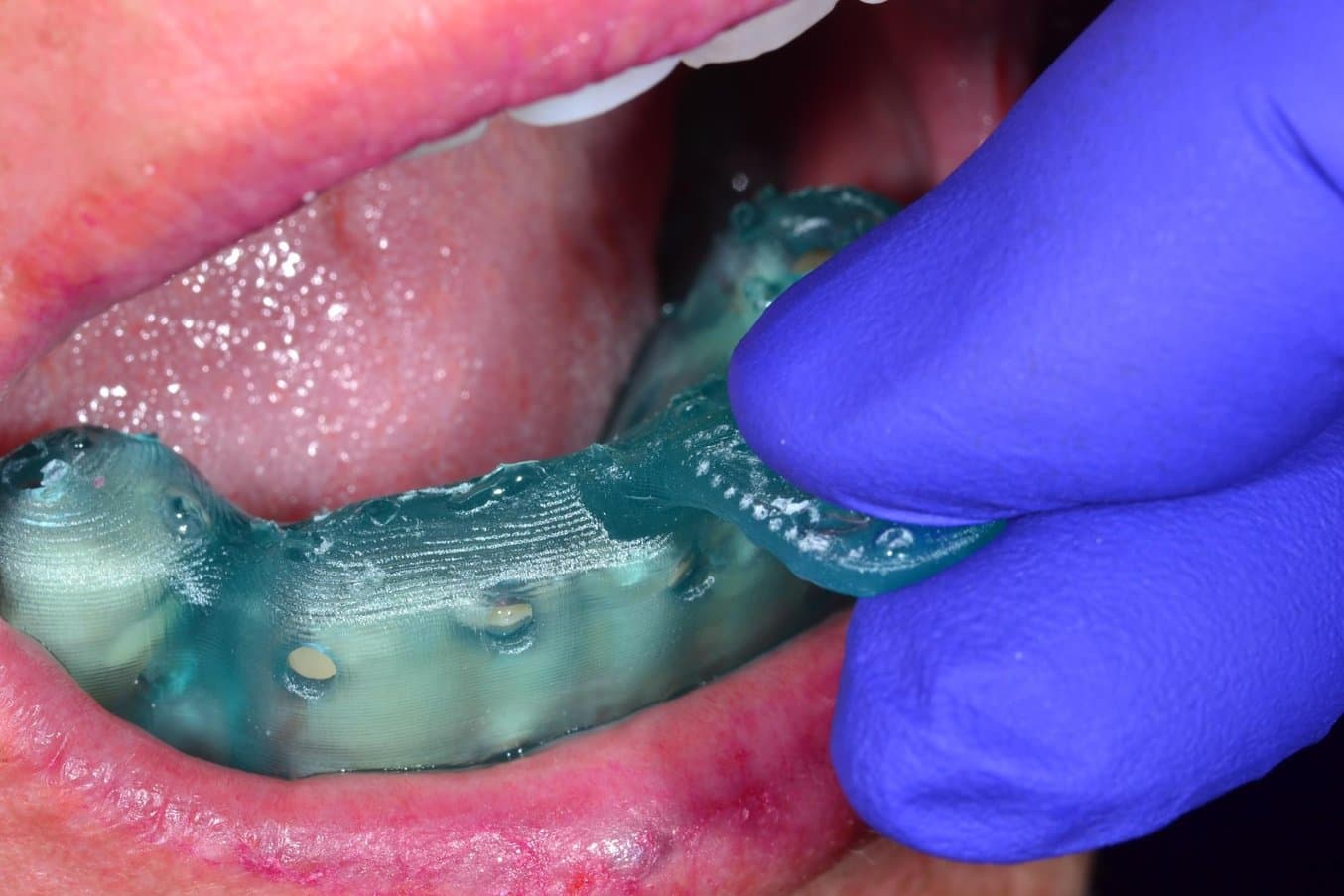 "I have always felt that custom trays are an important part of clinical dentistry, especially implant dentistry. Formlabs Custom Tray Resin prints impressively fast. The resin, itself, is rigid and nicely translucent. This translucency is a significant aide in making final adjustments for an open tray impression of implant copings. The cost of printing a custom tray on a Form 2 or Form 3B is substantially less than using the traditional light-cure sheet on a physical model. Couple that with the swift and economical design process and the elimination of any need for a physical preliminary model. In-house custom trays will not only improve your clinical outcomes, but the workflow can actually have a reasonably short ROI, even if custom trays were the only reason you bought a 3D printer," said Dr. Timothy Hart, DDS, MS, Prosthodontist.
Custom Tray Resin prints full impression trays in under one hour using 200 micron layer heights, reducing labor time and enabling higher throughput. The new resin is also our most affordable biocompatible material, allowing you to manufacture custom trays at a low cost.
Custom Tray Resin is currently shipping in the US, Canada, the EU, and other select countries. View the full regional availability list.
A More Resilient and Color-Corrected Resin for Splints
Dental LT Clear Resin (V2) is our second-generation, long-term biocompatible material for directly printing affordable, high-quality occlusal splints in-house.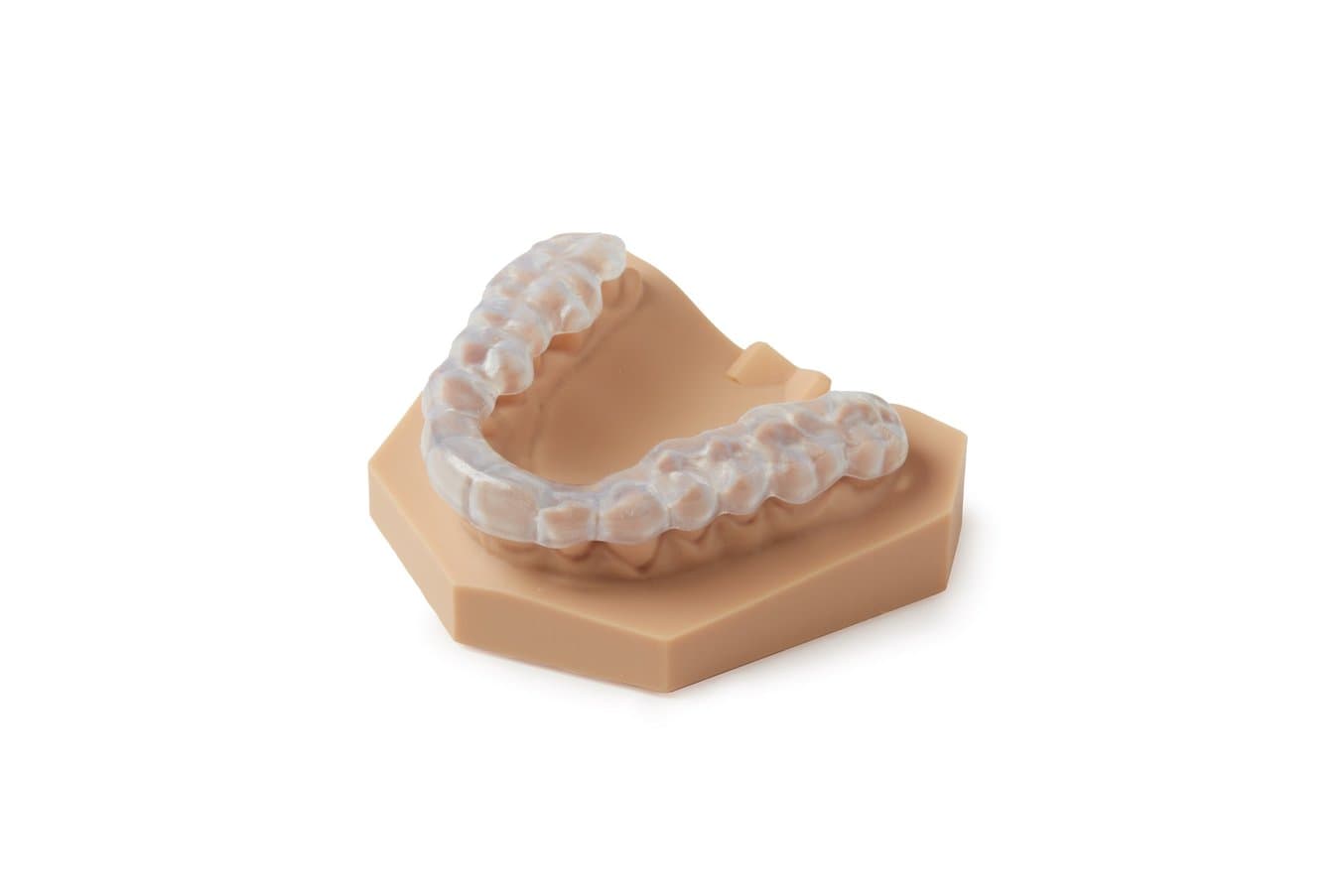 This new material is highly durable and resistant to fracture for creating appliances that can more easily withstand the daily use and accidental drops by patients.
Dental LT Clear Resin (V2) is also color-corrected to print clear splints that can be polished to high optical transparency and resist discoloration over time, for a finished appliance that you'll be proud to deliver.
"After testing the new Dental LT Clear (V2) resin from Formlabs, I am impressed with the improved resiliency, strength, and clarity of this resin. These factors will definitely have a positive impact on patient comfort and acceptance. Great job Formlabs for constantly achieving the highest levels of quality with your products," said Rick Ferguson DMD, DABOI/ID, DICOI, Implant Educators Academy.
Our ability to develop biocompatible materials in-house has also allowed us to pass on savings to our customers. The retail price of the new resin has been reduced by roughly 12.5% (varying by region), allowing you to manufacture splints at an even more competitive price.
Dental LT Clear Resin (V2) is currently shipping in the US and other select countries. View the full regional availability list. While we're working on expanding the availability, consider using our legacy Dental LT Clear Resin in other regions.
Temporary Crown and Bridge Restorations, Inlays, Onlays and Veneers in Four VITA Shades
Temporary CB Resin is a tooth-colored resin for 3D printing of temporary crown and bridge restorations, inlays, onlays, and veneers—some of the most sought after applications from Formlabs customers. Indicated for up to seven-unit bridges and available in four VITA shades, this material provides excellent marginal adaptation, strength, and aesthetics.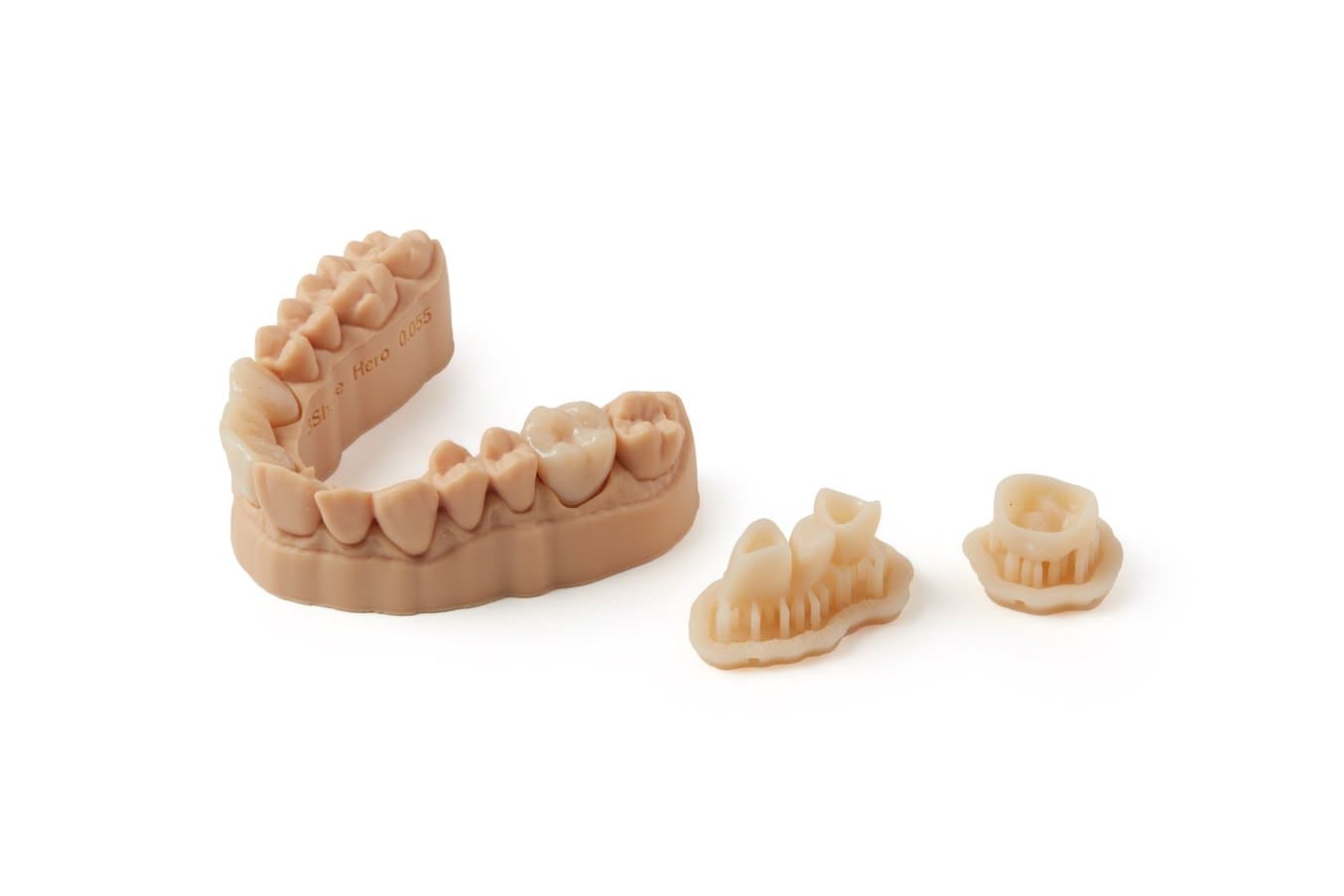 The ability to use completely digital dental workflows with 3D printed temporary restorations enables a quick, low cost, collaborative process between dentist, technician, and patient. 
This enables dental labs to reduce the costs associated with current crown and bridge fabrication and free up milling capacity, while simultaneously increasing the quality of the end product. The properties of this unique material offer patients excellent aesthetics, a low tendency to age and discolor, low plaque accumulation, and high comfort due to low cold and heat sensitivity.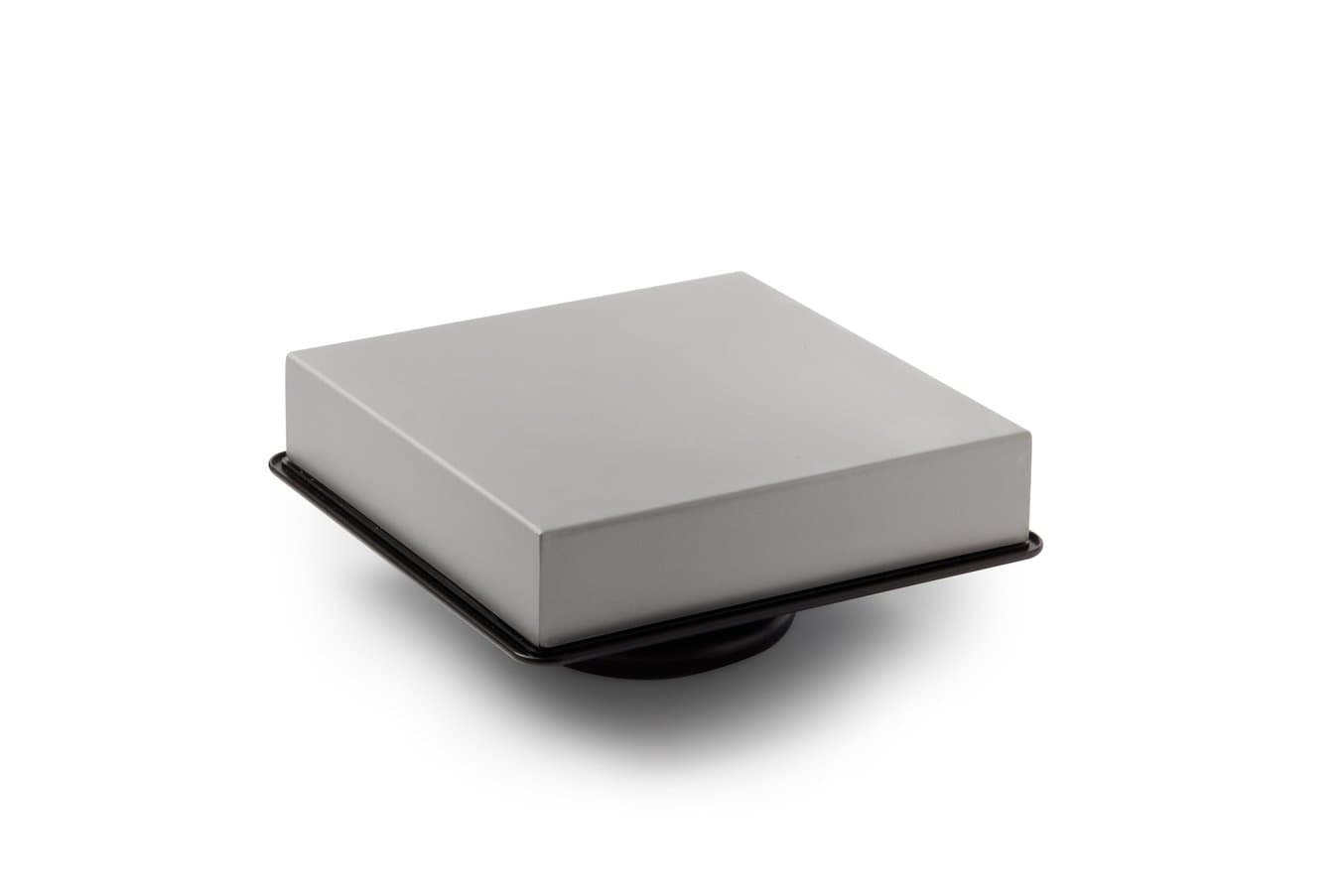 Dentists can use traditional temporary cements to fix restorations produced with Temporary CB Resin for up to 12 months. For optimal aesthetics and performance, printing with Temporary CB Resin requires a Stainless Steel Build Platform. This build platform is compatible with the Form 3B and Form 2, but is not validated for use with other materials.
Temporary CB Resin is currently shipping in the EU and other select countries. View the full regional availability list.
An Ever-Expanding Variety of Indications for the Form 3B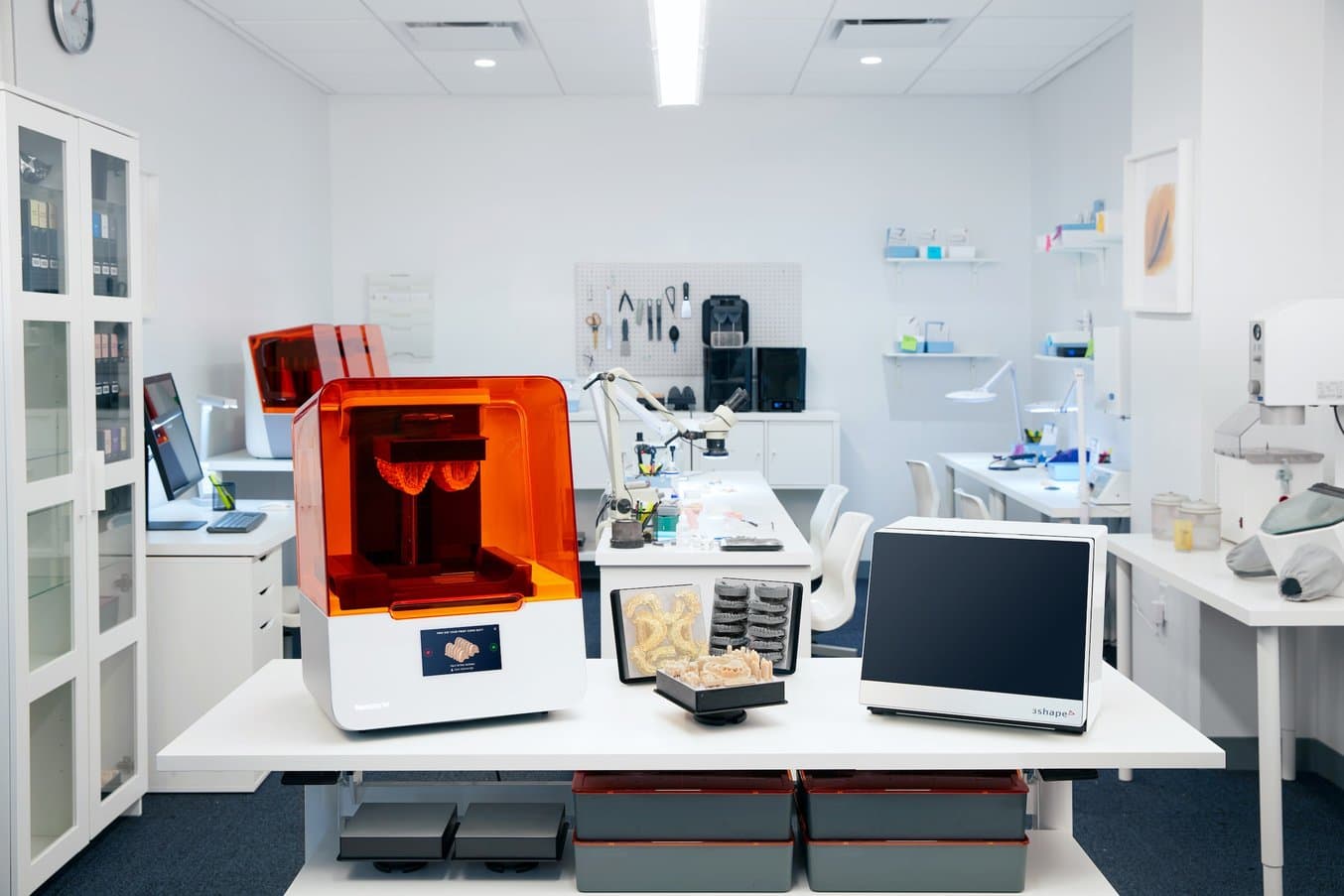 Thanks to these new materials and indications, the Form 3B is becoming a more and more powerful dental 3D printing platform every day for dental labs, practices, and orthodontics.
If you need some help to figure out which material you should choose, try our new interactive material wizard that helps you make the right decisions based on your indication from our growing library of dental resins.
Curious to see the quality of parts printed on the Form 3B firsthand? Request a free sample part now.