Introducing a New 3D Printing Platform Designed for Dental
The dental industry has been rapidly moving toward digital tools and workflows over the past ten years. Dental professionals are constant innovators, but 3D printing in dental has proven complicated. Systems are expensive, difficult to use, and difficult to scale.
Today, we're pleased to announce Formlabs Dental, our new dental business unit, and a new dental-focused 3D printing platform designed to make producing high quality dental parts and biocompatible appliances accessible: including the new Form 3B 3D printer, a new Dental Service Plan, and new Surgical Guide Resin.
Introducing Formlabs Dental.
Eight years ago, Formlabs was founded to expand access to digital fabrication. That vision became a reality, and we've rapidly become a major player in 3D printing, growing from a small dedicated team to a 500-person global company. Over the course of that expansion, our dental customers have produced millions of parts in the field. Through talking to you, we've learned that dental demands more. 
Product Demo
An Introduction to the Form 3B
Watch our product demo for a walkthrough of our new LFS 3D printer from a Formlabs expert.
Register Now
What's New With Formlabs Dental
With Formlabs Dental, we've set out to provide precise and reliable hardware and software your team can run around the clock, industry-specific support from a team of dental experts, and access to the latest materials and applications through our extensive dental materials library, with validated print settings thoroughly tested by dental experts. All at a cost and ease of use that makes 3D printing possible for every dental business.
The Form 3B Dental 3D Printer
An introduction to the Form 3B dental 3D printer.
The Form 3B is an advanced 3D printer optimized to produce high quality dental parts and biocompatible appliances. Our precise, reliable ecosystem takes the guesswork out of dental fabrication so faster workflows are just a few clicks away. 
Each of our ever-expanding variety of indications is extensively validated and tested to ensure consistency and accuracy. The Form 3B is powered by advanced Low Force Stereolithography (LFS)™ technology, a cutting edge print process developed by Formlabs to provide incredible surface finish and part clarity right off the printer.
The Form 3B ecosystem includes Form Wash and Form Cure, which streamline post-processing so you can consistently produce quality results with less time and effort, as well as PreForm and Dashboard, our free print preparation and management software.
"Since launching the Form 2, 3D printing adoption within the dental industry has increased significantly. By bringing down the cost of entry, Formlabs revolutionized the dental market. Today's announcement of the Form 3B will continue to grow the technology's adoption and help to provide dental products you'll be proud to deliver. The incredibly accurate Form 3B produces crisp and consistent dental parts and the Dental Service Plan provides the confidence to go digital."
—Dr. Jay Burton, DMD, MBA, Board Certified Orthodontist, SmileMaker Orthodontics
A note on Form 3 resin compatibility: Going forward, the Form 3B will be the exclusive platform for biocompatible settings. Any Form 3 bought before this announcement, however, will have access to all materials settings, including biocompatible. We'd also like to automatically upgrade dental customers with PSP (Pro Service Plan) to DSP (Dental Service Plan) starting today. Contact your sales rep to learn more.
New and Improved Surgical Guide Resin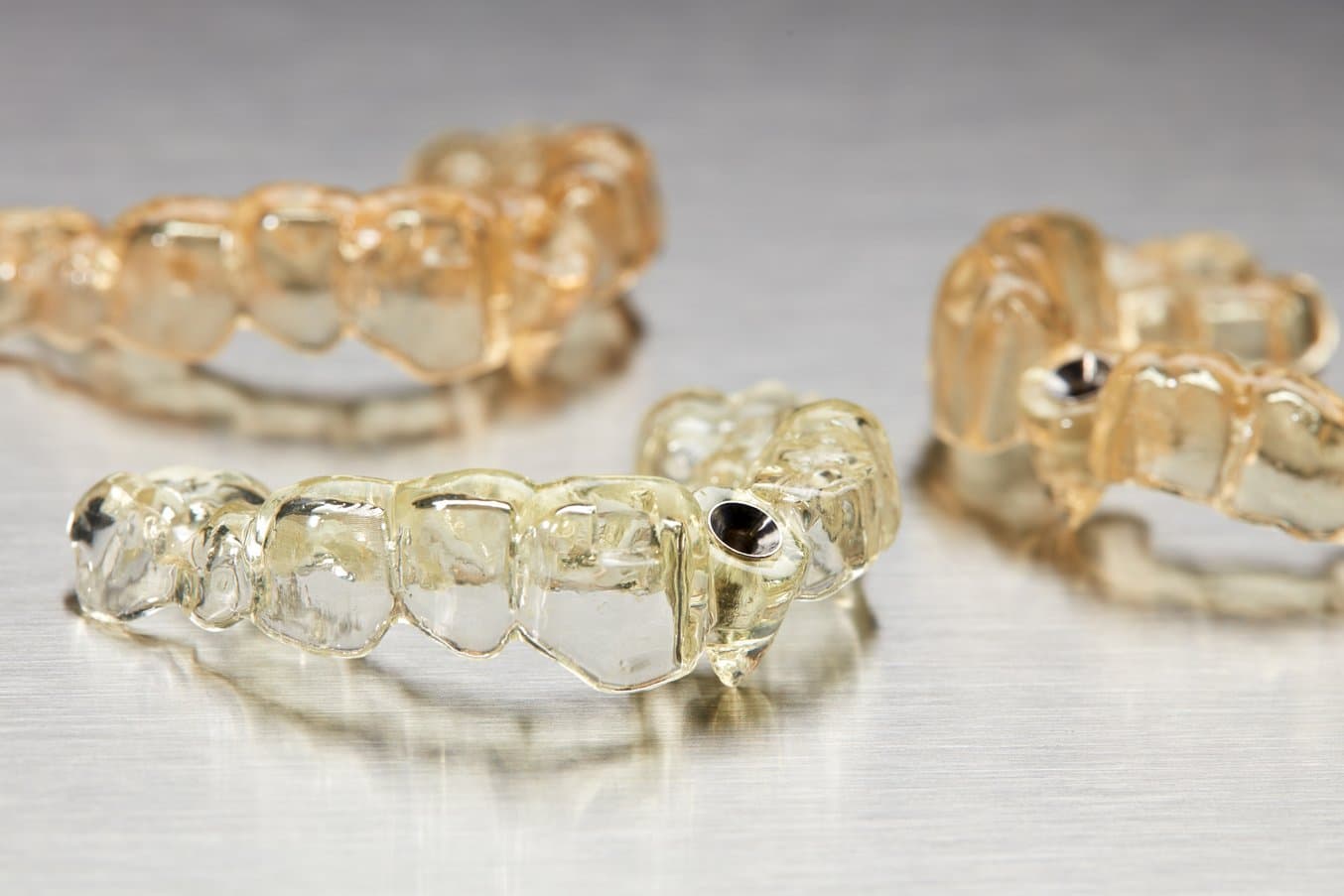 Developed specifically for Formlabs printers and rigorously tested with autoclaves, solvents, and implant systems, our new Surgical Guide Resin was designed from the ground up to exceed dental demands in part quality, accuracy, consistency, and performance. This next generation material is an autoclavable, biocompatible resin for applications including 3D printing dental surgical guides for implant placement, drilling templates, pilot drill guides, and device sizing templates.
New Surgical Guide Resin is the first of many biocompatible materials to emerge from our new FDA registered facility with an ISO Class 8 certified clean room for dental and medical materials development. We've invested over a million dollars into building out this ISO 13485 certified facility in tandem with Formlabs' acquisition of Spectra, a creative and inventive force in the field of photochemistry, UV/EB radiation cure, and organic synthetic chemistry. 
"Formlabs has been an excellent partner and joining forces has meant growing our capabilities," said Alex Mejiritski, president at Spectra Photopolymers. "Biocompatibility is an exciting addition for Formlabs and Spectra, we're looking forward to continuing our investment in innovative Formlabs materials."
Dental Service Plan (DSP): Support Designed for Dental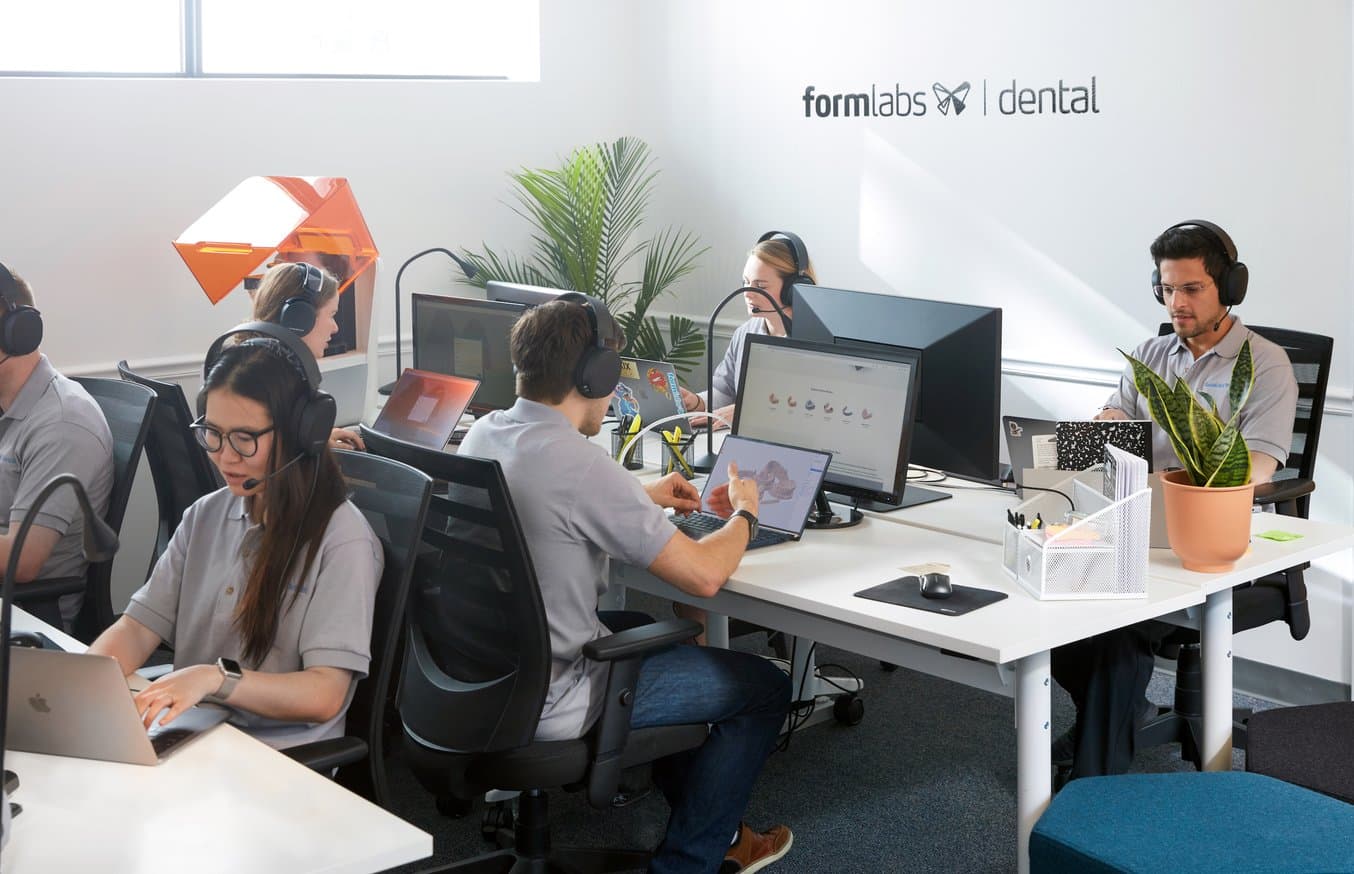 We know dental professionals use our printers for production and that you need a system you can rely on for constant uptime and throughput. Formlabs Dental is backed by a dedicated team of certified dental specialists who know exactly how to support your business. With personalized trainings, proactive printer check-ins, and prioritized phone and email support, Formlabs is committed to helping you succeed.
The Formlabs Materials Partner Platform
The Formlabs Materials Partner Platform allows third party manufacturers to work together with Formlabs to help bring the best and most cutting edge materials on the market to our customers.
Contact us at [email protected] if you are a manufacturer or customer who would like to see a material on our platform.
A Complete Digital Dentures Portfolio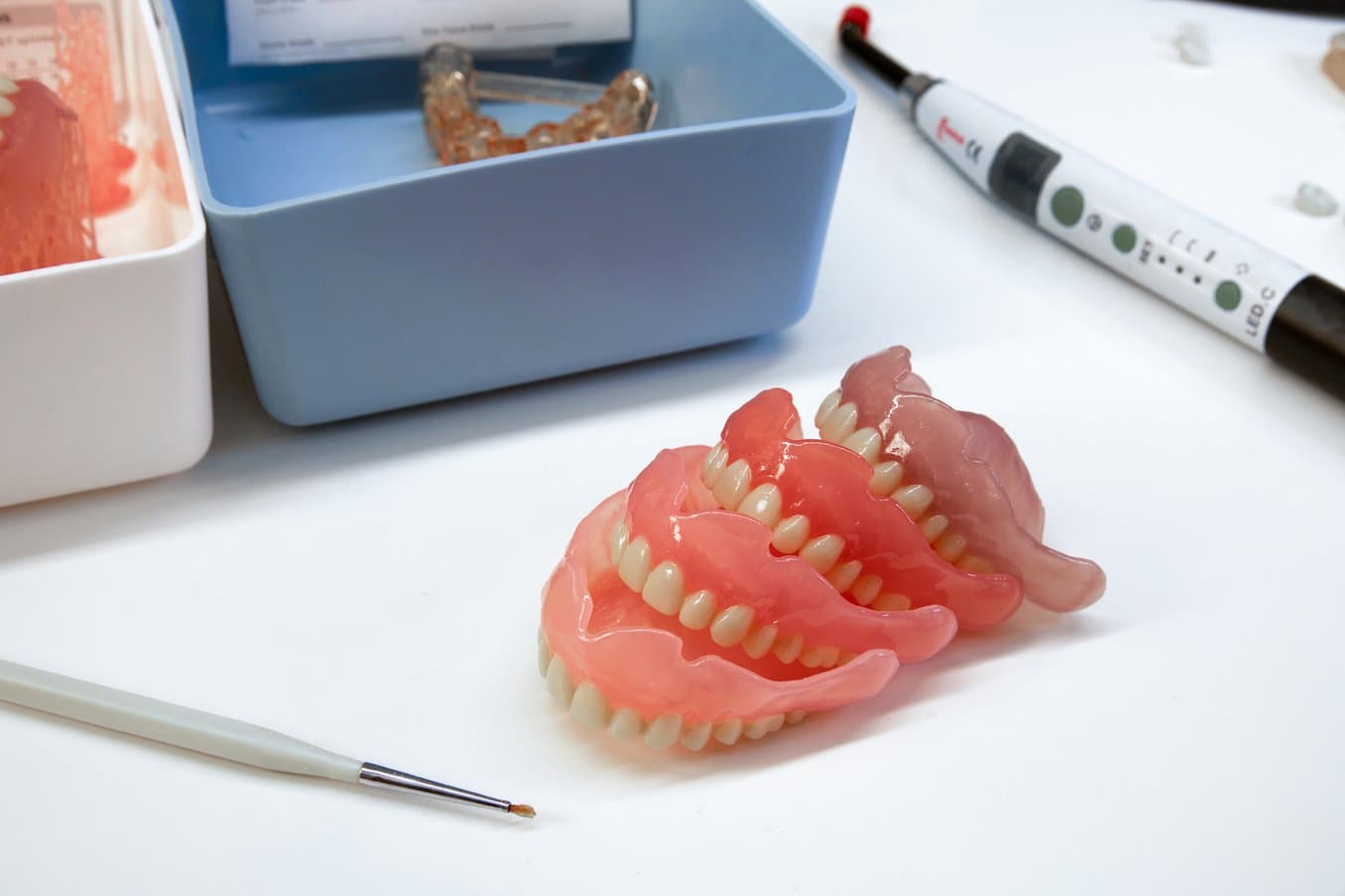 Biocompatible Denture Base Resin and Denture Teeth Resin indicated for permanent contact (30 days) enable dental professionals to produce 3D printed full dentures accurately and reliably. We're continuing to expand our dental applications by adding 4 more denture shades, available now on the Form 2 and available in Q2 2020 on the Form 3B. 
Denture Base RP Resin (reddish pink)

Denture Base DP Resin (dark pink)

Denture Teeth A3 Resin

Denture Teeth B2 Resin
With the addition of these new shades, our Digital Dentures portfolio now contains 10 resins, with four shades of bases and six shades of teeth. 3D printing allows for quick turnaround of dentures that are precisely tailored to the patient's anatomy, and with a full set of color shades, Formlabs Digital Dentures offer true personalization.
The Future of Dental Looks Bright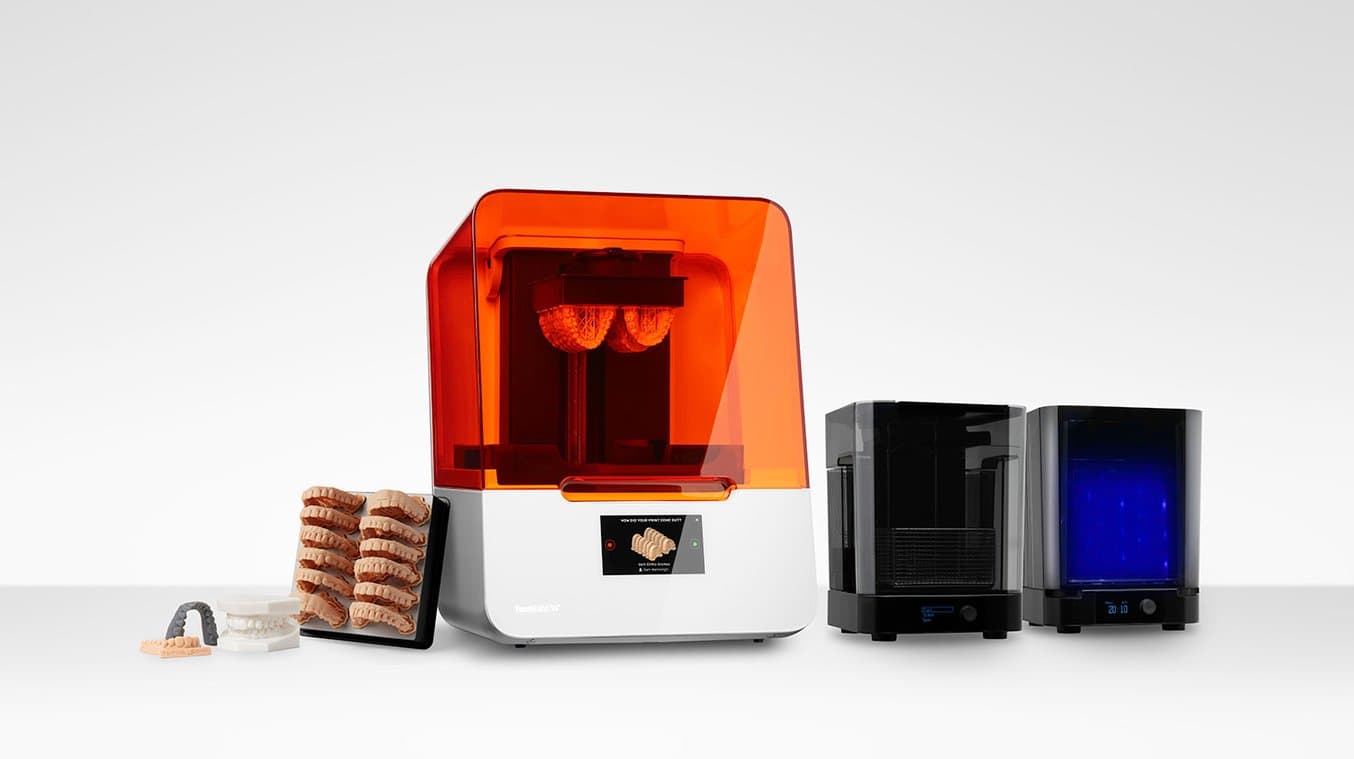 When we started Formlabs, we couldn't have anticipated the response we got from the dental industry. With Formlabs Dental, we're committed to applying the knowledge and experience we've acquired over the past 8 years to provide a platform that's more reliable, precise, and consistent than ever, tailored to your specific needs. 
With the capacity to manufacture and develop our own next generation biocompatible materials, we're excited to iterate faster on new dental products and certifications to expand into even more indications on the Form 3B, a 3D printer that raises the standard for the dental industry.
"Today's announcement is a further validation of Formlabs continued commitment to the dental market. The new Form 3B, Surgical Guide Resin, and Dental Service Plan empower users to expand upon their current workflows to become digital."
—Stephan Kreimer, manager at Kreimer Dentallabor GmbH & Co. KG