Model Resin Gets a Speed and Accuracy Upgrade
Formlabs Dental is pleased to announce the release of the latest formulation of Model Resin, developed to meet the precision, reliability, and throughput requirements of restorative dentistry. The new formulation enables dental professionals to print models with improved accuracy while cutting work time by more than half. 
The improvements to Model Resin include faster print speeds, less post-processing time, a new optional Fit Tuning Test for advanced onsite calibration, improved color stability, and an easier release from the Build Platform. Together, these updates empower dental laboratories to increase throughput and grow their business without sacrificing print quality.
Fast Print Speeds Enable Throughput and Fast Turnaround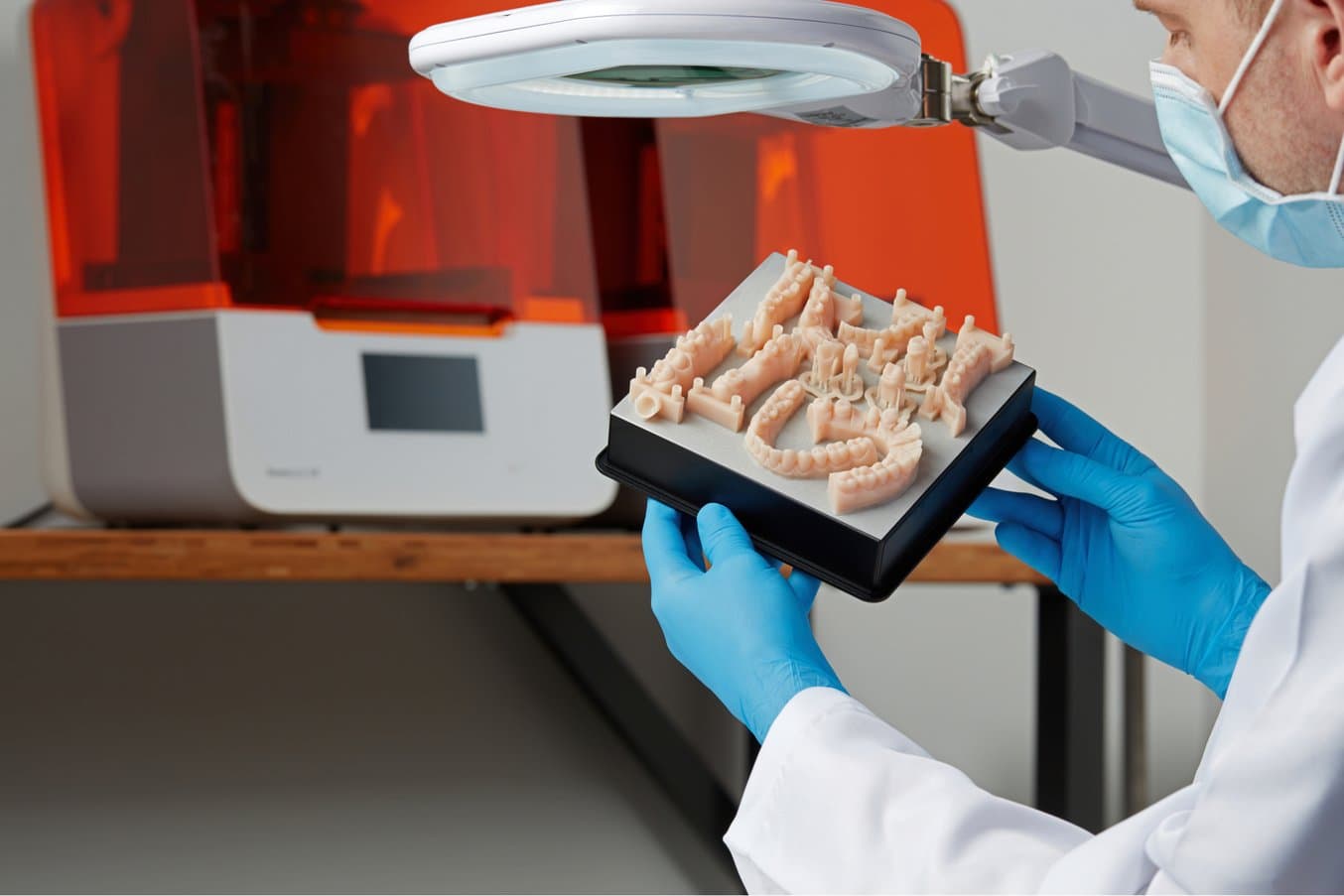 The faster print speeds enabled on the Form 3B and Form 3BL by the new Model Resin allows dental professionals to both increase the number of cases they can print a day and improve their response time on rush jobs—where delivering a high-quality result can save a relationship with an important client.
| Indication | Print cost | Capacity on the Form 3B |
| --- | --- | --- |
| Simple full-arch model kit | $2-3 a kit | One model kit in as little as 40 minutes |
| Quadrant models for fixed prosthetics | $2-4 a kit | Up to 4 quad model kits (upper, lower, and die) in ~2.5 h |
| Full arch models for fixed prosthetics | $6-8 a kit | Up to 2 full arch model kits (upper, lower, and die) in 2.5 h |
*Print costs, times, and capacity may vary depending on your model and print settings.
Speed improvements also improve overall case volume, allowing labs to process more cases per day. With the new formulation, dental labs can print models for up to four cases in less than two and a half hours—twice the speed of previous iterations of Model Resin.
Improved Performance and Ease of Use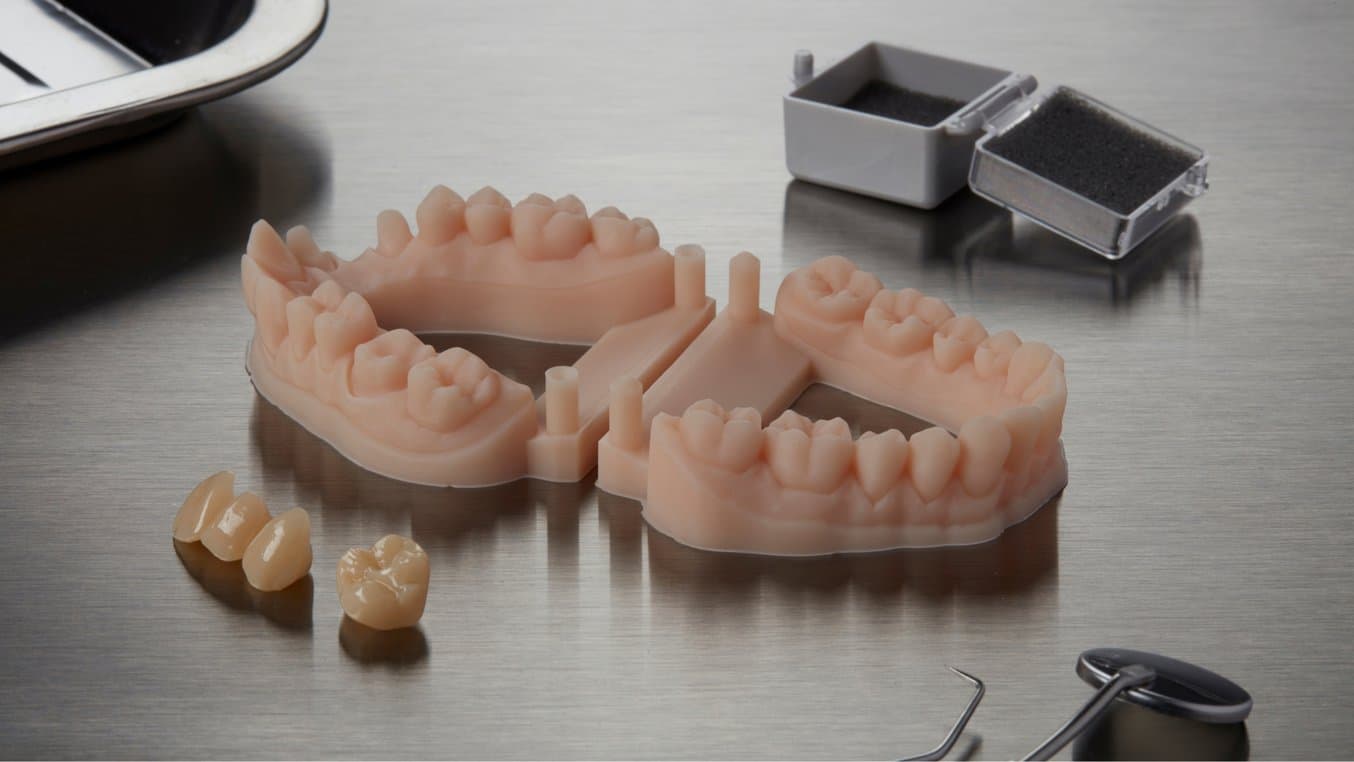 To further improve the performance of Model Resin, dental professionals will now be able to calibrate their printer for optimal dimensional fit using the new Fit Tuning Test. Every Formlabs printer goes through a rigorous factory calibration, so no onsite calibration is typically required. However, for applications like restorative models that require the highest degree of precision, users can run a single, optional test print to dial in their exact desired results. Model Resin and Formlabs printers have always been trusted for high accuracy, and now professionals can take it one step further, using the Fit Tuning Test to create a personalized machine specifically tuned for their environment and needs. 
Dental professionals have already seen these improvements firsthand, making the new Model Resin their preferred workhorse resin for restorative models of all types.
"Model Resin V3 builds upon the already proven Model Resin V2 that we have been using for years," said Chris Hinds, CDT, Manager of Digital Design, Image Gallery CDL. "Now it prints and post-processes much faster without losing accuracy. This will be our go-to model resin now!"
However, print time is not the only part of the equation. The time it takes to wash and post-cure parts also factors into the overall speed and throughput calculation. To address this concern, the new Model Resin formulation requires only 15 minutes of post-processing—10 minutes in the Form Wash, and 5 minutes in the Form Cure, a 66% percent reduction from previous iterations.
Sample
Request a Free Sample Part
See and feel Formlabs quality firsthand. We'll ship a free sample part to your lab or practice.
Request a Free Sample Part
The new formulation has two more characteristics that further simplify the workflow: it is easier to remove printed models from the Build Platform, and improved color stability means no pigment settling in the Resin Tank during storage. These two improvements make it easier for managers and senior technicians to delegate post-processing and equipment maintenance tasks, freeing up their time to spend on more complex work.
"Model Resin is fantastic! The change in the material makeup, in combination with the distinct color difference, permits faster fabrication of models along with the simplicity of the ecosystem Formlabs has created with post-processing. In using the new Model Resin material we can evaluate the margin, spacing and shade much better than before with clear and concise direction."

— Denorris Turner, Technician, ROE Dental Laboratory
Get Faster, Higher-Quality Restorative Models for Less in Your Lab
The new Model Resin can deliver a model kit in as little as 40 minutes, allowing professionals to check the fit of a fixed restoration or implant just as quickly as they would with a 3D printer that costs tens or even hundreds of thousands of dollars. 
With an affordable and easy-to-use 3D printing platform like Formlabs, these high-quality results are within reach for labs of any size. Small labs can start with a single printer and scale up, while large labs can install an entire fleet for the same price as they might otherwise need to pay for a single printer. 
Buy the new Model Resin today, online or from an Authorized Reseller, or contact us to discuss modular, scalable 3D printing solutions for your laboratory.