Faster Models for Orthodontic Appliances and Additional Denture Shades
Formlabs is excited to announce four additional Digital Denture Resin shades and faster Dental Model Resin settings in PreForm 2.20.
Earlier this year we released our first 3D printed prosthetic materials, Denture Base and Denture Teeth Resins. Today, four new shades are available for pre-order to give dental professionals more options during treatment planning and manufacturing digital dentures.
Dental Model Resin can now print faster, at a 140 micron layer thickness. This new setting was developed specifically for orthodontic models that meet accuracy needs while being able to print seven arches in under three hours.

 
Get The Dental Model Speed Update
Four New Denture Shades
Formlabs Digital Dentures are the first truly affordable 3D printed dental prosthetic, and today, we've expanded our solution by adding four new shades for a total of six Digital Denture Resins. 3D printing allows for quick turnaround of dentures that are precisely tailored to the patient's anatomy, and with new color shades, Digital Dentures are one step closer to true personalization.
| | Denture Base | Denture Teeth |
| --- | --- | --- |
| Description | Use Denture Base Resin to 3D print biocompatible denture bases for long-term use in the mouth. | Use Denture Teeth Resin to 3D print biocompatible teeth for long-term use in the mouth. |
| Applications | Final denture base for 3D printed teeth Try-in dentures | Final denture teeth |
| Printing | Requires post-curing Supports print resolutions: 50 microns | Requires post-curing Supports print resolutions: 50 microns |
| Colors | Denture Base OP (Original Pink)  | Denture Teeth A2   Denture Teeth B1  |
Digital Denture Resins are certified biocompatible in the United States only.

We're working with our partners to make these materials available elsewhere.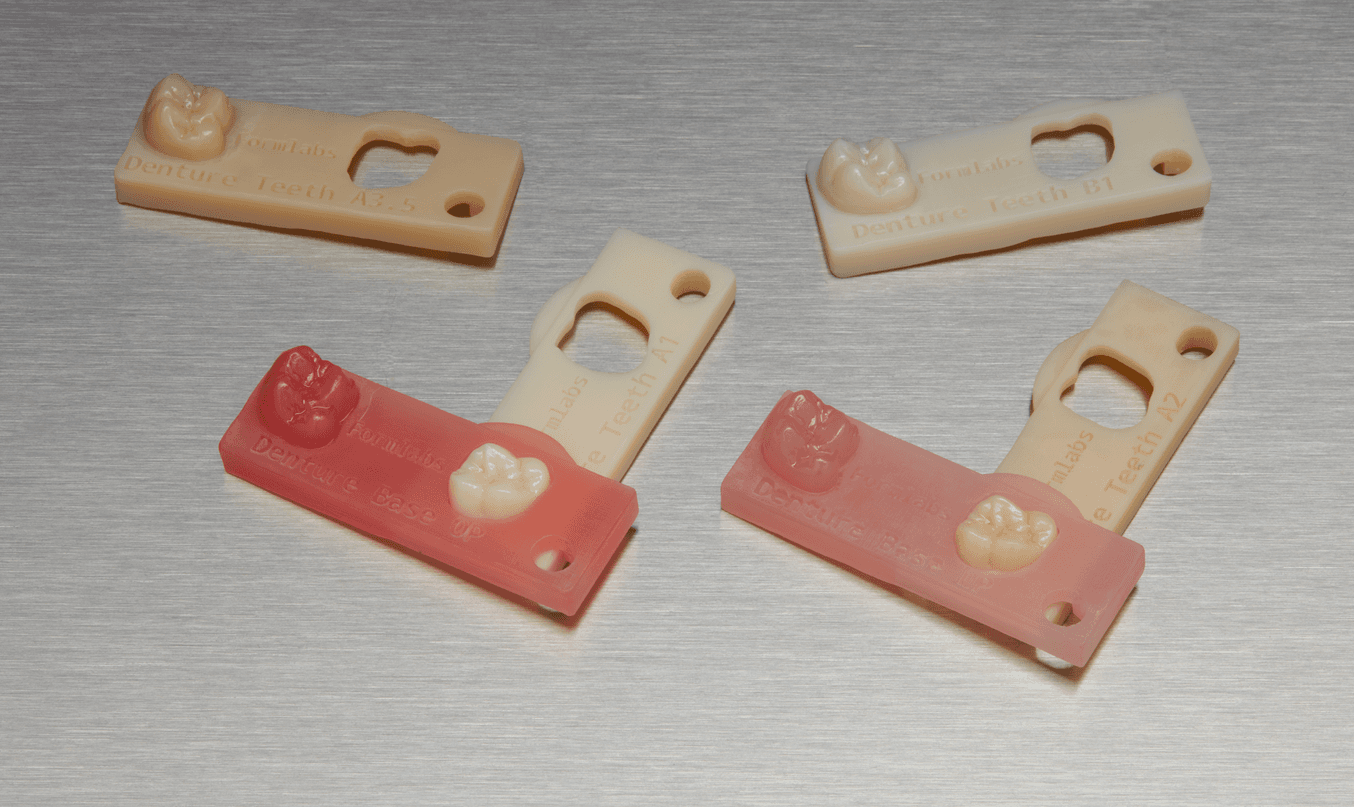 In our latest digital dentures webinar, Dr. Purcell from Spectrum Dental describes his experience switching from a traditional denture workflow to Formlabs Digital Dentures and how it has changed his business. Watch the webinar to walk through a real-life clinical case and learn the full digital denture workflow.
"When we compare it to the traditional workflow, the turnaround is just two days and the patient is very happy. The speed is great, the comfort is great, the occlusion is very good so we're very excited about this new digital process." - Dr. Purcell, DDS, MS, Spectrum Dental
Watch The Digital Dentures Webinar
Advantages of a Digital Denture Workflow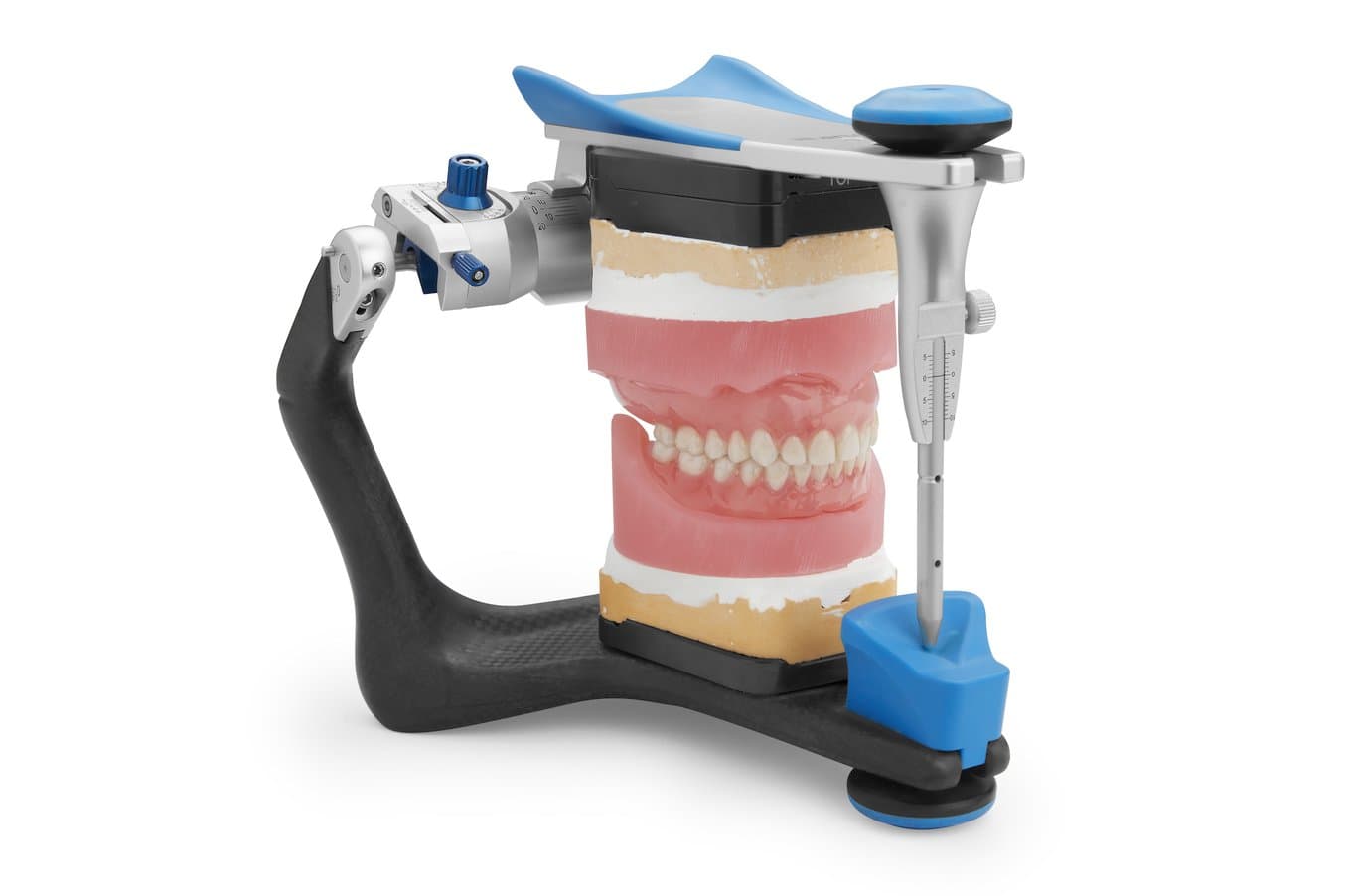 Switching from a traditional workflow to a digital workflow for denture production provides a number of key advantages:
Low-cost production: Affordable hardware allows labs to expand production without adding substantial overhead. Material costs around $10 per part for a complete denture compared to $50 using traditional denture cards and acrylic.
 
Accurate, consistent, high-quality results: A directly 3D printed prosthetic means fewer steps and less variability—a more consistent workflow for a quality end product every time.
 
Intuitive, adaptable tools: The digital workflow fits into your traditional processes today and will be much easier to teach to tomorrow's digitally savvy dental lab technicians.
 
Simplified, fast remakes: Digital denture designs are reusable, shareable, modifiable and easy to reproduce with 3D printing.
 
Truly custom teeth: Unlike pre-manufactured denture cards, digital dentures are completely patient-specific.
 
Learn More About Digital Dentures
Print Orthodontic Models Faster in Dental Model Resin
Formlabs printing software, PreForm, helps Formlabs continue to improve the performance of our hardware, including new features to increase speed, accuracy, and reliability.
The latest version of PreForm includes 140 micron print settings for Dental Model Resin, enabling faster printing of orthodontic models for clear aligner and retainer production. This new setting was developed for faster turnaround time while maintaining the same high reliability and quality.
| Print Capacity and Speed | 100 Microns | New 140 Microns |
| --- | --- | --- |
| 1 Clear Aligner Model | 75 min | 37 min |
| 7 Clear Aligner Models | 3 h 45 min | 2 h 36 min |
Recommended Settings

For fixed restoration models, 50 microns is recommended for accuracy and surface finish needs. For orthodontic models used for thermoforming clear aligners, 140 microns is recommended for the best balance of speed and accuracy.
Also New in PreForm 2.20
In addition to denture shades and faster models, PreForm 2.20 includes even more features to help users print consistently.
Z-Compression Correction: Compression on early layers can shorten the height of your print. This new feature enables you to manually adjust for this, resulting in better part accuracy in the Z direction. This is beneficial when printing directly on the build platform.
Smaller Touchpoints: Now, PreForm will automatically create smaller support touchpoints when it detects that the minima is also small. This helps to preserve fine details in parts.
Early Layer Merge: Early Layer Merge is a feature first introduced in PreForm 2.18 that helps increase adherence to the build platform when printing without a raft. Now you can control the height of this parameter and control it on a per part basis.
Improved Accuracy on Print Time Estimates: Print time estimates are updated to better account for time spent on resin sensing and dispensing, which will improve the accuracy of overall print time estimates.
This will be the last PreForm release with Form 1 and Form 1+ support.

Form 1 and Form 1+ customers can continue to use PreForm 2.20 on their printers for future use.
Download PreForm 2.20 Now
Visit the PreForm web page to read the release notes and give the newest tools a try. PreForm is free for anyone to download and experiment with your 3D models, even if you don't already have a Form 2.