Rapid Aligner Production in an Orthodontic Practice
In recent years, 3D printing has revolutionized the orthodontic field by enabling practitioners to fabricate their own clear aligners. 
Dr. Franca von Dörnberg is one of the pioneers of such distributed digital treatment. She founded her practice in 2016 in the center of Munich, specialized in the treatment of aesthetic tooth correction in adults, adolescents, and children using a complete, digital workflow and treatment methods.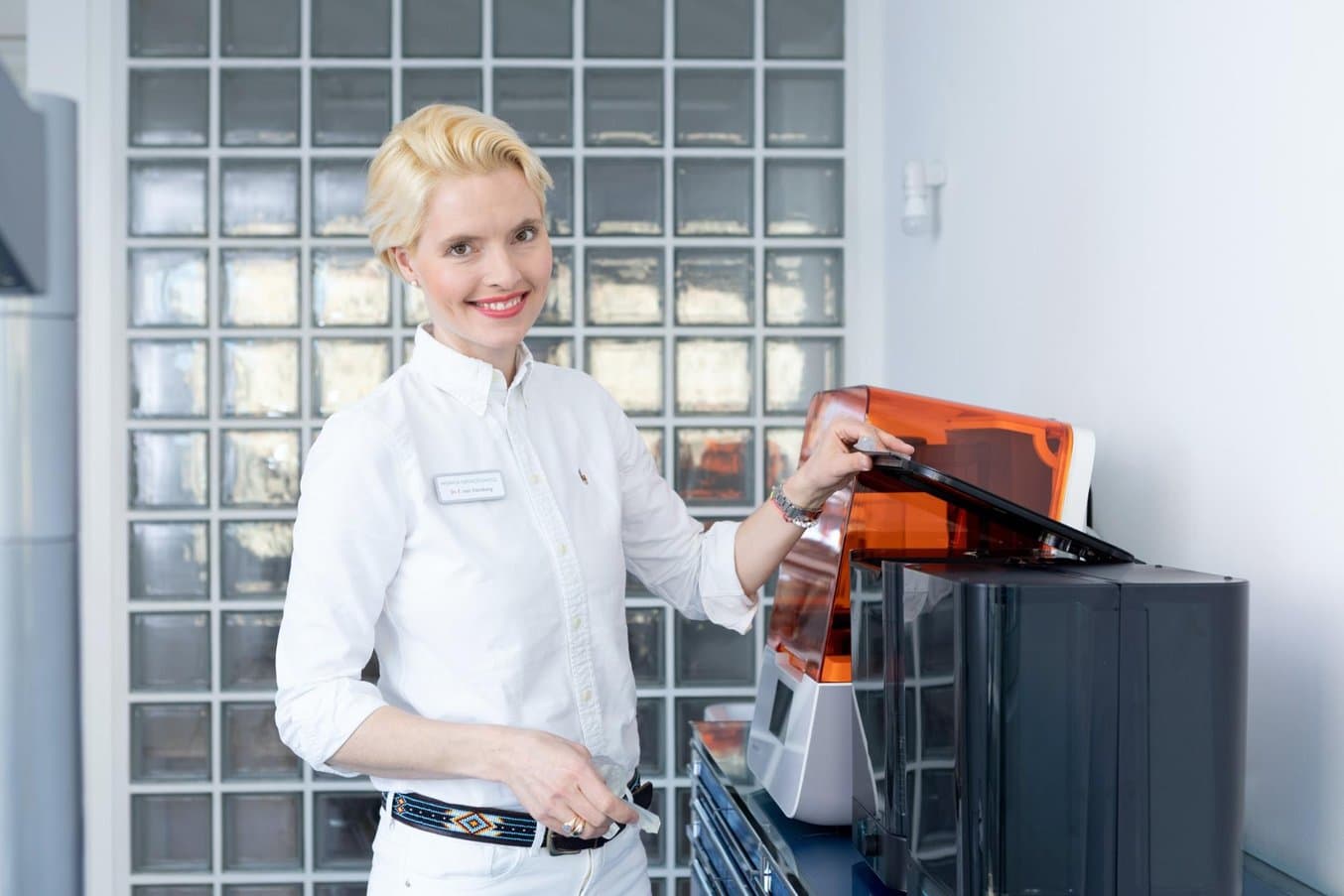 When people decide to correct the position of their teeth after their teenage years, visible orthodontic treatment aids are often avoided.
For this reason, clear aligners are often the preferred treatment. Dr. von Dörnberg and her team handle simple cases using a digital workflow on-site in the practice.
First, a digital impression is taken of the patient´s mouth with an intraoral scanner from 3Shape. The CAD software then processes the model files, including programming tooth movements, and exports them for printing on a 3D printer such as the Form 3B. The aligner is then thermoformed over the printed model. With the Form 3B, Dr. von Dörnberg has chosen a cost-effective, flexible, and easy-to-use 3D printing solution.
Easy to Use for Practice, More Pleasant Treatment for the Patient
Dr. von Dörnberg found that the digital process is simple, less time-consuming, and more environmentally friendly. A scan takes 3-5 minutes and there are no consumables, impression trays, or waste.
After a scan, the scanner only needs to be disinfected and scanner tips sterilized. "In our laboratory, we do not have a trimmer, therefore we do not have dust. What this has brought in terms of facilitation and acceleration of the process is enormous," said Dr. von Dörnberg. 
With the Form 3B and the materials specially designed for dentistry, the digital file of the model is printed out at the push of a button and is available within a short time.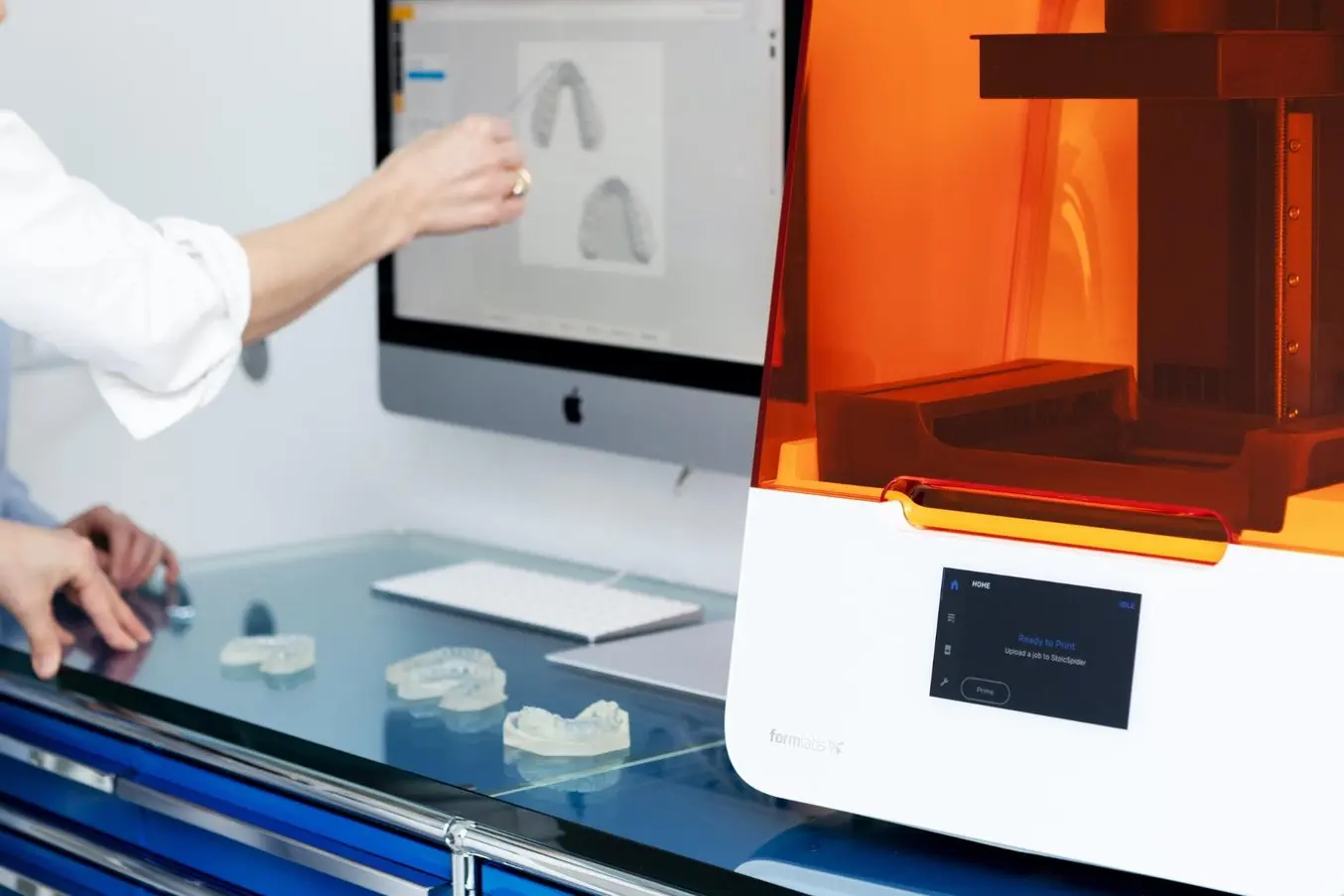 The digital process also results in a more pleasant treatment experience for the patient. 1 in 5 patients in Germany says they are afraid every time they go to the dentist. Even if there is no specific fear, having impressions taken is not a pleasant experience. A choking sensation is often provoked due to stimulation of the gag reflex with conventional impression techniques, which patients perceive as very discomforting.
With the digital scan, Dr. von Dörnberg offers her patients the greatest possible comfort and the treatment is very fast.
'Using the complete digital workflow, patients do not have to spend a long time in the practice and can look forward to a quick and comfortable treatment."

Dr. Franca von Dörnberg
Aligner Models in 20 Minutes With the Form 3B and Draft Resin
When Dr. von Dörnberg first got into digital orthodontics, the Form 2 made it easy for her practice team to get started. "The price/performance ratio is good, especially when you get started, and you can add more 3D printers later on without requiring a large investment", said the orthodontist.
The latest generation of Formlabs dental 3D printers, the Form 3B, is the most recent addition to her Munich practice. Thanks to the low-force stereolithography (LFS) printing, Dr. von Dörnberg is able to produce parts with a better surface finish and in less time. The lower peel-off forces of the Form 3B allow for fewer and narrower support structures and therefore less post-processing of the models is required.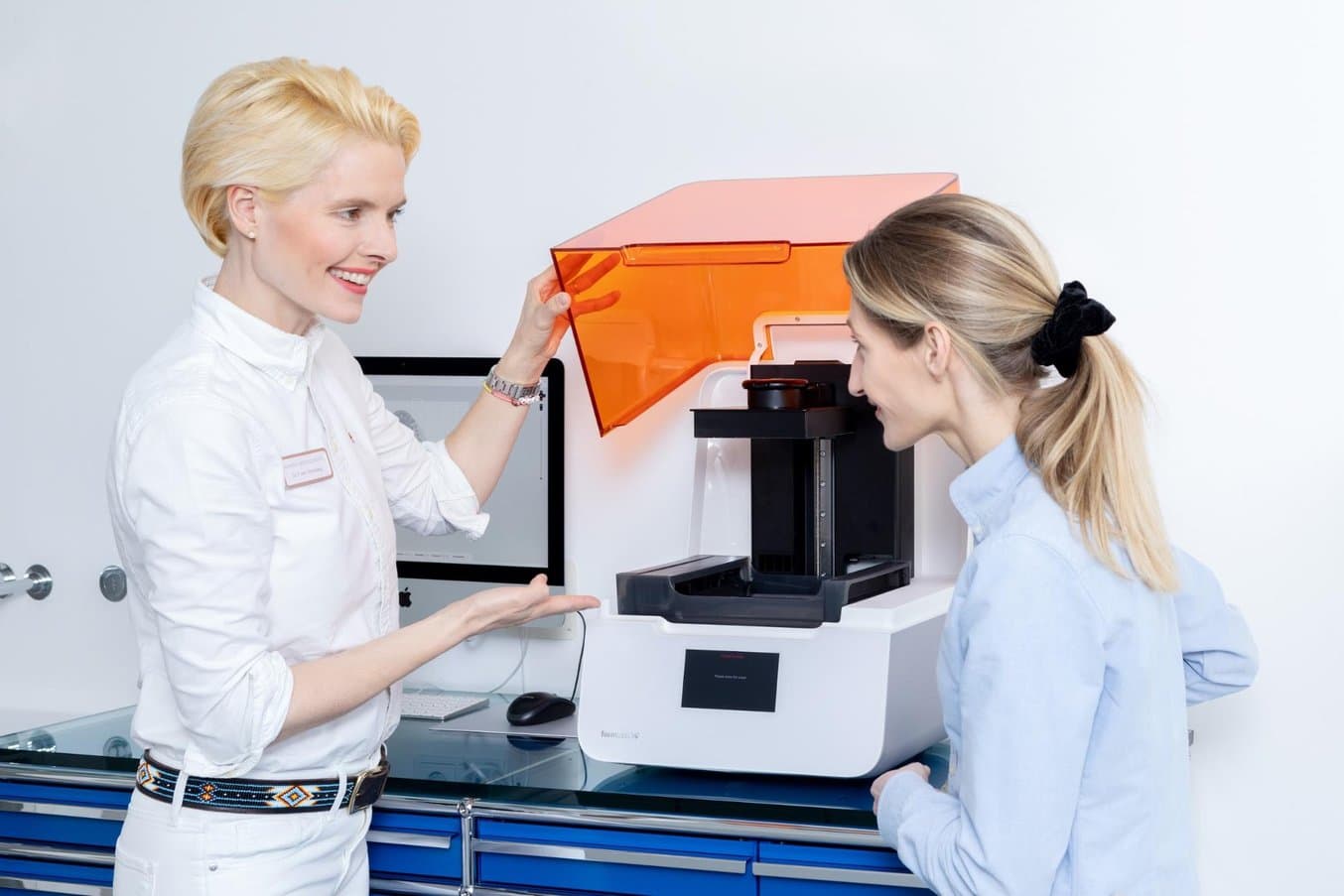 'The reduction in printing time that the Draft Resin brings is fantastic!'

Dr. Franca von Dörnberg
Dr. Franca von Dörnberg was also one of the first testers of our new Draft Resin. In a busy orthodontic practice, time is precious. With the new the Draft Resin, a model for aligner production can be printed in 20 minutes with a layer height of 200 microns.
A complete build platform takes less than an hour, while still maintaining the quality of the SLA technology. On 98% of the surface of the print an accuracy within 100 microns of scans is achieved, indicating a perfect fit on the patient's dentition.
In regular courses that Dr von Dörnberg organizes for other orthodontists in her practice, she shares her extensive knowledge of the digital workflow and how to adapt it to different requirements and practices. This way, she seeks to encourage more orthodontic practices to adapt the digital production of transparent aligners to simplify workflows improve treatment for the patients.